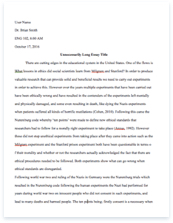 The whole doc is available only for registered users
A limited time offer! Get a custom sample essay written according to your requirements urgent 3h delivery guaranteed
Order Now
The world economy and globalization in our times are particularly reliant on the international corporation.  As a matter of fact, economists around the world view the multinational corporation as the answer to all economic questions facing modern-day humanity.  Thus, it is essential to understand the functioning of the global organization, which must respect all of its international stakeholders as well as employees, regardless of cultural differences.
     An organization with a culture of hate is most likely to fail in the global marketplace, seeing as it would not be able to value the different cultures and peoples that it intends to conduct business with.  The psychology is simple: an organization that hates a particular culture and all of its representatives, including its own employees representing the culture in the global workplace, would fail to satisfy the needs of its global consumers belonging to that particular culture.  Moreover, all organizations desirous of selling their products or services in the global marketplace must be acquainted with the cultures of nations that they interact with.  Culture determines people's tastes in products and services that they would eventually pay for.  Vast differences in beliefs as well as values give birth to diverse cultural segments.  This diversity is not only visible in the global workplace, but also across nations.  Hence, companies that intend to sell their goods and services abroad have to learn the strategies of multicultural marketing.  This form of marketing entails communication with diverse market segments or cultures (Haralambos & Holborn, 1995).
     Similarly, a company that intends to internationalize its operations must learn to respect the cultures of its employees from diverse backgrounds in order to make the best use of them.  Diversity must be an asset to the global organization, seeing that employees from various cultural, ethnic and linguistic backgrounds may possess special abilities in handling the company's overseas dealings ("The Business Case").  A Japanese employee in the global workplace, for instance, would be especially useful in communicating with the global company's Japanese operations.  It is important, therefore, for the company to value its Japanese employee and all other cultures represented by its employees.  After all, the employees from diverse backgrounds add special value to the global workplace and the organization as a whole.  If the organization were to show prejudice or discriminate against such employees, it may very well lose a significant portion of its global market share.
     Diversity in the global workplace is expected to facilitate the exchange of new ideas, making the organization more creative in its thinking; improve the problem solving ability of the global workplace through the inclusion of diverse ideas; and establish a respectful as well as tolerant and accepting workplace (Reichenberg, 2001).  The global workplace that values the diversity among its employees will have an organizational culture that stakeholders around the world would admire and respect.  An organization that does not value diversity in the workplace, however, will reflect the negative attitude and discrimination toward diverse groups in its organizational culture.  Most importantly, the global organization that reflects prejudice and discrimination in its organizational culture would not be able to convince its international stakeholders of allowing it to remain in the global marketplace, given that it is impossible for the organization to satisfy the needs of the people it despises.
     Discrimination is the result of poorly managed diversity in the workplace.  What is more, discrimination is known to affect performance, job satisfaction, and productivity, in addition to employees' perceptions of equity.  Employees that are discriminated against because of their diverse backgrounds would not use their intelligence as they must in organizational decision making, for example, because they would be unmotivated anyhow to work for a company that does not value differences.  Discrimination also raises the lethal issues of litigation – lethal because a global company without a good reputation cannot survive for long anyhow ("The Business Case").
In order for an international business to survive, it must be trusted in the global marketplace.  But, if the organization does not trust and respect its employees from diverse backgrounds, this lack of trust and respect will be reflected through its organizational culture.  Finally, in the global marketplace, the company's products and services would not be able to sell for long if its personality or culture revealed through its products, services, and promotional efforts, fails to satisfy the international consumers.  After all, it is only the company that respects itself (including its employees) that can survive among diverse populations around the planet.  An uncaring attitude would not do.  Rather, respect is of the essence.
     Employees from diverse backgrounds must be used by the global organization most productively for an understanding of international cultures and communications with international stakeholders.  The case of the Chinese employee makes this abundantly clear.  Therefore, diversity inclusion, too, is of the essence in the global workplace.
References
Haralambos, M., & Holborn, M. (1995). Sociology—Themes and Perspectives. 4th ed. London:
Collins Educational.
Reichenberg, N. E. (2001, May 3-4). Best Practices in Diversity Management. Retrieved Oct 30,
2007, from
http://209.85.165.104/search?q=cache:x5K3Mgx9He0J:unpan1.un.org/intradoc/groups/public/documents/un/unpan000715.pdf+diversity+management&hl=en&ct=clnk&cd=1&gl=pk.
The Business Case for Diversity Management: An Introduction. Retrieved Oct 30, 2007, from
http://209.85.165.104/search?q=cache:PIqGDF1RmAwJ:www.diversityaustralia.gov.au/
_inc/doc_pdf/business_case_intro.pdf+diversity+discrimination+international+business&
hl=en&ct=clnk&cd=2&gl=pk. (26 March 2007).
Related Topics