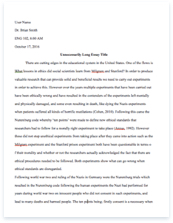 The whole doc is available only for registered users
Pages: 6
Word count: 1481
Category: Fashion
A limited time offer! Get a custom sample essay written according to your requirements urgent 3h delivery guaranteed
Order Now
Fashion, the term to coin clothes, shoes, accessories, and makeup to make someone look trendy, beautiful, and other synonymous adjectives. The fashion trend constantly changes too, and it had been around for longer than one might think. During the Egyptian era, both Egyptians sexes used to line their eyes with Kohl and wear copious amounts of makeup to gain the protection of the gods Horus and Ra. The Egyptians believed that by wearing makeup, they will gain magical healings powers.
But, there was a record that states that early Western travelers to places like Persia and Turkey remarked the lack of changes in fashion. There are so many factors that cause the trend in a fashion which includes political, technological, economic and social influences. The masses, especially the teenagers' group are trying to keep up with this trend, purchasing clothing items or consuming beauty-enhancing products. But, does fashion really harmful to society? The answers will surprise you. The acceptance of the society in terms of fashion relies heavily on models and celebrities.
With the media spreading criticism about an individual's choice of clothing and/or body shape, some go great lengths to be seen by many as normal or being in the "in" group. This kind of issue widely occurs among students or teens due to peer pressure. They afraid of being left out in the crowd have a negative impact on their lifestyle. As cliche as it sounds, this is actually an issue is currently in effect. Many starve themselves to achieve that figure everyone drools over even though it is not his/her nature to gain it. Some of them try to look like models, so they compromise on their diet to become skinny.
But, there are some side effects of practicing a serious diet. For example, anorexia nervosa, a psychiatric illness in which one severely starves oneself to slim his/her body weight to a bag of bones and still think that they are too fat, is recorded to be the ailment with the highest mortality rate of all other psychiatric illness. Furthermore, the mortality rate by anorexia nervosa is 12 times higher than all other causes of death in the woman aged 15-24 years old. It does not aid the problem when even models are criticized on television for being too plump even though too many are ideal.
My point is, fashion hurts the society because it creates a strong sense of individuality that one feels the need to conform to. Next, fashion hurts the society because it inadvertently influences people to spend more money on trending items despite it being unnecessary. This is especially true regarding cosmetics. Social media is choke-full of beauty products these days and it poses danger because of the gargantuan amount of users that see them every day. Although there are advertisements of licensed products out there, so much more unlicensed ones are advertised as well.
The famous type of scam that remains an easy trap for many is slimming medicine. This medicine does indeed make one slim in a few weeks, but these effects are merely temporary. In a month or two, the effects wear out and the result instead makes the consumer drastically put on weight. In a frantic search for the cure, they buy the medicine again and the vicious circle repeats itself. This trap does not apply for slimming products, but also unlicensed for dermatological care. To reiterate, money-hungry people seek victims to spend money on unlawful products that hurt the society financially.
Another aspect of wasting many due to fashion is wasting money on clothing, specially branded items. Many spend hundreds of dollars on clothes for one-time use only, which is definitely not ideal. We are all aware that fashion is like a wind and it is changing rapidly. If we do not adopt with the current fashion, definitely, we will be scrutinized by the fashion police in our neighborhood, school or even our friends. For that particular reason, it encourages people to buy clothes or other things unnecessarily. Have you ever heard the term of "fashionista"?
It may sound classy and glamorous but actually, it refers to somebody who follows fashion and they do not care about whether it suits them or not because they only follow the trend. Without they realize, a lot of money is wasted in buying new clothes. This is indirectly promoting capitalism in society. Although their clothes are still in the good condition, they end up buying new clothes. The famous quote, "If most of us are ashamed of shabby clothes and shabby furniture, let us be more ashamed of shabby ideas and shabby philosophies.
It would be a sad situation if the wrapper were better than the meat wrapped inside It" by Albert Einstein truly rings to us as we face this issue. He was always seen in old clothes. Clothes have the power to judge us in a negative or positive perception, and sometimes people wrongly judge others based on their clothes. Coupled with the fact that the now Westernized fashion world is seasonal, Malaysians, as well as other countries around the equator or with extreme climates find it hard to keep up with the trend.
When a suitable trend does find its way to the citizens, there is a certainty that in days, everyone is conformed to this new style. Even for the Westerns, the ever-changing line is a leech to time, money and energy. To sum up, the fashion world creates a community that spends mad cash for people who wants to follow a near impossible trend. Dress better to feel better. By dressing well, you can improve your confidence level and change people's negative perceptions about the way we dress.
If you ever heard fashion quotes " dress to impress " and "always dress like it's the best day of your life" this will thumb to in spirit and motivate. These quotes are used often as the general rule of thumb to in spirit and motivate all of us to dress well. Actually, dressing well can affect the way you come across to others. Dressing in clean, organized and tidy clothes that fit well and show off personality is one of the top ways to increase confidence and self – esteem. No matter your size, the fit of your clothes make a difference in the way you look and feel while wearing them.
Tops, bottoms, and dresses that do not fit well likely feel uncomfortable and may look unflattering. Clothes that fit correctly on the hand help you look put together and they are often much comfortable. For that reason, it is important to know your measurements and shop for clothes in your correct size. If you do not love it, do not buy it. Have you ever looked into your closet and thought in your mind, " I have used all these clothes. I have nothing to wear? " Avoid that feeling by only buying clothes you absolutely love and like.
In other words, find styles that work and suit you. There is nothing wrong with buying the same fashion of clothes in three different colors if you absolutely love the way it makes you look and feel. In fact, you should actively look for styles that suit on your body type and incorporate them into your wardrobe as much as possible. If you wear something that you love every single day, I believe you will be able to deal and face your day with much confidence. Bear in your mind, there are some cuts that look great on everyone if you know how to choose and embrace your style.
For example, an A-line skirt suits for those who want to show off their waistline for any body type if you know how to style with it. So, we can see that you will be able to invest in higher quality items that can be worn over and over again, and best of all, you will always feel good about the way you look. On a concluding note, fashion truly is a King Midas, touching everything into gold. There is no doubt that fashion helps people to connect internationally since it travels all around the world. Then again, there are always two sides to a coin, and evil seeps in.
Personally, fashion will not be harmful if you know how to control and balance your obsession towards it. Fashion is undoubtedly good, bad and unavoidable, all in one. All walks of life must take the initiative to fully understand what fashion is and fully utilize it for its benefits especially for your own. The quote "Elegance does not consist in putting on a new dress" by Coco Chanel and "Wearing the correct dress for any occasion is a matter of good manners" by Loretta Young really ring to us what is the true definition of fashion. There is no harm in fashion unless you let it interferes with your lifestyles and career.
Related Topics