The Fall of The Okonkwo Tribe Due to False Belief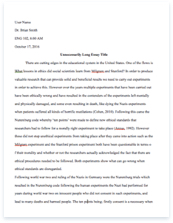 The whole doc is available only for registered users
A limited time offer! Get a custom sample essay written according to your requirements urgent 3h delivery guaranteed
Order Now
In Things Fall Apart, is one of the things the author heavily incorporated in the book. The events that led up to the failure can also give the book its title. The Christians appear throughout the book and bring mass division upon the Ibo. One of the first families that were heavily affected by the religion is Okonkwo's family. The new faith splits the bond between father and son. The Christians are aiming to destroy all the faith that lies in the very heart of Ibo belief. The magnitude of their planned attack went as deep to shake the core of Ibo culture. The tribes religious values are used to maintain the order throughout all other aspects of their life.
There are people who easily transfer religions and those are the ones that have no role in their tribe, so therefore they have absolutely everything to gain. In a tribal society, having a strong core of unity within all members of the tribe are critically essential. Being able to respect and follow through with orders given by the elders passed down by their god and goddesses is strongly valued and necessary. This whole concept is destroyed as soon as some begin processing thoughts that have differing values that have been brought to them by the Christian missionaries. This allows an increasing amount of acceptance to the rural thought and religion and calls for the exposes of their culture. It is not a coincidence that Okonkwo resists the new culture that is being transpired upon his tribe and he winds up dead at the end of the novel. Due to the fact he committed suicide, he couldn't be provided with a Warrior-styled burial.
Which he deserved without a doubt. The author (Achebe) doesn't hide the heartache and superstitious thoughts that occur all throughout the tribe. Its apparent that it was this way of thinking that opened the way for the splitting and division of the tribe. The idea of falling apart is very profound in the rise and fall of Okonkwo. He is the overall representation of the good and bad of his culture. Therefore, Okonkwo himself becomes a face in the part of the tribe dividing. The title can be derived throughout Okonkwo's life. He tries so hard throughout the novel to never become his father. But, you can only wonder at some point did he become worse than his father.
Related Topics