The Ethnography Peter Wogan's Magical Writing In Salasaca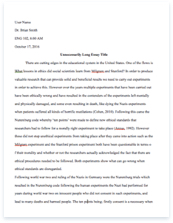 The whole doc is available only for registered users
A limited time offer! Get a custom sample essay written according to your requirements urgent 3h delivery guaranteed
Order Now
The ethnography "Magical Writing In Salasaca: Literacy and Power in Highland Ecuador" was far more intriguing then I had expected. I enjoyed the way the book was organized and felt that it was very easy to follow because Peter Wogan broke his book into different categories and subjects. He breaks the book into categories starting with witchcraft and writing, in which he talks about his personal experiences with the book of names, San Gonzalo, and his personal beliefs on these magical writings. Then he discusses the sources of these magical beliefs and how they affect the culture of the Salasaca.. The following chapter is called God's book and he discusses the Salasacas beliefs in the world beyond this one. Discussing the accounts of a man named Clemente who returned from the dead to Julia, to whom he stayed with during his time in Equador. Furthermore, he discusses the day of the dead in chapter. I found this chapter the most interesting because I had heard of the day of the dead before, and never knew what it was about.
I found it interesting that the day of the dead differed from the Mexican day of the dead. In addition, it surprised me to how the Salasca's deeply believed in the routine that holy water must be splashed on the list of souls to cool them off. I feel that the author organized all his information in a way that was easily understood and was extremely clear in the concepts that he wrote about. The way the author wrote his ethnography seemed as if it was a story of his accounts, and he did an excellent job describing his experience to create a story as well. Wogan creates a symmetrical analysis of the writings in the Salasacan culture and personal existence.
He analyzes how the writings of the Salsacan people and how big of a role it plays in their personal existence. He added interviews in which gave voice to the Salascan people, and I felt added to the complexity of his book. My favorite thing about his writing's was that at the end of each chapter he put footnotes that further clarified certain aspects of the chapter. Whether, he had more to elaborate on, or definitions to produce clarity in a subject matter without these at the end of each chapter I feel that I would not of been able to understand the book as well. But, I also felt that at the same time it added to the confusion of reading the footnotes at the end of the chapters and drawing my attention to have to puzzle it all together. Lastly, the images he put throughout the book were well placed and aided in the writing to complete each chapter.
I found numerous ideas that I found very relevant to this course. I feel that I have learned a vast amount of information on the Salasca's culture in Latin America in the ways of writing. In the chapter of weaving and writing, he discusses the equation between writing and weaving and how many tourists would come and ask what did their weaving's mean? Seeing the pictures of the intricate weavings and how the Salasacas prayed to the mountain site for improvement in writing, weaving, and improvements in other tasks demanding fine hand coordination, it truly showed how highly important this was to their culture. Relating this back to the course I can truly see how there is not just oral accounts of the histories that are in the cultures in Latin America. It inspired me when reading about the arrangements of living that Wogan endured, and how it changed his outlook on the way he raised his family. Once he returned home from his stay with Alonso and Julie he promised to Julie that he would let his baby sleep with him, because he realized that the U.S. custom of giving babies their own rooms was nothing other than emotional cruelty. After being in such close quarters of this family he followed through on his vow and kept this tradition when returning home. Throughout this book Wogan does a great way of incorporating all the little joys of everyday life of highland Ecuador.
I did not feel that there was anything that I exactly disagreed with while reading, because this is my first time reading and learning about anything of this culture. Mostly, there may have been a few accounts that I wish the Wogan could of expanded on a little more for my understanding. Also, because I would of found it interesting to learn a little more about; such as, when he was drawing connections from the Salasca's culture to the United States. He explained how the identity being put into records defines personal existence. I wish he would of expanded a little more on the premise that "if children are not registered, it's as if they don't exist." It took me a good amount of time to read over that concept and truly understand what he was talking about. I felt that I got so much into his narrative story of his experience with the witch and him writing his name in the candle, that when he directly switched to discussing all the ways to define personal existence I was very confused.
Two lasting questions that I would like to follow up on that I felt were unclear in the book is that on the did the writings that he discussed in chapter one and two about how baptism books, birth certificates, and registry records emulate official documentation? Or was he comparing and contrasting this as a hypothetical example. I was very interested in this chapter when discussing the lives of children and the need to be registered to feel as though they exist. He weaved this along with his story of his trip to the witches house to get his named erased from the book. Another question I ended with was that in the end of the book when he began to discuss book that's I had never heard of. Such as, One Hundred Years of Solitude, which I feel he was trying to use to compare, but it only added confusion to my understanding. Within that my final question would be to what these books he referenced to had to do within his ethnography and if upon reading them I could further my comprehension of his book. Overall, this book was a excellent choice to read and it gave me a small taste into the culture of the Salasaca, and made me want to learn more about their overall culture, not just about the different writing's in this culture.
Related Topics