The Espresso Lane To Global Markets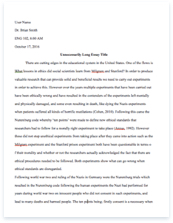 The whole doc is available only for registered users
A limited time offer! Get a custom sample essay written according to your requirements urgent 3h delivery guaranteed
Order Now
Introduction
Christophe Reale, the managing director of Espressamente is concerned about the future growth opportunities and the presence of Espressamente in the global market. However, entering into the global arena required prioritizing the market where the company could exploit the potential market and devise successful strategies in gaining highest market share. Analysis of Situation Faced by Organization
Internal Analysis
SWOT Analysis
Strengths
Illy has an experience of producing the world's finest coffee while focusing its production on quality. Illy has strong international presence in over 140 countries with over 50,000 coffeehouses and restaurants. The company's culture solely depends on providing quality coffee and to introduce innovative designs and new product ideas. Illy has been rated high in the Italian restaurants as it is the first mover to introduce the espresso machines to brew coffee in these restaurants. Illy applies a positive approach of zero defect in its production department which reflects the motto of the company that its setup is entirely focused on obsession for quality. Weaknesses
Illy has limited presence in developing economies which constitutes the majority of the sales worldwide. The company primarily focuses on developing economies where saturation of the market is at its peak and the company has failed to continuously innovate their products to sustain market growth. Illy also has a wide number of competitors in the market due to which it is becoming really tough for the company to stand out amongst the crowd. Opportunities
Until recently, the demand for specialty coffee has increased in both the developed nations and the emerging markets. As coffee is the second largest traded commodity after oil, an estimate of $70 billion of coffee is sold every year. In the United States, the sales are likely to increase by 20% each year, whereas, twice the ratio in developing economies. Therefore, the potential in the developing economies in terms of revenues and sales of coffee is very high and many companies have already developed strategies to enter those markets. However, while considering the market for developingcountries, the company which has the ability to introduce new concepts and ideas will succeed and shall differentiate itself from other competitors. Threats
A higher percentage of saturation has occurred in developed economies as larger quantity of competitors have entered the market and have triggered aggressive competition. This resulted the companies to spread their roots to international markets. Many companies have filed bankruptcy as they could not survive cut throat competition. The sales of coffee around the globe depends upon the disposable income and economic condition of a country. Due to the different economic crisis that occurred in Europe and American region, the sales of coffee has declined due to these two economic indicators. Core Competencies
The core competency of the company lies in offering quality coffee for the end consumers, which ultimately results in repeat purchases and influences consumers to become loyal to the company. The production concept of the company relies on the zero defect model which does not compromise on quality or bad odor. External Analysis
Competitor Analysis
Intense and aggressive competition has highlightedthe great potential of the coffee industry in developed economies which has resulted in the sales of $70 billion each year. Amongst the fierce competitors include Starbucks, McCafe, Costa Coffee, Lavazza, Tchibo, and many others. The competition in already developed economies is intense, however, companies are finding ways to expand their operation in developing economies for future growth opportunities. In developed economies, companies have to differentiate themselves from other companies to attract customers and maintain customer retention. Every company has core competencies upon which they bank their strategies and sustain their share in the market.
Starbucks has core competencies in providing roasted coffee to its consumers as they believe in producing value to its customers. The Starbucks experience is focused upon 3 P's which includes place, product, and most importantly its people. These three principles have lifted Starbucks to expand much further beyond competitor's imagination. The second largest competitor is McCafe which has a key strategy of offering premium coffee at affordable prices. Due to its international presence through McDonald's franchises, the company has global reach and performs well in the market. Overall, each competitor carries the influence to capture highest market share in developing economies which has posed a major challenge. PEST Analysis
Political
Many restrictions have been implied by government for sustainable coffee production that the companies shall emphasize upon producing organic coffee, with fair trade agreements, and that approves rainforest alliance. The government prohibits the use of growing coffee from plants which are not approved by the rainforest alliance. Economical
The coffee paradox has been illustrated which reflects a coffee crisis in the producing countries as a rising trend for a decrease in producer's income and prices of the products because of the in-house production. However, in consuming countries the trend reflects towards an increase in sales and profits. This is just a sample partial case solution. Please place the order on the website to order your own originally done case solution.
Related Topics