The Child Behavior Checklist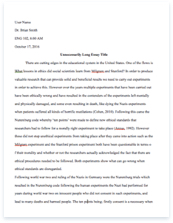 The whole doc is available only for registered users
A limited time offer! Get a custom sample essay written according to your requirements urgent 3h delivery guaranteed
Order Now
The Child Behavior Checklist (CBCL) is a widely-used method of identifying problem behavior in children. It is a component in the Achenbach System of Empirically Based Assessment developed by Thomas M. Achenbach.
Problems are identified by a respondent who knows the child well, usually a parent or other care giver. Alternative measures are available for teachers (the Teacher's Report Form) and the child (the Youth Self Report). There are two versions of the checklist. The preschool checklist (CBCL/1½-5) is intended for use with children aged 18 months to 5 years. The school-age version (CBCL/6-18) is for children aged 6 to 18 years.
The checklists consists of a number of statements about the child's behavior, e.g. Acts too young for his/her age. Responses are recorded on a Likert scale: 0 = Not True, 1 = Somewhat or Sometimes True, 2 = Very True or Often True. The preschool checklist contains 100 questions and the school-age checklist contains 120 questions.
Similar questions are grouped into a number of syndromes, e.g. Aggressive behavior, and their scores are summed to produce a score for that syndrome. Some syndromes are further summed to provide scores for Internalizing and Externalizing problem scales. A total score from all questions is also derived. For each syndrome, problem scale and the total score, tables are given that determine whether the score represents normal, borderline, or clinical behavior. These categorizations are based on quantiles from a normative sample.
Related Topics