"The Birthmark" and "The Scarlet Letter"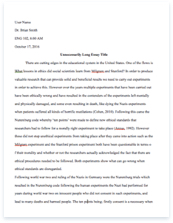 The whole doc is available only for registered users
A limited time offer! Get a custom sample essay written according to your requirements urgent 3h delivery guaranteed
Order Now
Nathaniel Hawthorne's two stories, "The Birthmark" and "The Scarlet Letter", have very similar themes and plots. The two stories were written in the 1800's when Europeans, that practised the Puritan religion, started to move to America. The two stories share similar themes of sin and desire with underlying Puritan values.
Aylmer, the devoted scientist in "The Birthmark", marries a beautiful woman with a single physical flaw, a birthmark on her face. The tale evolves around his progressive frenzy to use his scientific skills to render his bride perfect. Hester Prynne of "The Scarlet Letter" falls in love with the Reverend Arthur Dimmesdale when she first moves to America to set up a home for her husband. They secretly begin an affair. The result of this affair is Hester becomes pregnant. When the government finds out, she is publically humiliated and thrown in jail where she gives birth to her daughter, Pearl. Her husband arrives and is now driven by the idea to find out who was Hester's lover and destroy his life, as well as the life of Hester.
Throughout the two stories, sin is the major theme. Sin and knowledge are linked in the Puritan religion. Hester Prynne of "The Scarlet Letter" was said to have sinned when she had an affair. She was a strong, free-spirited woman whom the society felt threatened by. Her desire and love became ostracised as a sin. Aylmer of "The Birthmark" was believed to have sinned when he overextended the reach from realm of natural into that of the divine. He tampered with God's creations. He tried to make his wife perfect but he could not see that she already was. Aylmer tried to obtain what he thought he wanted, but only by sacrificing the thing he loved but took for granted. The Puritans believed that science and knowledge was a sin. His quest for perfection and knowledge became an obsession. He believed that his wife's one imperfection, the birthmark, had to be eradicated .The narrator described his obsession as, "He had devoted himself, however, too unreservedly to scientific studies," (Hawthorne 639). The Puritan religion would have seen his devotion to science as a sin. Though, who is to say what is a sin in God's eyes.
Puritan society created a firm grapple upon individuals which in turn can lead to alienation and a sense of brain-washing. They felt that knowledge and science was a sin. Imagination was a curse. The birthmark was seen as a sin, a stain on the human soul. Many people who had birthmarks were believed to be witches. Georgina's birthmark upon her face symbolized life and the imperfections of humanity. Georgina remarks on her birthmark, "the stain goes as deep as life itself." (Hawthorne, 642). Though, many Puritan followers believed that it was the mark of Satan. Hester Pyrnne's daughter, Pearl, also had a birthmark and the elders of the church believed that she was cursed and evil.
The Puritans had many strict rules regarding the way of life of their followers. Women were not to live alone and be independent. Women should not talk amongst themselves when a man is not present. They were threatened by strong women and often condemned them as being witches. They believed that God gave consequences for every good and bad action. The strict religion publically humiliated and punished people for things that they felt were wrong. The followers of this religion were paranoid of new developments and felt that they threatened their way of life. The Puritans believed that desire was a moral sin. Alymer's desire for the simplicity of scientific explanation. Hester's desire to be with the man she loved and the father of her child.
These two stories help to show how some things have changed over the years but also how many attitudes and prejudges continue to be supported through the years. Today, cosmetic companies market their products very carefully targeting women to make the "beautiful". The struggles and prejudges that single mothers face as they try to raise their children are well documented. Women now have some more freedoms to make choices that affect their lives and their bodies but the struggle to have equal opportunities in all aspects of their lives is still a long way from complete.
Works Cited
Hawthorne, Nathaniel. "The Bithmark." Norton Anthropology of American Literature. Eds. W.H. New and W.E. Messenger, Scarborough: Prentice-Hall,
1989. 639-650.
Related Topics