The Benefits of Watching Food Shows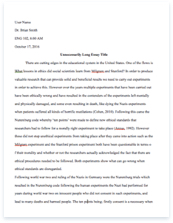 The whole doc is available only for registered users
Pages: 11
Word count: 2710
Category: Food
A limited time offer! Get a custom sample essay written according to your requirements urgent 3h delivery guaranteed
Order Now
No doubt that reached a point where eating food is no longer enough – we must now be entertain by it. And boy, are we ever. In the past 10 years, more than ever before, food-related programming loomed Large (on cable, in particular) and during the same decade that bid goodbye to Julia Child-a pioneer of so many things, including food TV-we welcomed the shiny young faces of Rachael Ray, Giada De Laurentiis, Bobby Flay and more into our homes. But in much the same way that the past 10 years have ushered in a Golden Age of Television, so too has it seen a shift in the quality of food TV. There's still a place for the friendly host walking us through all manner of chopping and poaching on camera in a faux-homey studio kitchen, but this decade's best food programming has plied our species' basic need for sustenance with our culture's love of competition and thirst for voyeurism into shows that are suspenseful, hilarious, challenging, maddening, and stomach-rumble-including-often all at once.
Motivation to high level of performance is satisfaction with the job. Satisfaction is not the same as motivation; viewer's satisfaction is more attitudes, an internal state. So the researches decided to have a study about the benefits of the food shows as perceived by the selected HRM
students. Food. It is not just for dinner anymore. There is now food politics, food issues, food crisis, Food Inc., and the Food Network. One can talk about food, read about food, eat food and watch food being cooked, all within the span of a single day. Information on food and restaurants – in some form or another – permeates the airwaves, the Internet and many major print publications, be it books or magazines or newspapers. Food sells. But, other than the fact that we all have to eat, why has food become so popular in our collective conversations? Former New York Times restaurant critic Frank Bruni says, "food is an aspect of culture that, because everyone necessarily participates in it to some degree, is more egalitarian than, say, ballet, or opera, or even theater. It's easier and less intimidating to join the fray and weigh in with an opinion" (Haskell, 2010). Everyone, it seems, has something to say about food.
Terms like, "braise, bake, broil and baste," which were once only heard in the kitchen, are now a normal part of water cooler/happy-hour/book club discussions. Cooking is no longer seen as domestic drudgery; it is now a form of entertainment and a way to connect. Food brings people together and, at the most basic level, it is a simple and friendly conversation starter. Whether it is a discussion about what is currently on your plate or where you plan to eat next week, food is common ground. Moreover, with the selection of food programming boiling over on television, it is easier than ever to find an appetizing food program. While the Food Network still dominates the cooking show medium, Bravo, the Travel Channel, the Public Broadcasting. Station (PBS), The Learning Channel (TLC), the network television stations, and the recently launched Cooking Channel (sister station to the Food Network) all fight for viewership. But it is not just images of delectable dinners that entice us to sit in front of the television instead of at our kitchen tables; many viewers tune in because they want to see what their favorite celebrity chef is cooking up for dinner.
Chef extraordinaire Emeril Lagasse, along with other celebrity chefs such as Rachel Ray, Bobby Flay, Giada De Laurentis and Paula Deen, have made a once maternal obligation an entertaining pastime for millions of Americans. Yet, even as more and more people equip themselves with food knowledge to share with friends and family, they also seem caught in a lifestyle quandary. While verbally projecting an image of culinary hauteur, many Americans are also cooking less and eating processed food more (Cutler, 2003). Call it a consumer coincidence or a culinary conundrum, but as America's gastronomic interest has expanded, so has its waistline. The question is then, what can be done about it? Can food entertainment also be used as food education and will Americans be open to health-conscious messages, or are they only interested in food programming if it is a guilt-free, leisurely pursuit? The Center for Disease Control and Prevention reports that more than 66 percent of Americans are overweight or obese, and the prevalence of obesity has more than doubled among adults and has tripled among children and adolescents from 1980 to 2004 (Office of the United States Surgeon General (OSG), 2010).
The OSG has warned that the number of overweight and obese citizens in the United States has reached epidemic proportions and if this problem is not confronted, America's weight problem could cause as much preventable disease and death as cigarette smoking (2010). But why have Americans continued to pack on the pounds even as food information is easier to access than ever before? Some researchers suggest that the battle of the bulge has to do with more people living a sedentary lifestyle, increased caloric intake (which can be blamed in part on ballooning portion sizes), unhealthy environments with few healthy food options, the rising cost of food items, confusion about food labels, lack of coherent messaging about nutrition, and a lack of understanding or concern about weight gain (Prentice and Jebb, 2003; Unger, 2004; Chandon and Wansink, 2007; Montiero, 2010). In 2003, Harvard health economist David Cutler conducted a study on why Americans have become more obese. His research concluded that mass food packaging, which includes vacuum packing, improved preservatives, deep-freezing, and microwaves, can be blamed for increasing consumer consumption.
Prices on items like frozen foods, soda and potato chips are increasing at half the rate of fresh fruits and vegetables and their "ready-to-eat" availability means we can eat more of these foods any time we choose (Cutler, 2003). No longer do we have to cook our own meals or prepare snacks by hand. We can pick them up from the gas station. The "hyper-palatable" and "habit-forming" effects that Montiero identifies are points made by other researchers (Prentice and Jebb, 2003; Currie, Della Vigna, Moretti, and Pathania, 2009). They believe humans are unable to self-regulate highly dense foods, like the kind people consume at fast-food restaurants. Regular consumers engage in "passive over-consumption" because high-energy foods challenge basic human appetite control systems (Montiero, 2003). This naturally results in weight-gain. So not only do Americans have easier access to high caloric food, but eating these offerings regularly leads to an addiction-like craving for them. But how is it that, in a time when we can observe culinary masters such as chefs Eric Ripert and Lidia Bastianich, both of whom have shows on PBS, and take in cooking advice from the likes of Tom Colicchio and Anthony Bourdain on Bravo's Top Chef, and even receive instruction
from Rachel Ray and Ina Garten on the Food Network, American audiences still prefer to heat up Hamburger Helper rather than make a home-cooked meal for their family? Food journalist Michael Pollan phrases the question this way, How are we so eager to watch other people browning beef cubes on screen but so less eager to brown them ourselves? For the rise of Julia Child as a figure of cultural consequence – along with Alice Waters and Mario Batali and Martha Stewart and Emeril Lagasse – has paradoxically coincided with rise of fast food, home-meal replacements and the decline and fall of everyday home cooking . It seems that the more we have learned about food, the less inclined we are to cook it, and we have seen this play out, in a very unhealthy manner, around our waistlines. The average American spends only 27 minutes a day on food preparation, which is less than half the time most people spend watching a cooking show episode (Pollan, 2009). Then the question becomes, why do people spend so much time watching other people cook, often more time than they spend cooking for themselves? Why do people watch food programming at all?
The purpose of this paper was to examine why people watch food programs, to study how this might affect American's relationship with food, and to determine if cooking shows are a viable method to promote healthier eating habits, which could, in turn, help combat obesity. To accomplish this, I first reviewed existing literature on what affects media choices with regards to cooking programs. There are a number of theories as to why people watch food programming and this paper attempted to codify and explain those ideas through a discussion of different social science theories, through a comparison of cooking shows and similar television programming genres, and through an examination of the existing literature on cooking show programs. I also discuss how revised media content could positively affect the growing obesity trend and I highlight certain health communication theories that could be used to support a more healthful message in the food programming content. Finally, I conducted an survey to determine what attracts people to food shows and if they would be open to and/or affected by health-conscious messages. The overall goal was to further the understanding of society's relationship with food and food programs, and how
this genre could be used to communicate more nutritious food messages. To begin, however, it is necessary to know a bit of food programming's history in order to determine where it is going. Background of the Study
It was this dual devotion to proper instruction and entertainment that made her show different from what is currently aired on cable television, which critics contend is disproportionately oriented toward entertainment.it is something that really showcases a lot of talents or skills when it comes to cooking. It is a show where it will teach you a lot of things about cooking. One of the shows that showcase a lot of things about cooking is Cake Boss. Cake Boss is an American reality television series, airing on the cable television network TLC. Set as Carlo's Bakery in Hoboken, New Jersey, the show mainly follows Buddy Valastro and his family as they operate their business, with a focus on how they make their cakes, along with family gatherings and celebrations. Another one is Master Chef; MasterChef is a television cooking game show franchise created by Franc Roddam, which originated with the UK version of the show in 1990.The format was revived by executive producers Franc Roddam and John Silver and series producer Karen Ross, who updated the original format for the BBC in 2005.
The same MasterChef log is used around the world and has become well-known in many countries over the years. The show is now produced in more than 35 countries worldwide and airs in at least 200 territories. The format has appeared in four versions; the main MasterChef series, MasterChef: The Professionals for professional working chefs, Celebrity MasterChef featuring well known celebrities as the contestants and Junior MasterChef, a version created and adapted for young children, which was first developed in 1994 and has also spanned to other countries outside the UK in recent years. The show has expanded to many version in other countries. MasterChef Australia, which is the most watched television series in Australia, with the season 2 finale being the 3rd most watched show in Australian television history. MasterChef Australia won the award for 'Most Popular Reality Program at the 2010 Logie Awards'. Also Man vs. Food showcases the same knowledge about cooking. Man vs. Food is an American food reality television series. It premiered on December 3, 2008 on the Travel Channel.
The program is hosted by actor and food enthusiast Adam Richman. In each episode, Richman explores the "big food" offerings of different American city before facing off against a pre-existing's eating challenge at a local restaurant. The program airs in syndication at various times during the week. The researcher of this study are Hotel and Restaurant Management students who wanted to know the benefits of watching food shows for there chosen field. They will try to find out what are the benefits of watching food shows. Setting of the Study
The setting of the study will take place at Centro Escolar University Makati Legazpi Village Unit. It is located at Legazpi Village along Esteban-Bolanos Street as the extension of the Gil Puyat Unit. The non-science course is located here and the DMD. This building consists of centralized air-conditioned classrooms, computer laboratories, and a library with audio-visual facilities. The new addition is the Dental facilities inside the building.
Figure 1
Map of Makati City
Figure 2
Map of Makati showing the location of Centro Escolar University Legazpi Village
Theoretical/Conceptual Framework
The uses and gratifications theory was developed around the idea that an object is best defined by its use. Rubin (2009) believes that individual behavior is purposive and that people, by and large, selectively choose the media they wish to participate in, based on their expectations and desires. Therefore, uses and gratifications, at its simplest, is a theory of how people use the media to fulfill specific gratifications. Scholars have argued that the uses and gratifications theory is one of the best ways to study why certain new media genres – be it a pop culture phenomena (like reality television) or a technological mass media break-through – resonate with the public.
Statement of the Problem
The study is entitled "The Benefits of Watching Food Shows Perceived by HRM Student". This study aims to know the benefits of the show knowledge of the HRM students about cooking different cuisines. 1. Specifically, It seeks answers to the following:
What is the profile of the respondent in terms of:
2.1 Gender
2.2 Age
2.3 Course
2. What are the cooking shows that the respondent are able to watch? 3. What are the reasons why the respondent watch cooking shows? 4. What are the benefits of the respondent for watching cooking show? 5. What were the perception of the respondents regarding cooking show in relation to academic performance in terms of:
Assumptions of the Study
The researchers assume that the cooking shows would be able to give
information regarding food.
The researcher is anchored on that assumption that the respondents are serious and truthful in answering the servey questionnaires that will be given to them. Significance of the Study
The research study primarily will analyze the benefits of watching food shows. This will contribute first to the Hotel and Restaurant Management students for the reason that they will have a lot of knowledge about every little thing they can encounter on their field. Through this, they would also know the main idea of the show and have the best out of it.
Second, to the management of the TV shows, this study will be an instrument in knowing how useful there programs to viewers and be able to reach them out of the top management.
Third, to the researchers, this research will help them develop skills that will be of great help on their future job.
Lastly, to the future researchers, this study can serve as a reference to their study and can further enhance their knowledge on this topic.
Scope, Limitations and Delimitations
This study will only deal with the benefits of watching food shows. The respondents of this study will be consisted of hotel and restaurant management students.
In addition, students who are not studying about food and hospitality industry because they are more on having knowledge about there chosen career.
The study cited benefits of watching food shows such as good recipes, tips and suggestions. Definition of terms
For better understanding of this study, the following terms were defined: Centralized. To draw into or toward a center; consolidate or to bring under the single, central authority.
Benefits. Something that promotes well- being.
Field. An area or division of an activity, subject or profession. Airing. Exposure to public view or notice.
Doubt. To lack confidence in.
Pioneer. One of the first to settle in a territory.
Ushered. An officer who walks before a person of rank.
Poach. To trespass for the purpose of stealing game.
Plied. To use or wield diligently.
Sustenance. Means of support, maintenance, or subsistence.
Related Topics