The Autobiography of Malcolm X: As Told to Alex Haley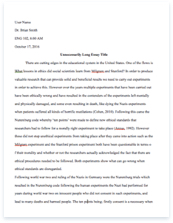 The whole doc is available only for registered users
A limited time offer! Get a custom sample essay written according to your requirements urgent 3h delivery guaranteed
Order Now
Introduction
            The "The Autobiography of Malcolm X" was actually written by Alex Haley. Malcolm X coordinated with Haley to arrange and integrate his story to him. Haley became the medium of Malcolm X to share his ideas and experiences of his past as a black living with white. The story has told over a sequence of interviews. From Haley's notes, he wrote his story and used the first person to arrange the materials. Thus, Haley is the original author of the book only that the book is entitled "The Autobiography of Malcolm X."
Racism Battle of Malcolm X
The "The Autobiography of Malcolm X" reflects his different disappointments against his society as an African American Citizen. This issue is primarily focused on racial racism of white against black as well as the humanity as a basic right. In the autobiography, Malcolm focuses on how the racism plagued and trampled the rights of the black society. According to Malcolm, the white people in his surrounding referred him as an inferior or a substandard people. From those dehumanizing experiences against white, encouraged and drove him to fight against discrimination of whites against blacks. It gave him the strength to fight against human and racial inequality. According to the story, not only he experienced delicate racism but also his family encountered subtle discrimination against them. His mother was threatened by Ku Klux Klansmen while she is pregnant.
However, the story also says that not all people in his surrounding treated him as most of the white did. Some people he encountered in his school are also friendly or nice to him. From this good relationship, Malcolm thought that these people exercised no bias or prejudice. His other insights revealed that he just using him for he is different from whites. The unjust treatment of whites against him and other black people resulted in his dehumanizing certain whites. His battle, according to the book, was his revenge as he defeated from his battle for several years. He had a white girlfriend named Sophia as a status symbol in Boston, viewing her less a person. The story expressed how some people were treated less human beings but rather as an object. From the autobiography, it is seen the existence of hierarchy in the society. This hierarchy unfolded the determination of the individual status and identities and of self-respect.
The autobiography also expressed Malcolm changes in the case of point of travel and communication. He traveled in so many distant places and met people having conversations. These places were realized by him to be very confusing.  In the story, his travels focused on the searching of his home and philosophy of life. When he moved to Boston, he saw different insignificant activities of people around him. He quickly realized and absorbed these activities such as gambling, jazz and petty crimes.
Based on the autobiography, although Malcolm quitted gambling, smoking and crime while in jail, his live through as evangelist after prison is comparable in his hustling experiences. Experiences gave him different insights as well as lessons from his years as a hustler to lead him to become a religious authority and media personality. It gave him the awareness and skills on how to disbelieve people and to recognize his enemies. In fact, his funny story that he took his bachelor degree in the street of Harlem gave him the realization the usefulness of his experiences in hustling. Although he totally buried his former way of living, he could not regret the advantages he learned from his past days on hoe to relate with his environment and, especially, how to survive as a black man in America's very discriminating culture.
In the autobiography, he said, "I reflected many, many times to myself upon how the American Negro has been entirely brainwashed from ever seeing or thinking of himself, as he should, as a part of the nonwhite peoples of the world" (Haley & Malcolm X, 1964). This quote just expressed his eagerness to fight against the black race relations tyranny. In the book, he expressed his grievances for the hard situation that the black people are facing. He suggested for unity among blacks to battle against a cruel society of white to deal with the subtle racial relations. Instead of expressing and realizing both black and white perspective, he rather concentrated on encouraging black to build up power for he believed that this oppression in not just happened in his nearby surrounding but throughout the world where black is existing.
After several years of battle against the language and expression of whites against black in the Nation of Islam, he met a white woman in Mecca who treated him as an equal level of citizen. On this event, he soon realized the equality fostered by whites towards any other people especially black. Ion addition, he also visited jails and he met Bibi. He admired his intelligence. In due course, after taking reflections from Bibi ideas, he reinvented himself as a devoted Muslim. His racial experiences also broadened when he expelled from the Nation of Islam and went to Mecca and had a pilgrimage. From his ignorance of Arabic and local customs, he realized several insights about race in America by integrating his experiences to his philosophy. According to the story, his periods of travel and conversation with several people, the natural setting and environment of Malcolm have greatly contributed to his own perspectives or insights and his eagerness to be informed. While he was in the Nation of Islam, tension has increased due to his break with Elijah Muhammad and his official public announcement of his break with the Nation of Islam. There were alleged orders given to assassinate him. His death was finally given to him in Manhattan during his speech in the crowd on February 1, 1965.
The book became one of the most important true-to-life stories as it offers the actual and personal insights and experiences in the midst of the core issue of twentieth-century America. Nowadays, Malcolm X is admired by renowned person such as Martin Luther King, Jr and some said that his death was due to his fight for human's equality of rights and race.
Reference 
Haley, A., & Malcolm X. (1964). The Autobiography of Malcolm X: As Told to Alex Haley.
            New York: Ballantine publishing Group.
Related Topics