Tesco: from Domestic Operator to Multinational Giant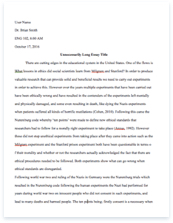 The whole doc is available only for registered users
Pages: 5
Word count: 1036
Category: Tesco
A limited time offer! Get a custom sample essay written according to your requirements urgent 3h delivery guaranteed
Order Now
1. Tesco's international strategy is focused on becoming the market leader. Tesco's strategy was to increase its market share by increasing its market presence. This was done through acquisition in Asia. While in UK, this was done through opening new stores. Tesco's international strategy was to expand to as many countries as possible because this helped in increasing profits as it gave new areas to explore. Tesco spread itself into Asia, UK, neighboring European countries and the US, making it stronger and larger. It is now one of the biggest multinational stores across the globe and faces competition from similar big names such as Wal-Mart, Carrefour etc. Tesco came up with solutions as and when required in order to meet what the situation demanded. For eg: Opening low cost stores when there was no scope of growth for large hypermarkets in Thailand. Opening out-of-town superstores, when required by the UK laws and regulations. Tesco did fail in Taiwan but otherwise their strategy has fallen into place and helped them become stronger and bigger. Tesco's international expansion was mainly driven by UK government policies.
2. There are 3 drivers of diversification:
a. Exploiting Economies of scope
This focusses on efficiency gains through applying the organization's existing competences and/or resources to new services or markets. When Tesco saw that opportunities to develop large hypermarkets were decreasing in Thailand, focus was shifting to development of value or low cost (express) shops. This helped Tesco to enter smaller markets.
b. Stretching corporate management competences
The operations of express stores in Asia were similar to the operations in UK. Tesco used its management competencies and experience to develop a similar model in Asia and succeed as well.
c. Increasing market power
This has been the main focus of Tesco's strategy. Tesco has increased its market power by buying a majority stake in domestic retail chains (like in the case of Thailand and South Korea). Additionally as time passed by, Tesco acquired more land for expansion and in areas that would be attractive sites in the near future. This has enabled Tesco to gain more land space and reach out to more customers, thereby increasing their market share and gaining market power.
3. The way Tesco entered both the Thailand and South Korea markets was the same. The following points of similarity could be seen in both these markets.
Majority Stake
To enter the market, Tesco acquired a majority stake in 2 retail chains – Lotus in Thailand and Homeplus in South Korea.
Capital investment
Over the years Tesco made substantial and continuous post-entry capital investment in both the countries. The reason for this investment was to build scale and accrue market leadership advantages. There was a difference in the type of capital investment in both the countries.
In Thailand, the investment was entirely into organic expansion and required store development programs of considerable flexibility. However, in South Korea, the focus was on within market acquisitions. 36 ex-Carrefour Homever hypermarkets were acquired for £950 million in 2008 and 12 Aram Market Hypermarkets in 2005. This helped Tesco in enhancing its market position and to keep pace with the domestic market leader E-mart.
The ability of financing those acquisitions and to sustain a substantial annual capital expenditure programme has been backed by Tesco's growing profitability.
Pressures and regulation
In both the countries, Tesco faced pressures of tightened regulation and restrictions in expansion of multinational retailers. Pressures included re-imposing restrictions on ownership and control, through efforts to protect existing retails structures via land-use zoning, and regulation of retaul formats, store opening hours, below cost selling etc. As it became difficult to expand/develop hypermarkets in Thailand, Tesco focused on small-format convenience stores (Express), starting with Bangkok and then moving to other cities. It also started to build a low-cost or Value store format to enter smaller markets. By doing all the above, Tesco managed to build a strong business in Thailand and South Korea. Even though Tesco performed well in Thailand and South Korea, it failed in Taiwan. This was because of the following reasons: 1. Strong competition with a developed brand
Carrefour had already been operating in Taiwan for over a decade and had become a strong market dominance.
2. No local partner
In Thailand and South Korea, Tesco was able to enjoy benefits from its local partners that knew the market well. However, this benefit could not be availed in Taiwan.
3. Used up potential attractive sites
Carrefour had already used up potential attractive sites or were held by them for future development option, giving Tesco limited choice of location and restriction its access to the customers.
4. PESTEL analysis of TESCO:
Political
* Government of Thailand acted to protect local retailers, thereby restriction growth of big hypermarkets. Tesco's growth was restricted * UK government regulations led to development of out-of-town superstores by Tesco. * While exploring international markets, Tesco had to keep in mind local government policies such as preservation of local jobs. The issue Tesco faced was balancing the preservation of local jobs and providing cheaper goods at the same time.
Economic
* Food profits were declining on food products. This made Tesco explore non-food items as well. * Profits from international business were growing year by year and led to expansion to other countries.
Social
* Tesco focused on low cost/value stores to meet the demand of local population in Thailand. * Certain types of foods are popular in certain territories while they may not be preferred in other countries. Diversity in the foods offered is important. * Consumption pattern is also changing over the period of time. This needs to be tracked to ensure that market share is not lost. Technological
* Tesco had been up to date in adopting new technology to manage operations such as computerized logistics and operations such as self-scanning in Sothern California. * Tesco also developed online services to attract more customers.
Environmental
None
Legal
* Due to different legislations, Tesco has to keep abreast of all law related issues. The major challenges for Tesco relate to political factors and legal factors. Policies can have a huge impact on the business and can pose challenges to the business strategy.
Related Topics