Technoethics and Human-Computer Interaction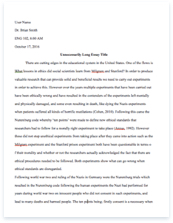 The whole doc is available only for registered users
A limited time offer! Get a custom sample essay written according to your requirements urgent 3h delivery guaranteed
Order Now
Throughout the course of this semester, I have expanded my academic knowledge in subject matters pertaining to the study of informatics. Two of my favorite subject matters to learn about was Human Computer Interaction (HCI) and the idea of the uncanny valley. Technoethics was a subject that I had difficulty understanding because of the ever-changing laws that govern the Internet world. Looking back at my experience with this class, I am glad I decided to take it and will continue to learn more about what informatics has to offer.
I enjoyed the lecture that was about human computer interactions. "Human-Computer Interaction (HCI) is a multidisciplinary field of study focusing on the design of computer technology and, in particular, the interaction between humans (the users) and computers". There are three main disciplines of HCI, which include computer science, cognitive science, and human factors engineering. All of these facets are implemented together to improve the efficiency and usability of HCI. I learned about User Experience (UX) and User Interface (UI) Design. I found it interesting that both have their own tasks and functions. From one of the readings from the pre-lecture prep, user experience design "is the process of enhancing customer satisfaction and loyalty by improving the usability, ease of use, and pleasure provided in the interaction between the customer and the product", while user interface design "is responsible for the transference of a product's development, research, content and layout into an attractive, guiding and responsive experience for users" (Lamprecht).
I have always wondered how web designers manage to make their websites both user-friendly and function properly, and the combination of user interface and user experience is how they complete this task. The analogy about the ketchup bottles in lecture helped me understand the difference between the two. A ketchup bottle that is faced down and is easy to squeeze would be an example of a user experience design, while a ketchup bottle that is face up and not easy to squeeze, but looks appealing, would be an example of a user interface design. To further my knowledge with this topic, I have started to read The Psychology of Human-Computer Interaction by Stuart K. Card, Thomas P. Moran, and Allan Newell. One of my favorite quotes from the book talks about the advancements of HCI: "The emergence of the direct human interface, circumventing the keypuncher and operator, must itself be counted as an improvement of enormous value. We now have interfaces that allow the use of computers for such highly interactive tasks as making engineering drawings and taking airline reservations". It's fascinating to think how far HCI has come just in the past few decades, and I am curious to see where it will go in the future.
Another topic that I enjoyed learning about was the uncanny valley from the real and digital lecture material. In a YouTube video from one of the pre-lecture preps, the uncanny valley was discovered by Masahiro Mori. He noticed that "the more human his robots appeared, the more people reacted positively towards them. However, when the robots appeared very close to humans but not enough to be convincing, people found them to be visually revolting" (Mashable). I find it curious that people have different interpretations of where robots and technology sit in the uncanny valley for them. People who study the uncanny valley have struggled to understand it and determine how it affects people's behaviors and attitudes toward robots. I have always felt disturbed when I see a robot that was made to look like a human, like Cubo Girl and Erica.
Now I know that that feeling comes from my belief that these robots are part of the uncanny valley in my mind. "The uncanny valley metaphor suggests that a human appearance or behavior can make an artificial figure seem more familiar for viewers – but only up to a point. The sense of viewer familiarity drops sharply into the uncanny valley once the artificial figure tries but fails to mimic a realistic human" (Hsu). I have not yet explored the topic of the uncanny valley outside of class, but I would like to continue learning about this by participating in a research lab that tracks human behaviors and attitudes when they see or interact with a robot that looks nearly human. Scientists who study this still don't know exactly why humans react the way they do, and I would like to identify the sources of their reaction through research and tests in my future academic career.
One of the most challenging topics for me to understand was the topic of technoethics. Technology is constantly changing and therefore the ethics behind technology must change with it. I found it hard to believe that there are laws that govern technology. Technology is so vast and there must be rules and regulations to protect and guide it. "The simple fact is, figuring out what is ethical – a challenge under any circumstances – is getting trickier in the Internet age. As technology in general and the Internet in particular bring us more marvelous tools at an ever-increasing pace, companies are finding that moving toward the leading edge can earn them a black eye from some affronted segment of the online public" (Freedman). By discovering new technology, we are taking a risk by delving into territory we have never visited. We must create the ethics as we see fit with each new advancement in the Internet domain.
This class provided me with an overview of the subject matters that relate to informatics. I have learned many important concepts that pertain to technology and my everyday life. Throughout the labs, I learned multiple coding languages, including HTML, CSS, JavaScript, Python, and Database. I am now able to create my own website, which is something I can put on my resume and show to future employers. I am also more aware of how technology works and am more knowledgeable about the ethics behind technology. This class sparked my curiosity for web design and my want to go into some field of technology.
Reflecting on my experience with this class, I am more than glad I decided to take it. I was able to take away many skills in coding along with knowledge in various topics, including technoethics, human computer interactions, and user experience and user interface design. This class challenged me academically and broadened my interest in informatics. I will continue to research and discover new ideas and ways of thinking about technology in the future with the skills and insights I have gained from this course.
Related Topics