Target Corporation: Purpose and Utility of Diagnosis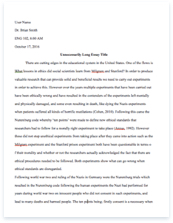 The whole doc is available only for registered users
A limited time offer! Get a custom sample essay written according to your requirements urgent 3h delivery guaranteed
Order Now
Brief Introduction
            The current trend of industries today evolves as fast as the technological innovations take them. Most organizations align their corporate framework basically to enable efficiency and effective performance.  To name a few, the process of diversification focuses at the utilization of technology, supply chain, economic globalization, product innovation, streamlining of manpower, and the corporate-structure change. This paper aims to conduct an organizational analysis by indicating the key components and framework of an organization.
What is organizational diagnosis?
Organizational diagnosis is a procedure using the collected information or data of "human experience" existing within an organization. By making a diagnosis is to create an understanding or be knowledgeable upon the situation, condition and visualize the applicability of innovation, in which the performance and effectiveness are the important faculties. To cite, diagnosing an organizational capability is likened to a physician that retrieves all the information from a patient prior to prescribing a medicine (Katz & Kahn, 1978; in Falletta, 2005).
In other words, the primary purpose and value of conducting organizational diagnosis is to create extensively collective perceptions of "systems" that shall be used as determinants" or indicators to conducting "environmental change" in an organization. From which refers to organizational restructuring, streamlining of manpower, designing a management procedure and aligning of business line to the new industrial climate.
Moreover, according to the journal 'Organizational Diagnostic Models: A Review and Synthesis', the conduct of organizational diagnosis has important interactions that would create a significant scheme of input, throughput, and output, that links within a feedback sphere (Falletta, 2005). 
Target Corporation's organizational overview
            This section of the paper aims to provide brief information on the organizational life of Target Corporation. The organizational overview shall be used as a secondary background in the review of literature on organizational diagnostics.
            Based on Target Corporation's 'Target Corporate Responsibility Report 2007', the company was established in 1903 by George Draper Dayton which thereby known as "Dayton's Company" that ventured out in dry goods retailing. In 1918, George D. Dayton created the company foundation, in which it formally earmarked 5% of its revenues to help selective recipients from communities and became a social-development work from 1946 (Target Corporation, 2007).
The Dayton Company has achieved successful growth that established the Target Corporation in 1963, and has acquired Mervyn's Store in 1978 that obtained the 7th place of largest retail outlet dealing on discount merchandising in the US. The continued growth of Target Corporation has additionally acquired Marshall Fields Store in 2004.
            Target Corporation has focused its key corporate governance from year 2005 to 2007, such as (1) social responsibility by donating 5% of revenues amounting about $3 million weekly, (2) developed diversity of workforce as effective human resource management system, and (3) encouraging stakeholders through social investments to promote good business values (Target Corporation, 2007).
            Based on the Target Corporation's '2007 Annual Report', the above cited key corporate governance has rewarded with outstanding revenues of 6.5% (amounted to $63.4 billion), despite the US' economic recession in 2007. In brief, it may be explained that the corporate organizational performance of Target Corporation could have been achieved on its diversified business culture, in which its vision catalyzes the business philosophy "the strength of many the power of one" (Target Corporation, 2007).
Why organizational diagnostic models are needed?
            In Falletta's (2005) organizational diagnostic models explains that using a model would be the "baseline" or parameter in conducting organizational diagnosis. As cited, organizational model represents the organization that would enable understanding characteristics, such as (1) enhances understanding organizational behavior, (2) helps categorize data of organization, (3) helps interpret data of organization, and (4) helps provide common and short-hand language (Howard et. al., 1994; in Falletta, 2005).
            According to Falletta, there are about 11 organizational models that has been defined by academic scholars (who have made the models), primarily to "systematize" the organizational diagnostic. To cite, the models are as follows: (1) Force Field Analysis (1951), (2) Leavitt's Model (1965), (3) Likert System Analysis (1967), (4) Open Systems Theory (1966), (5) Weisbord's Six-Box Model (1976), (6) Congruence Model for Organization Analysis (1977), (7) McKinsey 7S Framework (1981-1982), (8) Tichy's Technical Political Cultural (TPC) Framework (1983) , (9) High-Performance Programming (1984), (10) Diagnosing Individual and Group Behavior (1987), and (11) The Burke-Litwin Model of Organizational Performance and Change.
Brief evaluation of organizational diagnostic models
Force Field Analysis
The model depends on the progression of change correlating "social implication". The "social implication" or commonly known as external effect is being studied through the Force Field Analysis (1951), wherein the "disequilibrium" (imbalance) and "equilibrium" (balance) are the indicated situation in an organization. This model could be exemplified by Target Corporation's "metamorphic" characterization of organization. Meaning, it is not only the diversification but a total "change progression", whereas diversifying its business outfit according to the industry trend (as external) and business culture (as internal). To cite, this model intends to achieve "desirable state of equilibrium" or balance of its organizational "forces" or elements by innovating a dynamic organization (French & Bell, 1995; Fuqua & Kurpius, 1993; Lewin, 1951; in Falletta, 2005).
Leavitt's Model
            This model primarily focuses on structure, task, technology, and manpower as actors (Leavitt, 1965; in Falletta, 2005). Leavitt's model is similar to force field analysis, wherein balance, imbalance, external and internal factors or forces are indicated for adaptability. Meaning, to assess the "variability" of resources according to the "change", in which the industry and marketplace is the bottom-line in the process of change. In addition, the organizational mission and vision patterns the change or business direction. It could be then perceived that the "change" in business direction of Target Corporation has been outlined from its organizational capacity (manpower) and retrieval of operations (capital) that has enabled the overall capability of resources.
Likert System Analysis
According to Likert (1967), the "breadth" of organization can be measured by interactive and participative elements, referring to the interactions of the rank-and-file. The organizational "transparency" is critical in the undertaking of business. To cite, Likert emphasized the importance of motivation, communication, interaction, collective decision making, goal setting, control, and performance (Likert, 1967; in Falletta, 2005). It may be deduced that Target Corporation's manpower diversity and business philosophy (the strength of many the power of one) signifies dynamic interaction.
Open Systems Theory
In Katz and Kahn's (1978) open system theory, organizations are viewed as a "social system", wherein the process of change in an organization is interpreted as "recycling". Meaning, occurrences of development patterns a "cycle" of input and output that seemingly creates "transformation". In layman's explanation, the environmental situation (external) affects the organizational (internal) change. The effects are brought in by a "sphere" of information (feedback). This may be well exemplified by the usual competition in the marketplace that "environmental scanning" through market research is being used to know the extent or scope of competition, products and key competitors. To correlate open system theory with Target Corporation, the key corporate governance could be considered a strategic business culture that transpire the input-output cycle from workplace to marketplace, and vice-versa.
Weisbord's Six-Box Model
The Weisbord' Six-Box Model (1976) refers to 6 important characteristics that organizations must obtain, such as (1) Purposes, (2) Relationships, (3) Helpful Mechanisms, (4) Structure, (5) Rewards, and (6) Leadership. This "six-box" creates input-output to the "environment" (market and industry trends). In which case, to venture out programs or projects needs specialty skills or expertise to "capture" the environmental condition. To cite, this model has likewise implied the significant use of method in planning, controlling, budgeting, and information system to substantially achieve organizational objectives Weisbord, 1976; in Falletta).
Congruence Model for Organization Analysis)
The Congruence Model for Organization Analysis can be considered extensive in terms of input-output specifications that involve environment, resources, organizational history and organizational strategies (Nadler &Tushman, 1980). In addition, this model is similar with Leavitt's open system's theory (Katz & Kahn, 1978; in Falletta, 2005). To illustrate the model, the input-output is based on qualitative and quantitative organizational performance, whereas quantity (input) makes it profitable while quality (output) makes it effective. Thus, organization must equally proportion the input-output (quality and quantity) to achieve overall viable results.
McKinsey 7S Framework
The McKinsey7S Framework was adopted by McKinsey Industrial Consulting Company (1981-1982) as a "skeletal" framework of an organization. The "7S" stands for structure, strategy, systems, skills, style, staff, and shared values (Pascale & Athos, 1981; Peters & Waterman, 1982; in Falletta, 2005). It may be explained that the "7S" as a skeletal framework relates to the developmental-capability of organizational resources, as referring to the utilization of manpower and capital. In McKinsey's point of view, the organizational component would be reinforced by the "7S", specifically in responding to immediate organizational actions that is critical to decision-making at the top management level.
Tichy's Technical Political Cultural (TPC) Framework
            This model relates the emerging "social-cultural structure" within an organization. In Tichy's perception, implementation of key strategic components must be reflective of an "organizational culture" emphasizing three "strand", such as technical, political and cultural dynamics that must be "tied together" to establish synergy or unity within an organization.
It may not only be the process of "coordinative" manpower undertaking but the alignment of overall resources relating to organizational accountability.  As cited, technical dynamic refers to production skills, while political dynamic is characterized by predominant group like labor unions and cultural dynamic is the "shared ideals" that comprises an "organizational culture" (Tichy, 1983; in Falletta, 2005).
High-Performance Programming
            The high-performance programming is an evaluation guideline that measures the performance of an organization to enable a "roadmap" of organizational transformation.  In other words, the "results" of performance evaluation serve as terms of reference (or roadmap) to develop strategic corporate plans. Briefly to cite, high-performance programming has four levels, namely the (1) reactive organization as level 1, (2) the responsive organization as level 2, (3) the proactive organization as level 3, and (4)  high-performing organization as level 4 (Fuqua & Kurpius, 1993; Nelson & Burns, 1984; in Falletta, 2005). As further explained, determining the "performance level" is based on 11 diagnostic variables, such as the time-frame, focus, planning, change mode, management, structure, perspective, motivation, development, communication, and leadership (Nelson & Burns, 1984; in Falletta, 2005). This model could be related to the performance leveling of Target Corporation, wherein it has historically transformed as "full-blown enterprise" in retail and merchandising that flexibly endures upstream and downstream corporate-business trends.
Diagnosing Individual and Group Behavior
In Harrison's (1987) Diagnosing Individual and Group Behavior, "manpower" is the main focus of organizational diagnosis. According to Harrison, there is difference from individual and group input-output. However, the performance can be explained by the strength or weakness of relationship. Harrison pointed out the relevance of "reciprocity" or mutual undertaking of work.
To sum up, we may synthesize and simplify Harrison's model reflective of Target Corporation's reciprocity in a multi-racial-cultural working environment, in which the diversity of workforce is not a barrier to the "inter-disciplinary" character of expertise [or varied skills] within the organization, and one of the key corporate responsibilities deals primarily in managing "individual manpower strengths or weakness" through human resource development.
The Burke-Litwin Model of Organizational Performance and Change
The Burke and Litwin (1992) model "capsulize" and aim to put into perspective all models discussed above. Accordingly, there are 12 "organizational variables" in this model, such as (1) external environment, (2) mission and strategy, (3) leadership, (4) organizational culture, (5) structure, (6) management practices, (7) operational systems, (8) work unit climate, (9) task requirements and individual skills, (10) motivation, (11) individual needs and values, and (12) individual and organizational performance (Burke & Litwin, 1992).
Relating this model with Target Corporation, it may be interesting to note the "observed" organizational transformation for more than century-old diversification process of an enterprise. It may be then perceived that Target Corporation's seasoned strategies could have been a derivative [if not condensed] by all of the models herein discussed.
Findings and conclusion
It is found that Target Corporation has the ease of implementation and applicability of the organizational diagnostic models largely by its long time existence in the industry and established "market share". A review of Target Corporation's "entrepreneurial" capability goes beyond being corporate. Which means the corporate ascendancy does not only capture the enterprise strategies but intertwined human transformation, as it reaches out social investments.
It may be then concluded that the diagnostic models rekindles the "entrepreneurial spirit" of every organization to sustain its organizational life. Like Target Corporation, the organizational modeling attributes to its sustainable-corporate performance, specifically as an organization and being an enterprise. We may convey an in-depth interpretation that Target Corporation has pro-created a business culture that emphasizes the natural and well-designed relationship "between parts and the whole". Meaning, the success of the enterprise reflects the internal organizational achievements. Thus, the purpose and utility of organizational diagnostics relates Target Corporation's proven expressive ingenuity for having "the strength of many the power of one".
References
Falletta, S.V. (2005). 'Organizational Diagnostic Models: A Review and Synthesis'.
Leadersphere Incorporated. Retrieved 20 July 2008 from
http://www.leadersphere.com/img/Orgmodels.pdf.
Target Corporation (2007) 'Target Corporate Responsibility Report 2007'.
            Retrieved 20 July 2008 from
            http://sites.target.com/site/en/corporate/page.jsp?contentId=PRD03-004325.
Target Corporation (2007) '2007Annual Report'.  Retrieved 20 July 2008 from
            http://investors.target.com/phoenix.zhtml?c=65828&p=irol-reportsAnnual.
Related Topics