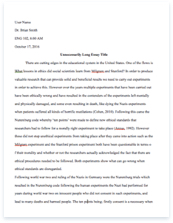 The whole doc is available only for registered users
Pages: 7
Word count: 1542
Category: Chocolate
A limited time offer! Get a custom sample essay written according to your requirements urgent 3h delivery guaranteed
Order Now
1. WHAT IS SWOT ANALYSIS
SWOT analysis (alternately SWOT Matrix) is a strategic planning method used to evaluate the Strengths, Weaknesses/Limitations, Opportunities, and Threats involved in a project or in a business venture. It involves specifying the objective of the business venture or project and identifying the internal and external factors that are favorable and unfavorable to achieve that objective. The technique is credited to Albert Humphrey, who led a convention at the Stanford Research Institute (now SRI International) in the 1960s and 1970s using data from Fortune 500 companies. Setting the objective should be done after the SWOT analysis has been performed. This would allow achievable goals or objectives to be set for the organization.
* Strengths: characteristics of the business, or project team that give it an advantage over others * Weaknesses (or Limitations): are characteristics that place the team at a disadvantage relative to others * Opportunities: external chances to improve performance (e.g. make greater profits) in the environment * Threats: external elements in the environment that could cause trouble for the business or project Identification of SWOTs is essential because subsequent steps in the process of planning for achievement of the selected objective may be derived from the SWOTs. First, the decision makers have to determine whether the objective is attainable, given the SWOTs. If the objective is NOT attainable a different objective must be selected and the process repeated. Users of SWOT analysis need to ask and answer questions that generate meaningful information for each category (strengths, weaknesses, opportunities, and threats) in order to maximize the benefits of this evaluation and find their competitive advantage.
2. Company Overview
Half a century of constant innovation, constant value addition, constant success, Cadbury India Ltd. (CIL), a part of the Cadbury Schweppes group which is now taken over by US giant Kraft for a deal of 11.9 billion dollars, is India's leading confectionery manufacturer with a 70% volume share of the chocolate market and is synonymous with chocolate in the minds of countless Indians – young and old. The company is also a key player in the malted food drink and sugar confectionery markets in the country. Today, the governing objective for Cadbury India is to deliver Superior Shareholder Value and to see the brand in every pocket, in every home. The Cadbury story is a fascinating story of a family business that grew into one of the biggest, most loved chocolate brands in the world. Founded in 1800's, Cadbury has been a part of England's history with ties to the British monarchy.
The first Cadbury shop was established by John Cadbury in Birmingham, England and grew through the hard work and vision of his sons, the Cadbury brothers- Richard and George. The firm was known as "Cadbury Schweppes plc" from 1969 until a May 2008 demerger, which saw the separation of its global confectionary business from its U.S. beverage unit, which has been renamed Dr Pepper Snapple Group Inc. Cadbury has grown from strength to strength with new technologies being introduced to make the Cadbury confectionery business one of the most efficient in the world. The merger in 1969 with Schweppes and the subsequent development of the business have led to Cadbury Schweppes taking the lead in both the confectionery and soft drinks markets in the UK and becoming a major force in international markets. Cadbury Schweppes today manufactures products in 60 countries and trades in over a staggering 120. Every successful company has its famous brands and Dairy Milk, today one of the most popular molded chocolates in the world, is one of the biggest Cadbury success stories.
3. Cadbury in India
is the market leader in the chocolate confectionary market in India with over 70% market share. The leading brands in this category are Cadbury's Diary Milk, Fruit & Nut, Crackle, Temptations, 5 Star, Celebration Gift boxes. For more than six decades now, Cadbury has enjoyed leadership position in the Indian chocolate market to the extent that 'Cadbury' has become a generic name for chocolate products. Cadbury has leading brands in all the segments viz bars (Dairy Milk, Crackle, Temptations, Bournville), count lines (5 star), panned confectionary (Gems) and wafer chocolates (Perk), éclairs (Cadburys' Éclairs), candies (Halls), gum (Bubbaloo), snacks (Bytes) and newly introduced segment, biscuits (Oreo). Kraft brand Oreo and Tang were integrated in to the system in India following the acquisition of Kraft over Cadbury. Oreo biscuits are priced at Rs 5, Rs 11, Rs 22 while Tang is available in sachets (Rs 4-5 each) and pouches of 200gms (Rs 35) and 500gms (Rs 80). They also have a future plan to integrate the Kraft brand Toblerone into the system which is now available through the import route. The company has its presence in over 200 countries worldwide and has made the name 'Cadbury' synonymous with cocoa products in countries across the planet. This is the brand that came to India in 1947 – to a nation that was in its infancy, a market that was ready for the world and a people that were open to new ideas, new products.
Within a year of being set up as a trading concern, Cadbury Fry India was incorporated as a Private Limited company, set up for processing imported chocolates and Bournvita. The same year saw the launch of Cadbury's Milk Chocolate – a brand that till today defines the taste of chocolate for millions of Indians. Through 60 years of investment in capital and marketing, the scale and scope of their operations has expanded to cover a range of brands in the chocolate, sugar confectionery and malted food drinks segments. They have a majority share in the Indian chocolate market and a significant presence in sugar confectionery and food drinks.
Today Cadbury India Ltd. employs over 2000 people across the country and operates in one of the fastest growing chocolate markets for the Cadbury Schweppes group across the globe. Cadbury's went in for intelligent diversification as any other successful company. Cadbury's adopted concentric diversification adding new but related products to its existing product line. The company has leading brands in all segments i.e. 5 Star (count lines), Dairy milk (bars), Gems (panned chocolates), Eclairs (toffees), Perk (wafer chocolate), Bournvita (malted food drinks), biscuits (Oreo), gum (Bubbaloo), Halls (candy) and Bytes (snacks). Industrial Production and Setup
Cadbury India's first manufacturing facility was set up at Thane (Mumbai) in 1966. Today, the factory has grown manifold and manufactures a range of products that include Cadbury Dairy Milk, 5 Star, Gems and Bournvita. The factory employs about 750 people and houses the R&D and engineering development facilities of the company. In a move towards backward integration, Cadbury bought Induri Diary farm in Pune in 1964. Recently, a major investment program resulted in the installation of modern molding, crumb and chocolate making facilities. Today, the Induri Factory manufactures intermediate products like milk crumb and a range of finished chocolates. In 1989, they began operations in their newest and most modern plant at Malanpur. Equipped with state-of-the-art technology and backed by constant investment, this unit manufactures Éclairs, Gems, Perk and Picnic. The news brand like Tang will be manufactured in Kraft plant at Hyderabad while Oreo will be manufactured by Punjab based Bector foods which is a third party manufacturer. 4. Factors for Success
1. Extensive distribution network
Cadbury's brands are available in over a million outlets across the country. The distribution network directly covers almost the entire urban population. The company has invested significantly in building such an extensive network. The company uses Information Technology to improve its logistics and distribution competitiveness. Cadbury has improved the distribution quality of its products with the installation of refrigerators at several outlets. This helps in maintaining product quality in summer, when sales usually dip due to the fact that the heat affects product quality and thereby consumption.
2. Creation of strong brands
Cadbury owes its success to strong brand equity and resultant consumer preference that it enjoys in India. The company has built strong brand equity through consistently high product quality, relevant, insightful and entertaining communication. Cadbury has developed new channels for marketing its brands such as Gifting and Snacking. The company places great emphasis in ensuring display dominance at the point of purchase 3. Customization of products for India
Cadbury India has spent time in understanding the Indian consumers. Leveraging its 55 years of experience in India, the company has customized its products to the Indian markets. It also offers products at affordable price points so as to increase its market penetration. 4. Leveraging the India Advantages
Though, India contributes to less than 5 per cent of the global revenues today, India is critical to the global strategy of the companies. 5. Managerial Talent Cadbury has begun recruiting management graduates in India to serve its global operations.
6. Huge market potential
India offers huge market potential and is a priority market for Cadbury. The company also leverages India as a manufacturing base for producing products for the overseas market. Cadbury India has 4 company owned factories and as many third party manufacturing contractors. It also has a wide Sales & Distribution infrastructure consisting of 33 depots managed by 4 regional sales branches across India.
Related Topics