Swot Analysis of McDonald's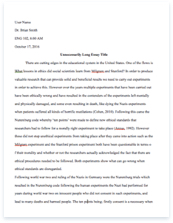 The whole doc is available only for registered users
A limited time offer! Get a custom sample essay written according to your requirements urgent 3h delivery guaranteed
Order Now
A SWOT analysis of McDonalds restaurant industry reveals that they have a lot of strengths, weaknesses, opportunities and threats. To start 3 strengths would include brand names, locations and localized menu options. Brand items of McDonalds keep the competition from copying their products, for example, the happy meal, Big Mac, egg McMuffin are all brand name items of McDonalds. McDonalds maintains 42% of the United States hamburger business. Location is always key, McDonalds has 32,478 restaurants in 177 countries ( McDonalds.com). McDonalds' localized menu options adapt to their location, for example, in India and the Middle East they serve lamb burgers.
Weaknesses would include employee turnover, price of raw materials, fluctuating operating expenses and net profits. Employee turnover will cost the industry more in training new employees. McDonalds is a fast food restaurant, they attract the employment of teenagers and young adults. The price of raw materials such as corn and wheat fluctuate with the economy. Rising cost in materials, in turn cost the company more. Fluctuating operating and net profits from 2007-2009 ranged from 3,870,000 in 2007 and 6,841,000 in 2009 for their operating expense. A large increase in expense cut profits (McDonalds.com, p.10). Net income for the same years was 2,395,000 – 4,551,000 in 2009 (McDonalds.com, p. 10).
Next we look at opportunities. Many new products are being added to McDonald's menu every year. [McDonalds continue to execute our four growth platforms of breakfast, convience, core menu and value. Comparable sales rose 3.4% primarily due to the ongoing momentum of our business in Australia where multiple initiatives surrounding menu variety include the launch of the premium angus burger, greater convience and remaining further strengthened our brand relevance](McDonalds.com, p.10). Being able to keep prices down for the customers improved McDonald's profit margin to 30.1% in 2009(McDonalds.com, p.10). Lastly the option of allergen free food items such as, gluten free and peanut free is a great opportunity for McDonald's. It open the opportunity to gain more customers to increase revenue.
Lastly are threats that McDonald's have to contend with. First the awareness of eating habits have cut down on people buying burger and fries. People have become more aware of their eating habits and try to cut the fats out of their diets. The obesity rate in the US grows every day. Second, many new restaurants opening up with low cost, also offering value menu's can threaten revenue. Third, contamination of food such as E Coli would shut down business and as word of mouth traveled, people would have a fear of getting sick. They would have to make sure safety precautions were followed to prevent this from happening. Assurance of Learning Exercise 1B
1. Buying competitors' garbage – E, L
2. Dissecting competitors' products – U, L
3. Taking competitors' plant tours anonymously – L, U
4. Counting tractor-trailer trucks leaving competitors' loading bays – E, L 5. Studying aerial photographs of competitors' facilities – E, L 6. Analyzing competitors' labor contracts – E, L
7. Analyzing competitors' help-wanted ads – E, L
8. Quizzing customers and buyers about the sales of competitors' products – E, L 9. Infiltrating customers' and competitors' business operations – U, I 10. Quizzing suppliers about competitors' level of manufacturing – E, L 11. Using customers to buy out phony bids – U, I
12. Encouraging key customers to reveal competitive information – U, L 13. Quizzing competitors' former employees – U, L
14. Interviewing consultants who may have worked with competitors – U, L 15. Hiring key managers away from competitors – U, L
16. Conducting phony job interviews to get competitors' employees to reveal information – U, I 17. Sending engineers to trade meetings to quiz competitors' technical employees – U, L 18. Quizzing potential employees who worked for or with competitors – U, L
Assurance of Learning Exercise 1B, (Steps 1-2)
External Opportunities External Threats 1.Internet Coursea 1. Competing Universities
2.Technology in the DLP 2. Other on line courses
3.Expand Students spirituality 3. Federal Funding
4.School Of Law opening 4. Competition for students
5.More adult students entering college 5. Not enough degree seeking students
Internal StrengthsInternal Weaknesses
1.Faculty 1. Expanding ethnic diversity of students 2.Curriculum 2. Need to fully incorporate technology 3.Convenient Class schedules 3. Affordability
4.Campus Infrastructure 4. Student Recruitment
5.Technology 5. Competitive Faculty Salaries
Assurance of Learning Exercise 1D, (Step 1-2)
The website ceoexperess.com has many tools and links to provide up to date and past information on businesses. I feel that the section of this website that would help me the most for this class would be the company research section. This section has industry specific searches. Strategic Management also deals with report, so the annual reports section would come in handy. There are many more subsections to the company research section that gives a multitude of information. All of this information would be beneficial to my class. I could go tone site and perform my searches on a reliable website. The Standard & Poor's rating services is also in this section. This section would allow one to access corporate services such as credit ratings, counter party credit rating and bank loan and recovery rating. Research needs to be reliable and this website is very reliable on company information.
There is also a tip section that has tips on citing sources. In this section it gives you access to APA and MLA styles and plagiarism. Becoming aware of the rules of writing will keep your papers your and give credit to those who deserve the credit. The different sections have so much information available. The trade section is also on this site. This would allow one to keep up to date on the trade market. The company research section in turn would provide one with the information that one needs to write their papers. Ceoexpress webite is not only and deep well of information, that information is also reliable. Strategic Management is a very challenging class, and reading reports from this site gives you a full range of what the company you are researching is all about. This information is updated as information comes in. So you always have current data.
Reference
(2009). McDonalds Annual report. Mcdonalds. Retrieved from http://www.aboutmcdonalds.com/content/dam/AboutMcDonalds/Investors/C-%5Cfakepath%5Cinvestors-2009-annual-report.pdf
Related Topics