Support Children and Young Peoples Health and Safety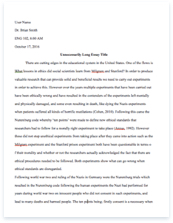 The whole doc is available only for registered users
A limited time offer! Get a custom sample essay written according to your requirements urgent 3h delivery guaranteed
Order Now
Age and ability of the children * Age appropriate chairs and height of table. For example in year 3 the chairs and height of table are different of that to a year 6 classroom. * SEN are given the correct equipment to aid them * Age-appropriate equipment for example soft ball for foundation stage playground and normal football for the KS3 children * Foundation stage children have separate play grounds. * Check safety requirements and whether it is developmentally suitable for them. Individual needs of the children * Making sure the safety of the children is met. * SEN children require individual one to one support at times. * The correct equipment is available. * The outside boundaries need to be secure. * Check if playground is safe from litter, broken glass and animal droppings. * The toys and equipment is equally shared out. Sensory impairments * Good lighting * Ensure learners have the correct amount of natural light and any enhanced lighting needed for any specific activity. * If a child requires a hearing aid. * In serious cases an adult could assist the child in outdoor activities. * Separate equipment that helps them to recognise it. * Floor markings that helps them see for example faded out markings should be repainted. It could be a game of hopscotch. Needs of families and carers
* If there's a language barrier the school could provide an interpreter that could help them. * Creating awareness by giving them visitor badges. * Any school visitors are asked to sign in and out in case of a fire. * Children have different exits so it's easier for the families and carers to pick their children up. Function and purpose of the environment * Wet and dry play area in foundation stage has the correct signs and equipment. * Reading corner in year three is child friendly with a calming atmosphere and set out for example a lamp, fairy lights, colourful pictures, familiar books that are already there, sofas, beanbags. * In foundation stage outdoor area they have a hopscotch painting on the floor. * Wet area and waterproof jackets. * Sand castles and equipment for the sand pit. * They have a boundary gate only accessible for adults with a code. * They have a hut where children can take shade in maybe rainy weathers or extremely sunny weathers. The duty of care * Children need to feel safe and comfortable. * All equipment is stored safely. * Cleaning products are stored safely. * Hazard signs are placed when needed for example mopped floors need a warning sign.
* Staff that are on playground duty should always be alert. * All accidents taken place are reported and recorded and first aiders should be notified. * All equipment should be regularly checked. * Any broken glass or rubbish should be cleaned up. Desired outcomes for children and young people * Age appropriate resources are available. * All children needs are met. * Encouraging them to play with the equipment correctly. * Keeping them safe Lines of responsibility and accountability * Caretakers responsibility to keep halls, corridors and toilets safe and clean. * The teacher has a responsibility for the safety of the class. * Management is in charge of fire drills. * Caretaker is in charge of the school perimeter. * Staff that are on playtime duty are aware of hazards. * Staff who are in charge of equipment keep up the standards of it by testing it.
Discuss your ideas as a group, or with your workplace mentor/supervisor.
LO 1.2: An explanation of how health and safety is monitored and maintained and how people in the work setting are made aware of risks and hazards and encouraged to work safely.
1. How is health and safety monitored and maintained in your setting? The school has a responsibility to keep the work place for all employees and students safe. The school carries out regular assessments and they provide the appropriate training to the staff for example first aid training. Also staff are expected to ensure that all pupils are supervised at all times. They will ensure that all equipment, including hazardous materials including cleaning materials and flammable substances are labelled and stored correctly and locked away securely.
2. Are there any differences in this between your setting and other settings you have worked in? All schools have their own policies and each school has their own way of stating it for example Copthorne Primary School states: "The Governing Body of Copthorne Primary School will meet its responsibilities under the Health and Safety at Work Act and other health and safety legislation to provide safe and healthy working conditions for employees, and to ensure that their work does not adversely affect the health and safety of other people such as pupils, students, visitors and contractors."
Marshfield Primary School is similar too:
"….The school therefore is to provide and maintain a safe and healthy environment for all staff, pupils, parents and visitors when they are on the school premises…." They are very similar and both follow the health and safety act.
3.What is a hazard?
A hazard is something that can be harmful for example in a primary school setting a recently mopped floor is without a sign can cause trips and falls. For example if cleaning products are left out without appropriate labels or without its lid it could slip or in worse cases children could ingest it. 4.What is a risk?
A risk is something that can turn into a hazard for example if it's snowing in the playground there's a potential risk of children slipping and falling. A risk within the classroom if there's equipment on the floor not stored away properly children could trip over or hurt themselves. Also children at any age should be reminded how to use scissors appropriately to avoid any hazards. 5.Complete the spider diagram below, giving suggestions of ways in which staff children and visitors to your setting are made aware of risks and hazards. How are others made aware of the risks and hazards in your setting? When pupils are required to use scissors within the lesson teachers should remind them how to use them safely. All substances and cleaning product's are locked away in the cleaners cupboard so the children are aware they are not allowed to enter. In corridors children are escorted in and out of school in the morning and after school and they are told to stay on one side so everyone can get out safely.
If there's a spill on the floor or if it is wet the school is required to put a sign in clear view as a warning. If children are caught running they are stopped by an adult and made to walk. Children are made aware of where the fire exits are around the school and they're made familiar with them. How are others made aware of the risks and hazards in your setting? When pupils are required to use scissors within the lesson teachers should remind them how to use them safely. All substances and cleaning product's are locked away in the cleaners cupboard so the children are aware they are not allowed to enter. In corridors children are escorted in and out of school in the morning and after school and they are told to stay on one side so everyone can get out safely. If there's a spill on the floor or if it is wet the school is required to put a sign in clear view as a warning. If children are caught running they are stopped by an adult and made to walk. Children are made aware of where the fire exits are around the school and they're made familiar with them.
6.How do you encourage others to work safely in your setting? Some children swing on their chairs so we discourage them and explain to them why and what could happen. Walking through corridors instead of running, fire exits shouldn't be obstructed. Teachers aren't allowed to take hot drinks in the classroom unless it has a lid.
LO 1.3: An identification of sources of current guidance for planning healthy and safe environments and services It is useful to check the current health and safety guidance when planning an environment. Carry out some research using the internet and your textbook and list some sources of guidance below. How will these sources assist you when planning an environment for children and young people? Health & safety executive:
HSE is the national independent watchdog for work-related health, safety and illness. They are an independent regulator and act in the public interest to reduce work-related death and serious injury across Great Britain's workplaces.
Department for schools and families
The Department for Education is committed to creating a world-class state education system. They will work to improve the opportunities and experiences available to children and the education workforce by focusing on the following priorities: Giving greater autonomy to schools
Improving parental choice
Offering more support for the poorest
Whole system improvement
Great quality provision for children
Workplace policies and procedures:
Risk Assessment
Risk Assessments are a legal requirement mainly under the Management of Health and Safety at Work Regulations 1999, although most health and safety legislation requires a risk assessment approach. Risk Assessments must be recorded. This could be in the risk assessment form (a blank assessment form can be found at the reception). The booklets must be kept on the school premises. Risks should be assessed periodically, following an accident, on the introduction of any new process/equipment and also any change in circumstances. Educational visits also require a written risk assessment. There is a folder in the staff room, containing risk assessments. There is also a folder containing risk assessments for each group in the same place. All staff must ensure that they have read these documents before going on a trip and must sign to acknowledge this each time they take pupils on a trip as part of the signing out procedure. (Marshfield primary school health and safety policy)
The following people assist with the assessment process for their individual area of work in Marshfield: Linda Disney
Michael Spolton
Tally Bambra
Adele Raynolds
It is the Head Teachers responsibility to ensure that risk assessments are carried out. However the Head Teacher may request the assistance of certain staff in carrying out a risk assessment.
Accidents
Even in a safety conscious school, accidents can still happen. This is how Marshfield deals with them; All accidents that involve our staff or pupils will be recorded and investigated, as appropriate to find out what happened and how any similar incident can be avoided. Under the First Aid at Work Regulations 1981, employers have to ensure that there is appropriate equipment and facilities for providing first aid in the workplace. First Aid at Work Regulations 1981
The Health & Safety at Work Act
The Care standards Act
COSHH
Food Hygiene 2006
Manual Handling Regulations
EYFS
LO 1.4: An explanation of how current health and safety legislation, policies and procedures are implemented in own work setting or service. (Could look at Health and Safety at Work Act 1974, Control of Substances Hazardous to Health Regulations 2002, Reporting of Injuries, Diseases and Dangerous Occurrences Regulations (RIDDOR) 1995, Childcare Act 2006) The school has a duty to produce a health and safety policy and update it regularly and it is required that a health and safety officer is appointed. The person who is appointed has to assess the risks that are identified and reported, and act accordingly. Usually there is a policy and procedure that is in place. No employee is allowed to use cleaning products unless the head teacher has permitted it.
In Marshfield Primary School all cleaning materials are listed in a yellow COSHH assessment register. Pupils are not to be using cleaning materials except for mopping up purposes. All cleaning products are stored in secure cupboards and children cannot have access to them at all. Childcare Act 2006 is also plays a part within our school as our school aims to support parents and focus on the provision of good quality childcare for working parents and provide help to families that need it. Schools are required to focus on supporting children most at risk of poor outcomes because of deprivation and disadvantage. They also help to improve wellbeing for young children by focusing on the 5 Every Child Matters outcomes: Safety, Health, Economic Wellbeing, Enjoy and Achieve, Making a Positive Contribution.
Task 2: LO 3.1: An explanation of why it is important to take a balanced approach to risk management It is important to allow children to take risks and challenge themselves to do new things. Any activity a child does involves some risk and factors like their age needs and abilities should be taken into consideration. If an activity is well planned and organised the chance of an accident or injury should be minimal for example recently on my placement we had planned a trip to the ice rink with our year 3 class. Risk factors like falling were taken into account. Getting onto the ice was a first time for most of the children and it frightened them a little, some cried at first but gradually they came onto the ice. This helped them conquer their fear and challenge themselves into taking the risk. Allowing children to take risks will build their self-esteem and confidence. It will also prepare and educate children about safety and how to assess any risk, they will also gain a sense of responsibility.
LO 3.2: An explanation of the dilemma between the right and choices of children and young people and health and safety requirements It is important that children and young people are allowed to exercise their rights and choices, while maintaining health and safety requirements. This can lead a dilemma when children or young people wish to undertake a task that you may feel is not within their capabilities, or that is not safe for them to do so. 1.What are your feelings about the above statement?
I believe children should be able to exercise their rights within reason because it helps them learn and experience new things and it strengthens their understanding of the environment around them. 2.Can you think of any situations when this has happened to you? A child from foundation stage wanted to get on the climbing frame in her princess dress up outfit which was very baggy and loose, there was a risk of her falling over it or it getting caught somewhere so I asked her politely if she could take it off and then go on the climbing frame but she refused so I got down to her level and made up a fairy tale story where a beautiful princess tripped over her long dress on the climbing frame and how she got hurt. She understood that she didn't want that to happen to her so she took it off. 3.Consider the following scenarios. How could you allow children to exercise their rights and choices, whilst maintaining health and safety requirements?
Choose the answer you think is correct. A.Chloe, who is two, wants to use the scissors to cut the paper.a.Let her try by herself, whilst you supervise.b.Give her the scissors to play with, so she becomes familiar with them.c.Show her how to use them, and then let her try under supervision.B.Thomas, who is 10, wants to walk to the park to play with his friends.a.Let him go by himself.b.Refuse to let him, and make him stay at home.c.Walk the route with him a few times, so he is aware of the hazards.C.Your group of four year-olds want to go out to play in the puddles, but it is still raining and they do not have waterproofs.a.Explain they do not have the correct clothing, and put up a sign requesting that parents bring waterproofs.b.Check that they have spare clothes, and go outside once the rain has stopped.c.Set up a physical activity inside.D.You have taken a group of 7–8-year-olds to the woods and they want to climb the trees.a.Let them all find a tree and challenge them to climb as high as they can.
b.Refuse to allow them and ask them to collect sticks instead.c.Having anticipated the request in advance, find the tree you identified as suitable and allow them to try one at a time, after discussing the risks involved. LO 3.3: An example from own practice of supporting children or young people to assess and manage risk Children could have someone coming from the police force to come and talk about stranger danger with children the risks that it involves and tips on ways to avoid it. The children are given more information through leaflets and they get shown some video clips. Also recently we had an organisation who came in and worked with the year 6 to do a play about the types of bullying and cyber bullying and in the play the words that were repeated was 'stop it, block it, and flag it' and then they did an assembly in which they acted out the play while speaking to the children about cyber bullying. Also for the younger children, they had visits from the road safety organisation to talk to them about how to cross roads safely and they gave talks and demonstrations that kept the children entertained as well as educating them about crossing safely.
Task 3:
4.1: An explanation of the policies and procedures of the setting or service in response to accidents, incidents, emergencies and illness All accidents are recorded and parents/carers of the child are notified. In school there's always a member of staff who is present that is a qualified to perform first aid. Children who have been sick are sent home. Here's a health and safety policy and procedure that is in place for Jack and Jill primary school. 'Ofsted is notified of any injury requiring treatment by a general practitioner or hospital doctor, or the death of a child or adult. When there is any injury requiring general practitioner or hospital treatment to a child, parent, volunteer or visitor or where there is a death of a child or adult on the premises, we make a report to the Health and Safety Executive using the format for the Reporting of Injuries, Diseases and Dangerous Occurrences. Procedures
* At the time of admission to the setting, parents' written permission for emergency medical advice or treatment is sought. Parents sign and date their written approval. * Parents sign a consent form at registration allowing staff to take their child to the nearest Accident and Emergency unit to be examined, treated or admitted as necessary on the understanding that parents have been informed and are on their way to the hospital. Fire
All schools should have regular fire drills which should be held at least once every year at different times of the day and a record should be kept. This is important because staff and children should know exactly what to do in case of a fire. Things like where they need to assemble needs to be pointed out. Staff are handed the register for their own class and they do a quick register. All visitors need to sign in and out whenever they come onto the school premises' in case of a fire. Fire extinguishers, sprinklers and the fire alarms should also be serviced whenever they need to and children should be familiar with all the fire exits around the school.
4.2: An identification of the correct procedures for recording and reporting accidents, incidents, signs of illness and other emergencies. All staff within the school should be able to record any accidents, incidents or signs of illness. Most of the time the staff members who specialise in first aid have the responsibility of recording and reporting. But in the event of one not being available another member of staff should report and record it. Details of the incident and the action taken by the member of staff who was present should always be recorded dates and times should also be specified.
In Marshfield if a child requires first aid the first aider whos on duty would record exactly what happened and what treatment they gave. The child gets to take a small report home with them of what happened and they wear a sticker that says they hurt themselves with a picture of a plaster on it. Any illness which the first aider has noticed should be notified to the parents to take the child home for a doctor's appointment and the class teacher would need to be notified. If the child returns they should be monitored closely. All children with allergies have their pictures up in their classroom of what their allergies are and a copy of it is hung up in the staff room. If children that need inhalers/insulin/medicine it should all be stored safely and a member of staff should be present every time a child takes it and it should be recorded and stored away in a folder.
Related Topics