Suburban Regional Shopping Malls: Can the Magic Be Restored?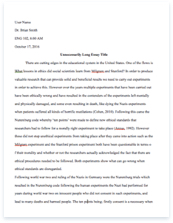 The whole doc is available only for registered users
A limited time offer! Get a custom sample essay written according to your requirements urgent 3h delivery guaranteed
Order Now
1. Imagine yourself as the manager of a struggling local suburban regional shopping mall. What do you think the mall should do to improve its performance? To keep a local suburban regional shopping mall from reaching its decline, there are a few things that must be done to keep your mall relevant in today's society. One must spend time and money during the maturity phase to keep with today's trends. Getting more or newer department or anchor stores may help to draw in business. Then fill the other empty spaces with specialty stores, offering products that consumers can't get anywhere else. Another option for managers is to find a niche in the community that will draw consumers in. A suggestion that was used in the book was to adjust the overall feel, layout, or architecture to add entertainment to the center of the mall. The entertainment can be anything from holiday shows, occasional concerts, a playground for kids, or even just an open area with comfortable resting spots where customers can relax and de-stress. A perfect type of idea would be a small coffee house type of area that serves coffee and soda with waitresses on staff to cater to each patron's needs.
Especially during the holiday season, this would be a great relaxing way for customers to rest their feet and collect their thoughts before heading to the next store on the list. Another change that would need to be made is changing store configurations, referred to as zonal merchandising. This is where you group together stores that serve the same basic need and draw the same basic shoppers. A prime example of such a thing is the food court. This will help those shoppers that come to the mall to purchase a specific product, like shoes. How wonderful would it be if you could go to the mall and head directly to the "shoe-court" and have 10 different stores to shop in without walking all over the place (and likely giving up without ever visiting many of the store options).
2.What shopping trends do you foresee over the next 10 years? How might these trends affect suburban regional shopping malls? Just like before, malls are and will continue to be an entertaining shopping experience. As entertainment changes – so do the entertainment requirements in a mall or outdoor shopping area. Adding more and better forms of entertainment and updating them regularly can keep the shopping experience relevant, and keep shoppers coming back to see what's new.
In a day of, "I want it now and I'm willing to pay for it," a shopping center has to offer a variety of stores, and also have several options. The shoe shopper will go to the place with 5 shoe stores before they go to the place with only 1. They may not realize that of the 5 available shoe stores; only 1 is in their price range, but satisfying a wider variety of consumers will help the mall broaden the shopper's experience. But it is important to remember that shoppers are price sensitive, so not only do you need a variety of stores offering a variety of products, but you also need to be able to provide a variety of price points so you don't limit your shopper demographics.
3. What new retail concepts can you identify? How might you learn about more? What strategies do you suggest for learning about new retail concepts? Supercenters, such as Wal-Mart and Target, offer both experiences of budget-based department store items, drug store items, home goods, office supplies, furniture, and groceries. This enables the store to grab the attention of the shopper with multiple purchases to make, and who doesn't have time to visit a variety of stores. This allows moms to multi-task much more effectively, and working adults to carry on with their speedy lifestyle.
Online shopping is huge. Today's computer might as well be your very own supercenter, as you can shop for anything under the sun without leaving your home. Today's stores that offer product websites, online purchase options, and online customer service are flourishing.
Ways to stay atop of new retail concepts would be surveys. Independent, 3rd party surveys help determine what consumers want, and if their needs are being met. In the past most companies got a bigger response from unhappy customers. Today, discount programs encourage thrifty shoppers to conveniently call or text a survey, and get $5 off their next purchase. Discount cards (Food Lion MVP, Harris Teeter VIC card) help track consumer habits, and this shows market trending, and allows for alternative marketing methods. An example would be noticing a woman buying baby books and maternity clothing with her Target VISA card (which gives you 5% off every day), and beginning to send her coupons for baby items, such as cribs and diapers. Or "magically" emailing her a simple way to begin her baby registry.
Related Topics