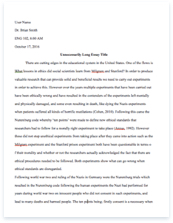 The whole doc is available only for registered users
A limited time offer! Get a custom sample essay written according to your requirements urgent 3h delivery guaranteed
Order Now
My friends describe me as a pleasant,hardworking,and a helpfull woman. My most distinguishing characteristics is pro-activeness which I possess in my nature. I am a woman with technical aptitude and an interest in management.I have a passion for travelling and understanding differnet cultures of the world. Both my parents being teachers' discipline was imbibed at a very early age. Having done my early education in a rural area like XXXXXXXXXXXX with limited resources, I scored well and persuade my further studies far away from home in CCCCC.I was able to cope with new environment and culture with ease and was one of the top scorer in my department.
My engineering degree has given a strong foundation to my analytical skills since Electronics Engg. involves complex and intricate calculations and applications of math skills.I was also in the oranizing commitee of "ZZZZ" – a inter college tech fest and for EEEEE event – assocation for electronics students. All these elements gave me a broad outlook, with varying degrees of knowledge, helping me to grow as an individual.
Over the past three years, I have been associated with XXXXXXXXX. My job responsiblities includes Clinet Onboarding process and maintaining client Customer satisfaction. I was one of the initial two members onboarded for my Client YYYYYYY. My dedication and pro- activeness made it possible for client to believe in us and soon our project grew, increasing it to a 20 members team. This project required me to believe in myself and take extra responsibilities. I initiated intial trainings and sessions for new joinees of the team. Thus, started leading the team at a very early stage. I believe that this unique blend of experiences has made me a more confidant woman shaping the person what I am today.
I'm particularly interested in the aspects of management related to entrepreneurship, strategy and innovation, which I want to pursue. The interdisciplinary nature of the program at your institution will definitely help me to achieve these. Last but not the least, by means of this program I intend to acheive the following –>
1. Develop new business models to manage operations efficiently.
2. Identify new revenue streams.
3. Establish new models by integrating technology and management principles.
Throughtout my carrer I have been persistant and dedicated, hence was able to manage my professional and personal life effectively. I aver that I shall utilize every opportunity given to me to the best of my abilities. I will be much obliged if I am admitted into your institution. With the guidance of your eminent Professors, infrastructure, intellectual capacity and an amicable environment, I sincerely believe that my objectives will be met to the fullest.
Related Topics