Starbucks' Mission Social Responsibility and Brand Strength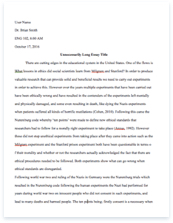 The whole doc is available only for registered users
A limited time offer! Get a custom sample essay written according to your requirements urgent 3h delivery guaranteed
Order Now
The case "Starbucks' Mission Social Responsibility and brand Strength" basically discusses many things. It briefs you on how Starbucks came about in 1973 and how the company has evolved since then and the importance of defending its image. The company did many things to defend its image such as putting money back into the stake holder. Also Starbucks make a happy work environment by giving their employees full benefits. Starbucks offer one of the best health care programs in the coffee shop industry. By giving the employees what they want they "make them feel like they are part of something larger than themselves and they also believe they have a voice." This case also talks about how Starbucks maintains a good reputation for social responsibly and business ethics throughout the international community of coffee growers by building positive relationships with small coffee suppliers as well as the larger ones.
They also talk about how the company is also involved in a social development program that investigates building schools and health clinics, as well as other projects that benefit coffee-growing communities. The case explains how Starbucks is environmental friendly company. In fact Starbucks was voted "Most Ethical Company" in 2010. The company thrives themselves on becoming "green" by trying to help clean up waste issues. Finally they case talks about how Starbucks offer stuff the customers would want such as upgrades to the coffee machines, or new food and drink product and even creating a "instant gathering spot" and a place that can draw people together. Starbucks evolution has been based on making everybody around them happy to make them feel like they are part of something big.
1. Why do you think Starbucks has been so concerned with social responsibility in its overall corporate strategy? I believe that Starbucks has to be concerned with social responsibility because it affects all parties. In fact I believe that Starbucks has achieved social responsibility by taking steps to follow guidelines, minimize its environmental problems, and became an active partner within the community. Doing that shows Starbucks justice because it has been shown that ethical companies do better for the future. Customers feel good about bringing business to social responsible companies and employees feel good about working there. This creates better customer service by employees because of the happiness shown by all parties created by the cooperation. Little things suck has social happiness can jolt a cooperation to the next level. Also they could take a negative impact in the financial situation
2. Is Starbucks unique in being able to provide a high level of benefits to its employees? I believe Starbucks is unique in being able to provide a high level of benefits to its employees. Many businesses or companies do not provide employees with many benefits and if so they receive the basic benefit package. Your employer, by laws is not obligated to provide you with a deep benefit package. Starbucks understands how important employees are and that their workers are the face of the company. Happy employees create good customer service experiences and repeat business. Also this makes the competition for Starbucks less because they can offer something other businesses probably don't offer.
3. Do you think that Starbucks has grown rapidly because of its ethical and socially responsible activities or because it provides products and an environment that customers want? Starbucks rapid growth is due to both its ethical and socially responsible activities and it providing products and an environment that customers want. A company needs to worry about its business in the future and the present. Its ethical and socially responsible activities create a positive image in the public eye. Customers want to support businesses like this and employees want to work for a company that makes them feel like they are a part of something bigger. This helps the company in the long run. A company also has appeal to the customer by providing a welcoming and comfortable environment and by staying up to date on products that they use. No customer wants to come to an out of date store, so therefore they create a customer friendly environment that allows the customer to relax and still go on with their respective business.
Related Topics