Starbucks: Delivering Customer Service Argumentative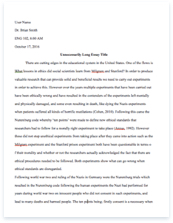 The whole doc is available only for registered users
A limited time offer! Get a custom sample essay written according to your requirements urgent 3h delivery guaranteed
Order Now
Starbucks was founded in Seattle, Washington in 1971 as a small coffee shop by three friends, Jerry Baldwin, Zev Siegel, and Gordon Bowker. The idea came from the premise of selling high quality coffee to consumers. However it did not evolve into the present brand until 1982 when Howard Shultz bought the company. Shultz brought about his traveling experiences from Milian, Italy where the coffee culture was an inspiration for the role the espresso bars played in the community. Within a decade, the business rapidly grew to about 140 stores in Chicago and the Northwest. Shultz's vision was to make a third place as at the time there was only work and home. At this third place, customers could come for high quality coffee, great customer service, and a nice atmosphere. There is a sense of community as even the employees are treated as family they are called "partners" instead of employees.
Hourly workers are called "baristas" and some partners have the ability to rise to executive positions. It is also Starbucks value proposition to be customer-oriented is seen in their "Just Say Yes" policy which is to provide the best service possible, even if rules need to be bent. An example, according to this case study, is that if a customer only has a check and checks aren't normally accepted, the customer will be given a sample drink for free. These were essential factors that accounted for Starbucks success in the early 1990s. As far as branding image, Starbucks main branding strategy is to maintain a coffee culture that centered on a close interpersonal experience. Maintaining a low employee turnover rate and having a range of distribution. The satisfaction of the customer is the central dogma of Starbucks success and its working as in the year 2002 there is a gross profit of $1.9 billion and net income of $215 million (Starbucks: Delivering Customer Service, 2006) .
Potential Issues.
The main question addressed to the Starbuck executives with is will investing $40 million annually be beneficial? The plan is to add 20 hours/week of labor which increase speed of the service which will potentially increase customer satisfaction (Starbucks: Delivering Customer Service, 2006) . As summarized in the article, the following are possible potential issues that Starbucks addresses:
Not meeting the customers' expectations in customer satisfaction by losing touch with what the customers need/want. Accuracy of measuring service performance has also been called into question. Complex beverage making and complex training If hours are increased, the partners/baristas could feel less motivated.
Customer Satisfaction
Since the main value proposition and branding is customer oriented, the number one concern and issue is to meet customer satisfaction. It seems that customer satisfaction scores declined because there are variety Starbucks customers (as seen in figure below).
Figure 1: Varying groups of Starbuck customers.
The variation gives about several combination, over 87,000 complex combinations that can be ordered, which is how Starbucks is different from it was in 2002. The speed of the service is declined the baristas and the customer will lack that close homely relationship Shultz was aiming for. The customer wants to feel wanted and at home and if the name is spelled wrong or the drink is wrong then the scores will gradually decline. Another thing to consider is the actual accuracy of the scores. The sample size must be considered therefore it is a combination of a higher quantity of customers, lower quality of drinks, and more measurements. The customer has also evolved over time. Originally, the typical Starbucks customer targeted market were well-educated, white collared females in the age range of 24-44. Over time, the newer customers were younger, less educated and income (Starbucks: Delivering Customer Service, 2006) (see figure below) Figure 2: Trend of customers on left , ideal customer visits on right.
The ideal customer visited the store about once or twice monthly, and some customers visited about 6-8 times monthly. The usual profile is high school students to college students who visited Starbucks and had the largest percentage of transactions and brought revenue to that particular location (top right. To keep these customers satisfied, the complexity of the drinks should be kept simple as possible and to have their demands met.
Justified Recommendations.
I highly recommend that Starbucks should make the $40 million investment for store labor because the original premise of what Shultz strived for is what made Starbucks a success. More labor could potentially meet the demands of the new ideal emerging customer. As discussed before, the typical customer now is not the 24-44 age range of white educated females and Starbucks must adapt to this change and get reacquainted. However, more labor does not guarantee this experience. Therefore, the training must be geared and modified from the hard and soft skill training as discussed in the article. Personalizing the name and establishing a connection between the partner and customer will build and maintain the goal of intimacy for the best customer experience possible. (Melody, 2012)
Works Cited
Kolter, P. (2012). In K. L. Keller, A Framework for Marketing Management 5th edition (pp. 53-55). New York: Prentice Hall. Melody. (2012, November 18). StarbucksMelody. Retrieved Janurary 20, 2014, from http://www.starbucksmelody.com/2012/11/18/names-on-cups-starbucks/ Starbucks: Delivering Customer Service, 9-504-016 (Harvard Business School July 10, 2006). Zeynep Ton, The Effect of Labor on Profitability: The Role of Quality, Harvard Business School, Boston, MA 02163, [email protected]
Related Topics