Starbucks and Dunkin' Donuts Argumentative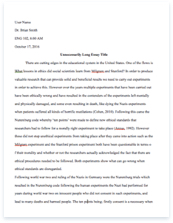 The whole doc is available only for registered users
A limited time offer! Get a custom sample essay written according to your requirements urgent 3h delivery guaranteed
Order Now
When someone is asked about coffee two places come to mind: Starbucks and Dunkin' Donuts. Both organizations have made a tremendous impact in the industry and are recognized for their own specialties. On one hand, Starbucks has a brand name that is associated with quality coffee and excellent customer service, which is well known across the nation. In addition to their brand name, Starbucks offers the "Starbucks experience" which entails perfectly blended coffee, premium music, friendly staff and warm atmosphere. On the other hand, there is Dunkin' Donuts who isn't at the same level as Starbucks at the moment but has some potential. The Dunkin' Donuts brand thus far has focused on their donuts and is trying to make a new name for themselves. We will discuss the different routes both organizations have taken over the years, how they have been impacted, and what we believe their next steps should be.
History and Background
Starbucks
Starbucks Corporation is an American global coffee company and coffeehouse chain based in Seattle, Washington. Starbucks is the largest coffeehouse company in the world, with 20,891 stores in 62 countries, including 13,279 in the United States, 1,324 in Canada, 989 in Japan, 851 in China, and 806 in the United Kingdom. The history of Starbucks starts back in 1971 when the first store opened in Seattle, Washington. (Green, 2012) Jerry Baldwin, Zev Siegl and Gordon Bowker got the idea from Alfred Peet (of Peet's Coffee fame). The store initially sold just coffee beans and coffee making equipment rather than the drinks they have become so famous for. After 10 years, Howard Schultz was hired as Director of Retail Operations and came to the conclusion that they should be selling drinks rather than just beans and machines. He couldn't convince the owners, so he went his own way to start the Il Giornale chain of coffee bars in 1986. The company's logo was initially a wood-cut style image of a 2-tailed mermaid or siren, but it has undergone a lot of changes over time.
The historical original design had the mermaid with bare breasts, but the modern version has become more stylized and her hair covers her body. The name comes from Captain Ahab's first mate in the classic novel Moby Dick, who was named Starbuck. Aside from the ubiquitous coffee shops, they also own the Hear Music label and Ethos bottled water. Though they are unquestionably a successful company, Starbuck's history does have its share of controversy. Their habits of taking over other smaller businesses and forcing out competitors have given Starbucks the reputation of being too corporate and too powerful for the laid-back world of coffeehouses.
The chain has also had lawsuits involving their tip policies for their employees. But they also promote Fairly Traded coffee products and have also made strides in recycling with their paper cups and supplies. So the history of Starbucks has its ups and downs in terms of public perception and opinion. Their coffeehouses have become a beacon for coffee lovers everywhere. Why do they insist on Starbucks? Because they know they can count on genuine service, an inviting atmosphere and a superb cup of expertly roasted and richly brewed coffee every time.
Dunkin' Donuts
Dunkin' Donuts is an American global doughnut company and coffeehouse chain based in Canton, Massachusetts. It was founded in 1950 by William Rosenberg in Quincy, Massachusetts. Since its founding, the company has grown to become one of the largest coffee and baked goods chain in the world, with 15,000 restaurants in 37 different countries. The chain has grown to include over 1,000 items on their menu, including doughnuts, bagels, other baked goods, and a wide variety of hot and iced beverages. The logo is a rectangle of all letters in orange and hot pink with, on the left outlined in brown, a coffee cup logoed with "DD" and, on the right, the words "Dunkin' Donuts". The name has evolved since William Rosenberg opened his first restaurant in 1948 as Open Kettle, in Quincy, Massachusetts.
The name changed to Kettle Donuts in 1949, and the now corporate name Dunkin' Donuts adopted in 1950. Rosenberg conceived the idea for the chain after his experiences selling food in factories and at construction sites, where doughnuts and coffee were the two most popular items. (Reinwald, 2011) Rosenberg sold the franchise of Dunkin' Donuts to others as early as 1955. In 1959, the company began growing, which led Rosenberg to lobby for Dunkin' Donuts at the International Franchise Association. In 2002, Rosenberg passed away from bladder cancer at the age of 86 in his Mashpee, Cape Cod home.
Dunkin' Donuts' origin story is also relevant in comparison to other large coffee chains, particularly Starbucks. While Starbucks emulates a European coffee experience, Dunkin' Donuts proudly promotes itself as American coffee, emphasizing the value of hard work. Furthermore, Starbucks is framed as a product of "post-hippie capitalism" (Sanders quoted in Simon 2009: 29) and often critiqued in an elevated way as a "cultural institution" akin to higher art located within a "historical trajectory" of long standing tradition.
Critical Decisions
Many different critical decisions are made by Starbucks and Dunkin' Donuts, and many of the critical decisions are good for these two companies and bring success to Starbucks and Dunkin' Donuts. First of all, we need to talk about Starbucks, which is an American global coffee company, and is the largest coffeehouse in the worldwide. So why is this company so successful, how can it be one of the most famous and popular food companies in the world, and how does it have thousands of customers. The critical decisions make the decisive roles. At Starbucks all the employees are called "partners". The retail store of Starbucks is like a community, so the employees can be a leader in Starbucks, and it is the opportunity to become your personal best.
For employees, Starbucks also has another beneficial decision for them, like the benefit-eligible partner can get a wide range of perks, benefit and assistance, called "your special blend". This special blend might include bonuses, matching and employees can get discounted stock purchase options. On the Starbucks website the company also offers adoption assistance and health coverage for the employee and their dependents, including domestic partners. Starbucks also offers their employees training. These decisions are a crucial part as to why the employees keep their loyalty to Starbucks. In regard to their customers, Starbucks also makes good decisions to attract new consumers. For example, when you make a purchase in the Starbucks store you have the pleasure of using their free wifi. Also while in the store, you can enjoy free refills, although this rule has some limitation, like the beverages cannot be refilled when you purchase an espresso drink, but it still helps Starbucks attract more consumers.
There's always comfortable music that offers a nice environment for the consumers. When compared to Starbucks, Dunkin' Donuts has an advantage when it comes to their menu since they have recently added 1,000 new items. As an employee, there are many benefits while working at Dunkin' Donuts. One of Dunkin' Donuts critical decisions is their benefit packages offered to the employees, which includes medical, dental and vision insurance plans. Employees are also offered confidential counseling services, access to an employee assistance program, and work benefits. In respect to the consumers, Dunkin' Donuts offers cheaper prices than the other coffeehouse, like Starbucks.
Therefore Dunkin' Donuts can sell more baked food and beverages than the other coffeehouses, and since the prices are cheaper, more customers are willing to come to Dunkin' Donuts thus increasing sales. Dunkin' Donuts has focused on becoming a cost leader in the domestic market, so they are "offering the same or better quality product or service at a price that is less than what any of the competition is able to do." There are several ways Dunkin' Donuts can charge lower prices. First they can produce more, which results in a higher asset turnover. Secondly, they are able to spread out their fixed cost over a larger number of units. Finally, they are able to keep a tight control over their supply chain. Although each company has a different way of attacking their major decisions, they have found what is best suited for them.
Decision Analysis
As so many critical decisions are made by Starbucks and Dunkin' Donuts, they have to analysis these decisions. Are these decisions all right? Can they lead these two companies to success? Do they just have advantages? Or do these decisions have disadvantages? What are the impacts of these decisions? Let's analyze these two companies' critical decisions.
Advantages of Starbucks
First, Starbucks is not in the coffee business but, rather, in the people business that its success is attributed to the successful creation of an emotional connection with the consumers. One of the strongest advantages Starbucks has is the superb experience it delivers to its customers which has be mention before. Someone said that you get more than the finest coffee when you visit a Starbucks. You can get great people, first-rate music and a comfortable and upbeat meeting place. Starbucks establish the value of buying a personal relationship with each of their consumers. Secondly, every Starbucks' employee enjoys work benefits, including schedule flexibility, compensated job training and competitive pay rates for the Café industry.
Eligible coffeehouse workers often receive additional employment benefits. Qualified associates at Starbucks may access a variety of health and wellness benefits, future planning perks and further employment bonuses. "Your Special Blend" is a very good example for it. According to the statistics, Starbucks offers its employees an extensive range of benefits and a pay rate higher than competitors. Thirdly, Starbucks as a community service leader, promises to help create thriving neighborhoods everywhere it does business. Six marquee service events held in key global markets would serve as rallying points for customers and partners to work together to make a tangible impact in their communities, building momentum for the service events. It "deepens relationships with customers and partners around the world in order to reestablish and strengthen loyalty to the Starbucks brand" (Sabre, 2012).
Disadvantages of Starbucks
First, health implications of coffee consumption are a matter of debate and many of the company's products have high calories and fat content. Health consciousness may lead consumers to stray away from the caffeinated drinks. Secondly, Starbuck's profitability and its coffee price are largely dependent on prices of coffee beans which are a commodity and can't be controlled by Starbucks. Due to hedge funds, weather conditions and many other factors, Starbucks can't estimate the price of its coffee and company's profitability.
Then, the price of products are higher than rivals which make them hold just middle to high class parts of the market share which might give an affect to company benefit and management efficiency in the future if the competitors climb to fight in the same market. Finally, when the company is run out of raw materials, this will affect the customer because the finished product from the process is not enough to satisfy the customer need. They will have to deal with the other raw material source to solve this break out.
Advantage of Dunkin Donuts
First, Dunkin' Donuts is able to charge lower prices for their products compared to their competitors to gain market share because they produce more which results in a higher asset turnover. Also by producing more than Starbucks, they are able to spread out their fixed costs over a larger number of units. Secondly, all associates enjoy benefits at Dunkin' Donuts. Even an entry-level new-hire employee receives work benefits, including industry-competitive pay, flexible scheduling and paid job training. Eligible Dunkin' Donuts workers may access several additional employment benefits. Qualified associates with Dunkin' Donuts receive health and wellness perks, future planning bonuses and additional work benefits.
Then, Dunkin' Donuts offers a variety of standardized products which limits the amount of product and service customization they have to do. Mostly every Dunkin' Donuts has the same service. It assures its customers that it will remain the same no matter which location they go to. All Dunkin' Donuts are also located in low rent areas. Finally, by buying in bulk, bidding competitively over contracts and working with vendors to keep inventories low, Dunkin' Donuts is able to keep a tight control over their supply chain. Having strong relationships with suppliers is a vital way to keep costs low.
Disadvantage of Dunkin Donuts
Dunkin' Donuts doesn't spend much for marketing its products and on media advertising while its competitors do. This makes the product not well-known in some of the rural country. The price of different ingredients and raw materials, especially high quality coffee beans, is increasing. Also, the company provides a very high calorie and high content of sugar in donuts which has bad effects on the consumers. Further, Dunkin' Donuts is an enduring brand. "With the franchise model, there should be low-cost growth." (Tom, 2013) Dunkin' Donuts has also been disciplined with its costs and expansion strategy. For example, the company has an approach to progressively move into markets. This helps to maximize marketing as well as supply-chain savings.
Decision Modeling
Starbucks
Beginning in 2008 Starbucks had some issues with their operating costs. This was a result of Starbucks opening stores at a rapid pace but not paying attention to the supply chain fundamentals that would keep costs at a minimum. (Boyer, 2013) As operating cost were raising, sales were declining and a change needed to happen fast. From this point on Starbucks began to really look into their supply chain methods to resolve this problem.
In order to avoid this mistake happening again, Starbucks could use a transportation decision model that would help executives make decisions about expansion. This decision model doesn't need too much information but the small amount of information needed will be crucial to the success of Starbucks in the future. The data needed for this decision model would be amount of supplies at each manufacturing site, the manufacturing sites, shipping routes, the end destinations, demand, and transportation cost to each destination. Each piece of data offers specific information to arrive at the end goal, which is to determine if expansion is feasible.
This decision model can offer plenty of benefits to Starbucks, such as avoiding a mistake that has already been made. As mentioned before, Starbucks did have some issues with their operating costs which led back to a poor supply chain. However, with this decision model in place better decision can stem from the model. Ultimately this model would save Starbucks money because all resources will be utilized in an efficient way. Lastly this model could be the foundation for Starbucks to continue to grow its business without fear of compromising revenues again.
Dunkin' Donuts
Dunkin' Donuts is known for its low-cost products and ability to control their cost even while expanding. The next critical move for Dunkin' Donuts is expanding into the Bay Area market. In order for Dunkin' Donuts to make this crucial step in their business transportation of goods will be a key factor. Dunkin' Donuts will want to avoid the challenges Starbucks went through when they experienced a period of rapid growth. Therefore, in order for Dunkin' Donuts to execute this strategy successfully they will need to plan out how this decision will affect them.
Dunkin' Donuts has a goal to "open 80 Dunkin' units in the San Francisco Bay Area and Northern California in the next five to six years." (Donato-Weinstein, 2014). A decision model that would be well suited for this goal is to determine if transportation costs will exceed the revenue that the store will bring in. This decision model will be able to tell executives at Dunkin' Donuts if it's feasible to open eighty units in five to six years and what their profit will be if they do so.
Just like the decision model for Starbucks, the same data will be needed for Dunkin' Donuts (amount of supplies at each manufacturing site, the manufacturing sites, shipping routes, the end destinations, demand, and transportation cost to each destination); however the information will be used differently. For Dunkin' Donuts not only will the information from the transportation decision model be needed but also a projection of revenues will need to be compared to this information. Using information from the decision model and a revenue project will allow Dunkin' Donuts executives to get a well-rounded picture of what they are getting themselves into. In contrast to Starbucks, Dunkin' Donuts not only has to analyze the information previously mention but also find suitable franchisees that are on the same page as the company. In the case of Dunkin' Donuts their approach differs from Starbucks when expanding its brand.
This decision model will offer Dunkin' Donuts executives a great amount of information before they embark on a new market. For some companies it can be difficult breaking into an unfamiliar market but that's why this decision model is so pertinent. At the end of the day, this model will help Dunkin' Donuts from making a mistake that is easily avoidable. Recommendations
Both Starbucks and Dunkin' Donuts have different qualities that make them unique. Dunkin' Donuts has more of an American feel to its locations and offer lower prices. They offer lower prices because they buy in bulk and have a good relationship with their suppliers. Yes they offer lower prices, but does that mean it is a better drink or pastry? Both places offer hot and cold drinks and certain pastries. Dunkin Donuts offers breakfast items like doughnuts, sandwiches, wraps, and more. While Starbucks has added a bakery to their coffee shops, La Boulange, which will now offer a variety of bakery items to their customers.
Starbucks, on the other hand, has higher prices but they focus on the guests that they have. They put the spotlight on the customer by having employees treat them in a friendly manner, having good music, and a happy atmosphere. We feel Starbucks is a better option because they are in the business for the people and want them to be loyal. Dunkin' Donuts has more of a cost leadership management style where they are focused on reducing their cost and producing more. They don't show as much interest in making the customer feel comfortable. Starbucks has a great atmosphere where people feel like they can go and hangout and have a great cup of coffee as well.
Conclusion
Looking back there were decisions made by both companies that either put them ahead or caused them to go back to the drawing board. What is interesting is that there were some similarities between the two companies, such as how employees are rewarded. Then there were decisions that separated the two companies, such as their branding strategy. Lastly there were decisions made where one company could learn from the other like in the case of expansion. There is no doubt that Starbucks is the leader in this competitive industry, however Dunkin' Donuts is fighting to their best abilities to stay competitive.
References
Boyer, K. (2013, Sept. 20). Behind the scenes at Starbucks supply chain operations it's plan, source, make & deliver. Retrieved from http://www.supplychain247.com/article/behind_the_scenes_at_starbucks_supply_c
hain_operations/green Donato-Weinstein, N. (2014, Jan. 13). Dunkin' Donuts seeks franchisees for bay area expansion. Retrieved from http://www.bizjournals.com/sanjose/news/2014/01/13/dunkin-donuts-plots-bay-area-expansion.html?page=all Green, M. (2012, Feb. 24). A strategic analysis of Starbucks: Company background and history. Retrieved from http://meangreen.hubpages.com/hub/A-Strategic-Analysis-of-Starbucks-Company-Background-and-History Reinwald, C. (2011, Nov. 30). Original Dunkin' Donuts in Quincy goes retro: Renovation brings an old-time jolt to doughnut chain's first shop. The Boston Globe. Retrieved from http://www.bostonglobe.com/business/2011/11/29/dunkin-original-flavor-back/6YdwVPXY0iQjrIQDU7P8HN/story.html Sabre, White (July 11, 2012). "Starbucks Global Month of Service" Simon, Bryant. 2009. Everything but the Coffee: Learning About America from Starbucks. Berkeley: University of California Press. Tom, Taulli. Investor Place Writer & IPO Playboo Editor (July 27, 2013)​ "Dunkin Donuts Stock-3 Pro and 3 Con. The brand is strong, but investors should be cautious".
Related Topics