Stage of Critical Thinking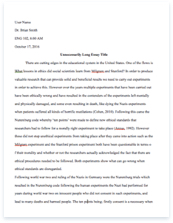 The whole doc is available only for registered users
Pages: 4
Word count: 829
Category: Logic
A limited time offer! Get a custom sample essay written according to your requirements urgent 3h delivery guaranteed
Order Now
Complete the matrix by identifying the six stages of critical thinking, describing how to move from each stage to the next, and listing obstacles you may face as you move to the next stage of critical thinking.
Stages of critical thinking How to move to the next stage Obstacles to moving to the next stage EXAMPLE: Examine my thinking to identify problems Deceiving myself about the effectiveness of that affect my thinking. my thinking The Unreflective Thinker The Challenged Thinker When thinking is causing serious problem Realizing that thinking is s not as perfect as I believe and develop awareness of how thinking operates for positive or negative. The Beginning Thinker Try to understand how to improve my way of Understand and changing the problems in my thinking thinking to and ways to develop as a thinker. The Practicing Thinker Actively analyzing my thinking in numbers Improve awareness of the need for of ways. systematic practice in thinking. The Advanced Thinker Having significant insight to problems at Developing understanding for systematic deeper levels of thought practice in thinking and insight to deep  levels of problems in though, consistent recognition The Accomplished Thinker Continually monitoring, revising, and To make the highest levels of critical rethinking strategies for continual thinking intuitive in every part of my life improvement in my thinking.
Write a 150- to 200-word explanation of your current stage of critical-thinking development and explain why you placed yourself at that stage. Format your paragraph consistent with Associate Level Writing Style Handbook guidelines.
My current stage of critical thinking will be consider at the stage of practicing thinker, I always think of a situation in many different outcome depends on what I want to do and what are the relative possible outcome for all these steps. And sometimes I found myself in position that I allow myself to think to many possible outcome and ended up not knowing which is the one I really should take and focus on. My biggest problem will be knowing and figure out what exactly I want to do after the thinking is done. The main reason I place myself in this stage is because that so often I think in a numbers of way. Coworker always questioning me why I think the way I did, why think so many different outcome of the situation when it is not necessary. And my answer to that will be, "You never know what is going to happened, it is always good to be prepare."
Strategies to Develop Critical Thinking
Now that you identified your current stage as a critical thinker, it is necessary to adopt strategies to develop your thinking. Of the nine strategies you read about this week, choose three that you can begin to practice. Identify the strategies and describe how you can implement each strategy in your daily life.
EXAMPLE Strategy: Deal with my emotions. Implementation Plan: When I am faced with a decision, I will examine the positive and negative emotions associated with my decision. This will help me limit the influence of my emotions on my decisions.
Strategy 1: Use "Wasted" Time Implementation Plan: When dealing with necessary task, don't start another one until the current task on hand is finish. Don't waste time just sit there and watch TV, be productive so I know I won't regret what I didn't do.
Strategy 2: A Problem a Day Implementation Plan: Start Monitor the implications of my actions, when I act, as it begin to emerge. Be ready a moment's notice to revise my strategy the situation if needed.
Strategy 3: Redefine the way I see thing Implementation Plan: Allow myself to see the other side in all situation, don't judge or start thinking without knowing what really is going on.
Write a 150- to 200-word summary of your thinking. Describe critical thinking and reflect on your current stage of critical thinking and your identified strategies. Determine what you can do to develop stronger critical thinking skills.
Critical thinking is self-guided, self-disciplined thinking that aims to take the reasoning we all do naturally to a higher level. It is the art of analyzing and evaluating with the goal of improving thought. When making a decision, it is the difference between weighing information to come to a logical conclusion and making snap judgments without understanding the information. It reflects on my stage of thinking in many ways, because I like to think in many ways and it allow me to see the difference between weighing information to come to a logical conclusion in all possible way instead of making judgments without understanding any facts or information. By using my strategy above can help me to develop into a better thinker, especially redefine the way I see things can help me improve in the way I think because sometimes what we see visually might not be the fact that appear to be.
Related Topics