"Spirit of the Times" The Lost Generation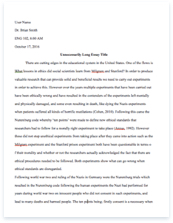 The whole doc is available only for registered users
A limited time offer! Get a custom sample essay written according to your requirements urgent 3h delivery guaranteed
Order Now
During the time of the lost generation graphic design and advertising had a huge impact on the sociopolitical context of the time. I am going to be writing about how graphic design forms a portrait of the lost generations and how this generation impacted graphic design and advertising. I will take you from the 1900's, where the people of the time grew up in sweatshops as child labor to the time between 1914 and 1919 when World War I occurred. All the way through to the times of prohibition, the women's suffrage movement, the financial boom of the 1920's to the devastating stock market crash of 1929. The years between World War I and World War II is often referred to as a coming of age time in U.S history.
The lost generation began in 1900 and ended in 1929, but the people of this generation were born between the years 1883 and 1900. During this time, it was the turn of the century and we were coming out if the Victorian era. The lost generation grew up working in sweatshops as child labor. If they were lucky they became what's called" newsies", they would sell newspapers on the corners of streets. Dring this time also were immigrants coming from Europe and Asia into New York (Ellis Island) and San Francisco (Angel Island). In the time between 1900 and 1910 American leadership decided to move our country from policies of isolationism in world policies and culture to new policies that reinvented America as a world superpower.
In 1900 graphic design and advertising were in the middle of a design style called art nouveau, also it was the start of several others like Vienna secession, new objectivity, futurism, DADA, cubism, surrealism, pictorial modernism, plakastil, art deco, de stijil and constructivism. The photo to the left is a poster for the 13th Vienna Secession Exhibition, designed by Koloman Moser in 1902.
Art Nouveau is an international decorative style, that started in the Victorian era, whose identifying quality is an organic, earthlike line. It can surge with energy or move with elegance as it decorates a space. It is characterized by artists like Jules Cheret, Alphonse Mucha, William Bradley, Edward Penfield and Marcello Dudovich. Vienna Secession and New Objectivity were created in 1897 by Austrian artists that had resigned from the Association of Austrian Artists. It is movement consisted mostly of painters, sculptors and architects. It is characterized by artists like Gustav Klimt, Alfred Roller and Peter Behrens. Futurism is a movement that started in Italy. The style focused on themes associated with concepts of the future. Speed, technology, youth, violence, cars, airplanes and industrial cities. A popular artist of this style was Fortunato Depero. DADA was a movement that focused on antiwar politics. " Cubism is an avant-garde movement, his most popular representative being Pablo Picasso. Its style and manifestation influenced music, literature, sculpture, painting and architecture." (quote from http://www.historygraphicdesign.com)" Surrealism has always played a role in graphic design—though it started as a political philosophy with the ideas of Karl Marx and Sigmund Freud." (quote from http://www.printmag.com/)Pictorial Modernism was a design style influenced by cubism and later evolved into plakastil. The artists like Lucian Bernhard and Julius Klinger were trying to be expressive and use pictorial references but still have visual organization of the picture plane also.
During the 19th century there was so much technological advancements going on that it was hard to keep up. Because of this I think is why people started to really get the idea of individualism. It is when people started getting into the entrepreneurial spirit, especially with the huge influx of immigrants from Europe and Asia. New cultures and arts coming into the country exposed the people to a new avant-guard art, that inspired American artists. The technological advancements made modern life faster and more industrial than ever before. Even while all this advancement, like radio, telegraph, telephone, automobiles and airplanes, a war was starting. World War I start in 1914 and ended in 1919. Graphic design was a good business at the time because of the heavy use of propaganda pamphlets and posters used by both sides to promote the war. Then you had the other side of it where you had the antiwar posters. Because of the events and controversies that happened during world war I a new consciousness arose in women and african americans. The men went off to war leaving the women and children behind to fend for themselves. The war almost bankrupted the government and economy. People in rural areas had to come to the city to take over the jobs that were left vacant.
All of this technological, cultural and social advancement made way for what is called the "Roaring 20's". It was a time of high financial speculation. There were many ramifications to the events of the war. We won but it brought about many cultural movements over the next 20 years. Prohibition, which was when the government made alcohol illegal, didn't last long because they realized that they would do it anyway. They created underground tunnel and clubs where they could transport and then drink the alcohol without being caught, eventually the 18th amendment was amended and no longer applied.
This was a time not only for African Americans to gain more rights, the war gave women the opportunity to have more rights, on April 26th 1920 women gained the right to vote. What is called the "great migration" happened during this time. There was a large influx of African Americans form rural areas to urban cities in the north, because of this it created cultural enclaves. This period of time is known as the Harlem Rennaissance. The 1920's saw a great boom of prosperity all across the country. In 1929 there was the stock market crash, it bankrupted the whole country and government. This one event moved our prosperous country into what is known as The Great Depression.
The lost generation got its name from an offhand comment by modernist novelist Gertrude Stein, she was part of a literary expatriate circle in 1920's Paris. This time period was so expressive and diverse. It was a time of personal and artistic freedom. The people of that generation grew up in horrible environments but over the next three decades they made life better for themselves. They fought for their freedom with the Germans, women and African Americans fought for their rights as citizens. Not to mention the amazing technological advancements of the time, like automobiles, telephones, telegraphs, airplanes and radio.
Related Topics