Sociology and Certain Way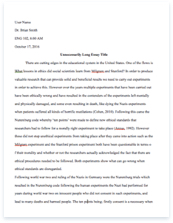 The whole doc is available only for registered users
A limited time offer! Get a custom sample essay written according to your requirements urgent 3h delivery guaranteed
Order Now
1.List two or three components of material culture related to the Body Ritual of the Nacirema.
Beliefs, values, attitudes
2.What are some Nacirema beliefs?
Beliefs are that the human body is ugly and that it is weak and disease ridden. They believe that a man's hope to sway away from these particular things is to have a ritual and ceremony. So in each house they have their own individual shrines. If the person is more powerful in society then they are to have more shrines in their household. 3.What are some Nacirema Values?
They value the box they have in their shrine that keeps magical potions and charms. These things are supposed to keep them safe and protected from evils and illness. They are all about their shrines, mouth, health, and especially their looks. 4.What are some norms and mores related to the body ritual? Norms of the Nacirema is that they have everyone perform a daily mouth-rite which includes a bundle of hog hairs inserted into the mouth along with powders considered magical, and then moving around the bundle of hog hairs in the mouth. Mores of the Nacirema is the magic they practice to protect themselves from illness and evils.
5.Was Horace Miner ethnocentric or did he practice cultural relativism in his study of the Nacirema? Technically this was originally written about Americans. In this article it talks about the things these people do to keep up their appearances and the things they practice to achieve keeping up appearances. In America that pretty much describes everyone. We all wear certain clothes, cut our hair a certain way, talk a certain way, make others look at us a certain way so we can achieve such appearances. So yes Horace Minter practiced cultural relativism in his study of the Nacirema. EXTRA CREDIT: Where were the Nacirema located? Who are they? The Nacirema are a North American group. They live in the territory between the Canadian Cree, the Yaqui, and Tarahumare of Mexico, and the Carib and Arawak of the Antilles.
Related Topics