So Much Water So Close To Home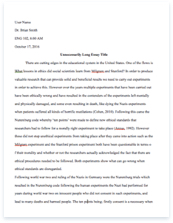 The whole doc is available only for registered users
A limited time offer! Get a custom sample essay written according to your requirements urgent 3h delivery guaranteed
Order Now
In Raymond Carvers short story So Much Water So Close To Home it begins with Claire the narrator, describing her husband the main character of the story Stuart Kane. Claire is a very eloquent speaker and usually cant agree with Stuart so she keeps to herself. Stuart and three of his friends Gordon Johnson, Mel Dorn, and Vern Williams had planned a fishing trip to the Naches River just like they usually do every spring. How ever the events that would happen on this trip would affect Stuarts and Claires life forever. Upon arriving to their camp site Mel Dorn had found a girl floating in the river, so instead of reporting the body to the authorities immediately they continued their trip and called the police when they returned. Throughout the entire story Claire believes that Stuart was responsible for the death of the girl. Raymond Carver faced many challenges in his life such as death, poverty, and alcohol. In his writing carver shows how varied life experiences contributes to different life perspectives and how these perspectives can effect close personal relations. To do this, Carver incorporates quasi autobiographical storyline to reflect how this theme touched his own life.
Death in Carvers life contributed in many aspects to the perspective of Stuart Kane. In the story Stuart is seeing death firsthand at the river and does not seem to be bothered buy this. Stuart felt that reporting the dead body could wait until the end of the fishing trip; this reflects how Carver has dealt with death in his life. Carver, his wife and two children had moved to Israel in 1968 Carver was there because he wanted to travel. His children took an hour and a half bus ride to a non English speaking school everyday. One day a bomb exploded on his childrens school bus killing six children. Carvers visit was ended short because of this bone chilling event. (Carver Country 12). After experiencing a close call with death Carver would forever be desensitized to coping with deaths.
Carver expressed the same quality in Stuart because he acted nonchalant about the girls body, not even mentioning it to his wife until the day after his return from the fishing trip. Claire believes that the girls death is very serious and should not be taken lightly, Claire replies Why didnt you tell me last night(Carver 521). Claires question reveals that Stuarts and hers perspective are different and are taking a toll on their personal relationship. Carvers depiction of Stuart and Claires relation is a direct reflection of Carvers decaying marriage he had with his first wife Maryann, who he later divorced.
In most of Carvers writings and short stories he bases his characters on poor working class individuals (Carver Country 9). Carvers characters struggle through their lives, knowing, with occasional clarity, that the good life they had once hope would be achieved through hard work will not simply just come about. Stuarts perspective is that he is a hard working man and he can support his wife and son financially and emotionally. However the truth is Stuart is a poor hard working blue collar goes fishing and drinks whisky with hi buddies. These habits that Stuart developed come from Carvers life. Carver was raised buy a very hard working man who barley made enough money fixing saw blades to support his family. Besides relating to Carvers fathers life the same habits can be seen in Carvers own personal life. Carver argued wife his wife much like Stuart did with Claire, most of the time concerned with their financial situation (Carver Country 22). Another example of Carvers early life poverty is present in the story when Stuart believes that Claire is unappreciative of all that he does.
Aside from all of his influences the strongest and most negative influence on his work was his drinking. During the ten year period when carver began publishing many of his books his drinking had become a habit of despair, eventually almost killing him (Carver Country 18). The alcoholism in Carvers life was expressed though Stuart in the story. Stuart always had a beer in his hand or a bottle of whisky near by. Stuarts alcohol ultimately destroyed his marriage same way Carvers marriage was destroyed. Stuarts perspective is one of an alcoholics, he is often very ornery or irritable. In Carver Country Carver says Drinking almost killed me, but often kept me alive (Carver Country 16). This really demonstrates how Carvers life was truly controlled by alcohol, and how he displayed alcohol in Stuarts life.
Related Topics