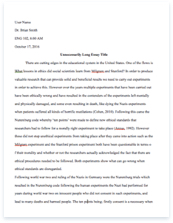 The whole doc is available only for registered users
A limited time offer! Get a custom sample essay written according to your requirements urgent 3h delivery guaranteed
Order Now
In today's society many people are addicted to their smartphones. We are surround by people every day using, or in some cases over using their smartphones. In the article, "Smartphone Addiction: Will U.S. Go the Way of South Korea," Suzanne Kane compares the use of smartphones in the U.S. and South Korea. The study found that 72 percent of Americans surveyed reported being within five feet of their smartphones at all times and admit to using the devices in other unusual places (Kane). So many people don't even realize where and when they are using their smartphones, because it's become such a norm to use it whenever. Susan Davis offers advice about using smartphones and her personal experience in her article, "Addicted to Your Smartphone? Here's What to Do." "I'll admit it: I check my smartphone compulsively. And the more I use it, the more often the urge to look at it hits me" (qtd. in Davis). People often don't realize how damaging smartphone addiction can be to intrapersonal skills. Students have a compromised ability to read facial expressions, due, in part, to spending more time texting instead of talking to people. They simply don't learn how to read nonverbal language (Kane).
Not only smartphones, but computers, tablets, and other high tech devices have become not just an object, but for many a best friend. Smart phones are starting to take over our daily lives. People are using them driving, during movies, going to the bathroom, showering, during church, and other places. Matt Richtel gives insight on smartphone addiction in his article, "Silicon Valley Says Step Away from the Device." "Scott Kriens, chairman of Juniper Networks, one of the biggest Internet infrastructure companies, said the powerful lure of devices mostly reflected primitive human longings to connect and interact, but that those desires needed to be managed so they did not overwhelm people's lives" (qtd. in Richtel). Smartphones aren't all bad, but today's society is becoming too wrapped up in them.
There are many causes and effects of smart phone addiction in today's world. People all over are unaware or in denial of the potential consequences of smart phone addiction, which causes people to overuse their phones without even realizing it is becoming a problem. Another possible cause is the technological advancement and changes our society is and will continue to go through as we continuing creating new things. Work atmospheres are also continuing to change. Technology is used in almost every profession making it easier for people to become addicted to their smart phones. They realize they can do things they couldn't do before on their phones, and find themselves doing it at unusual times or places. In today's society we are constantly surrounded by technology. It is so mobile and flexible that people can use it on the go wherever they may be. It's becoming more convenient for people to communicate more than they sometimes should. In Vivian Diller's article, "The Need for Connection in the Age of Anxiety," notes in regard to our time, "So, we have a generation of young adults who, due to no fault of their own, have grown dependent on continuous technological connection.
They have been able to reach — or be reached by — parents and friends at the touch of a button for most of their lives." This generation has grown up in the middle of technology, causing people to want to use it any chance they get. Because of smart phone addiction there are many affects that can happen. Smartphones have not taken away a good old life, as some reports suggest; they are a cover-up for a lack of life (Zhang). The overuse of technology has become a "mask" for some people. Smartphone addiciton affects the way we communicate in person. People have lost skills on how to hold an actual face to face conversation. Another huge affect of smartphone addiciton is fulfilling people's natural curiosity. People are genuinely interested in what is going on around them, whether it's near them or halway across the world. There isn't just one specific cause there are many, that can lead into damaging affects, but there is hope.
Smartphone addiciton is hard to "cure." There are a few possible solutions to lessening the addiction. The first thing that comes to my mind is setting rules or boundaries. Addiction treatment experts advise that parents play a key role in monitoring whether smartphones are negatively affecting their child's functioning and intervening when necessary (Kane). Parents should start effectively setting times and places children can use they're electronics when they are young. Establishing a firm set of rules for use is necessary if use of smartphones or the Internet is getting in the way of the child's ability to function (Kane). Other than having someone set rules for you, try being proactive and set rules for yourself. Try making yourself use only when you absolutely need to use it. If anything avoid texting and driving. Also try not to use your smart phone while in the bathroom, showering, eating, and etc.
There's no real reason you need to have your smart phone while you cleanse yourself or feed yourself. In Lucy Tobin's article, "How to beat technology addiction," she suggests, "The best way to overcome our addiction to new information is to learn to control yourself: you can do exercises to help . . . using thought-control exercises like concentrating on a simple imagined object for a few minutes everyday." Aside of personal and parental control, I think it's possible to have the workplace involved. Company's could set up policies allowing people to only be on their smartphones and certain times of the day for certain tasks. They could also set up an area people can lock their phones up to make sure the rule is enforced. There are a few solutions that would help solve the problem, but I think there are some better than others.
When analyzing which solution was the best I first looked at the causes to see what solution would best work against the causes trying to solve, or at least better control smartphone addiction. The best solution I came up with was prioritizing when you need to use your smart phone and mange the time you're on it. Hold yourself accountable. Nobody can control what you do more that yourself. Try using your smartphone when it is most necessary. In Lori Deschene's article, "7 Tips to Keep Technology from Taking Over Your Life (from Wisdom 2.0)," she suggests, "Box out time to put technology away." Plan for specific times when you won't engage with technology in any way (qtd. in Deschene). Make deliberate choices about time (Deschene). Decide exactly how much time you will spend using your smartphone. This will help cut down continuous use of your phone. Realize it's worth potential guilt over ignoring non-essential messages if it means allowing you more time to be as you'd like to be, and find the dopamine in a healthier way, by doing something new instead of waiting for a new message (qtd. In Deschene).
This brings up a great point when making deliberate choices about when to or not use your phone. This will help people not waste as much time on their phone, and putting more effort into what is important. If you find yourself relying on your smartphone too much, consider asking yourself why you need or are using it. If you can't find a legitimate reason stop using it and spend more time doing thing you need or should be doing. Self-awareness is such an important step. If you realize why you're turning to technology in time when connection or learning new information isn't critical, you've made the first step to reconnection with yourself (Deschene). Though social networking can bring us closer together, nothing can replace warm hand-to-warm-hand contact. If you keep in mind your presence – your attention – is the most precious thing you can give someone else, perhaps you'll be less tempted to multi-task face-to-face encounters by tweeting, Facebooking, or emailing. It's this type of simple but powerful understanding that can help us tame the compulsion to connect digitally when it compromises physical connection (qtd. in Deschene).
An easy way to check your progress of staying disconnected is by battery life throughout the day on your phone. If your phone's about to die at the end of the day (or if you need to charge it multiple time) you're clearly sucked into you gadget. If you can get to the end of the day with some life left, though, you've probably lived the day mindfully (qtd. in Deschene). I would consider these the best solutions because there is no other person who can monitor and control anyone better than you. The only person who really knows how much time they spend on their smartphone is you, so if you're aware of it, you are the best solution. Also these solutions best work against the causes of smartphone addiction. One cause in particular is that people are in denial. With these solutions I've proposed the way to solve being in denial about it, is recognizing it yourself; nobody can do that for you. Also with society constantly being surrounded by technology, you can't change the world, but you can change how much you surround and become enticed in the outside world. While it would be nice to think parents, work places, or anyone else has a better shot at solving this problem, the best solution starts with you. Unfortunately, no solution is perfect, but with the information present I think I have chosen the best solution.
Related Topics