Short essay on camparison of "Araby" and "Young Goodman Brown"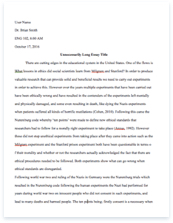 The whole doc is available only for registered users
A limited time offer! Get a custom sample essay written according to your requirements urgent 3h delivery guaranteed
Order Now
The short stories "Araby" by James Joyce and "Young Goodman Brown" by Nathaniel Hawthorne are both stories about change; however both characters change in very different ways. Organized religion imposes a rebut of prescribed behavior on natural curiosity and growth and in turn causes one to seek it out on there own. In "Araby" an unnamed young boy of about twelve or thirteen depicts his personal coming of age. Due to strong religious obligations, sexuality was greatly repressed during the time of this story. "Young Goodman Brown" tells the tale of a young Puritan man drawn into a covenant with the Devil. Brown's illusions about the goodness of his society are crushed when he discovers that many of his fellow townspeople, including religious leaders and his wife, are attending a Black Mass. Allusions Goodman Brown had witnessed may have or not been real, but changed his life completely.
The character in "Araby" was fascinated by what love was like. He read "The Abbot" by Walter Scott, which was a popular romance. The Devout Communicant was also noted as one of his favorite books. This book was a Catholic religious manual that set forth guidelines for his faith. The fact that Joyce mentioned both of these books aids in foreshadowing and revelation of his dilemma. He is a young boy coming to an age of confusion of the opposite sex. The boy seems to create a sexual image of the girl each time he sees her, describing the "white border of a petticoat, just visible as she stood at ease." This idea was vividly sketched in the paragraph which states, "All my senses seemed to desire to veil themselves and, feeling that I was about to slip from them, I pressed the palms of my hands together until they trembled, murmuring O love! O love! Many times. (Page 446)" The intense sexual undertones of this passage are instantly recognizable and depict the boys' confusion of religion and sexuality.
Young Goodman Brown on the other hand loses his religion. For example, Mr. Brown loses Faith when he goes into the dark woods with the creepy gentleman that walks with a serpent-staff. This is an allusion to his loss of his moral faith when he decides to experience evil. When Young Goodman Brown is entering the forest he says to himself, "What if the devil himself should be at my very elbow! (Page 148)" Even realizing the dangers of the forest he still enters. The temptation and curiosity could not be withheld by his religion.
His aunt did not recommend the boy's quest. She advised him not to go to the bazaar that late in the night. Again religion is noted when she adds "I am afraid you may put off your Bazaar for the night of our lord. (447)" The boy then walks up and down the stairs clinching his fists and he becomes clearly frustrated with his religion. James Joyce describes the street in terms of vision. He calls the street and its people "blind." Perhaps they are blinded by religion. He also mentions that he is "free" when he leaves class. His quest for a present for Mangan's sister is like his escape from his religion for a night. What he finds is that love and the world outside of religion was not what he imagined. His disillusionment could also be in the form that once seeing the girl at the stall he realized that Mandan's sister could very well be just like this girl and not the saintly figure with the halo of light around her how he has always seen her.
As with Goodman Brown he also has quests, while reaching out for different results. It is suggested that he was seeking sexual enlightenment from his wife (Pennell 37). He is obviously searching for something more as he continuously quests for freedom and knowledge (Pennel 37). The Puritan religion has very strict rules about prayer and sex. The pink ribbons symbolize that his wife may have not reached her women hood. He was obviously searching for something. "Having kept covenant by meeting thee here, it is my purpose now to return whence I came. I have scruples, touching the matter thou wot'st of"(Pennel). It seems this "covenant" is a pact all good colonists respect, and the religious connotation of the very word "covenant" seems to exemplify this.
The child in Araby was nameless which signifies that it symbolizes more than one person. Many children of this time go through this feeling of guilt for being attracted to the opposite sex. The boy expresses this when he states, "Her image accompanied me in places the most hostile to romance" (445). The boy feels guilty in thinking about Mangan's sister. Religion made the feelings that he was having wrong. Religion kept him from being with the girl. The girl is also sexually frustrated as she "turned a silver bracelet round and round her wrist. She could not go because there would be a retreat in a couple weeks."(446) The boy's frustrations were more sexually driven than Young Goodman Browns.
In both cases there is a quest driven by religion or held back by religion. How religion affects their lives is different. Both characters go through change but how and the severity of the change varies. The young child in Araby discovers what life is actually like outside the church. Brown's perception has changed for his whole life. If Goodman brown's curiosity of the forbidden hadn't led him into the dark forest to meet with the devil. If the Unnamed boy didn't go the Bazaar he would have not had a growing experience.
Related Topics