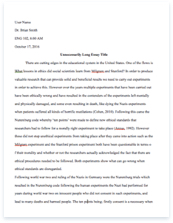 The whole doc is available only for registered users
A limited time offer! Get a custom sample essay written according to your requirements urgent 3h delivery guaranteed
Order Now
ShopKo and Pamida: Systems Triumph or Tragedy? ShopKo, a general merchandise retail chain headquartered in Green Bay, Wisconsin, has about 140 stores in 15 states and had sales of $3.5 billion in 2001. Traditionally companies that sell apparel have four product cycles a year, one for each of the seasons. However such companies now face serious competition from companies like Gap that now operate on rapidly changing product cycles, often bringing in new product lines every two to four weeks. One of the growing problems ShopKo had to address was what to do with the excess (or overstocked) merchandise when a cycle ends. At the end of a season (or cycle), companies have faced two problems. One is the need to empty its shelves in time for the arrival of the new cycle products (bathing suits do not sell well in the winter while fur coats are not in demand in the summer). The other problem is getting rid of the overstocked items at the highest possible price in an attempt to minimize losses in revenue. Traditionally the method ShopKo (and most other clothing retailers) used to determine clearance prices for overstocked items was to set each product price based upon clearance prices of similar products in past years.
On average it found it needed to lower prices four times to clear the overstock at the end of a cycle, selling as much at each price as possible before lowering the price again. However, it always faced the calendar in addition to the customers' willingness to purchase at each price. Mike Martin, ShopKo's director of business alignment and planning, explains, "The first few markdowns buyers tend to take are very conservative. So they [Shopko] end up taking too many markdowns to clear [merchandise] out." This markdown strategy proved to be costly as the number of cycles per year increased. The clearance price for each item was the same in every store throughout the entire chain. However, specific items were more popular and sold better in some stores than in others. Also, traditionally markdown timing was always the same for all stores, and yet seasonal changes can differ from store to store based on local geography and culture. The result was that the company could have set higher markdown prices in stores where the demand was higher or the cycle lasted a little longer.
Moreover, a clothing markdown usually means a manual price change on each clothing item, and the staff time required to change the prices can be very costly. Four markdowns per item is very expensive. ShopKo had made substantial information systems investments and one was a system to help the company optimize prices during markdowns. ShopKo implemented Markdown Optimizer from Spotlight Solutions in Mason, Ohio, which helps companies price leftovers so that the products will sell faster and with a better profit at each store. The software enables companies to price a product according to season, geography (specific store location), local tastes, and past demand, by analyzing historical pricing and sales data. It is proving very useful in helping stores get rid of the leftovers in time to make space for incoming products of the next cycle. This type of computer system is similar to the yield management software developed by the airlines. This software determines the best prices for airline seats at any given time. The goal is to fill the plane at the best total price possible.
ShopKo's CIO, Paul Burrows expressed his understanding that "The more you sell during the first markdown, the fewer you have left even if you have to take a second markdown." ShopKo's weekly sales data are stored in a merchandise data repository, and its computer system automatically feeds the data into Markdown Optimizer. Each piece of data contains the specific store, item number, and date for each item sold. Markdown Optimizer automatically stores the previous recommendation for each item in each individual store so that it can evaluate past results and then produce recommendations for the closeout of the current cycle. In 2001, ShopKo ran a pilot on the new product and the results were excellent. For the leftovers the pilot showed a 25 percent increase in its gross margin from previous years, while its payroll costs fell by 24 percent and the percentage of unsold goods at the end of each cycle fell from seven percent to two percent. Burrows was most pleased, claiming that a 15 percent increase would mean a $15 million growth in net profit.
In 1999, ShopKo purchased Pamida, a general merchandise retail chain focused on small towns such as Crete, Nebraska, (25 miles southwest of Lincoln, population 6000+) and Belle Fourche, South Dakota (Butte County, population about 4,000). With headquarters in Omaha, Nebraska, Pamida's slogan is "Bringing smaller communities what they want." ShopKo's aim in purchasing Pamida was to increase its presence in the small towns where competition from retailing powerhouses such as Wal-Mart and Target was not as strong. Pamida was the only major retail store in most of these small towns, and its strategy was to compete by maintaining a high in-stock rate rather than by becoming the lowest price competitor. Pamida relies on information systems to execute that strategy, and its SEC filing stated, "Pamida's information technology strategy is aimed at providing the customer with . . . merchandise which is always available as advertised." When ShopKo purchased Pamida, the chain had a total of about 180 stores, although that number increased to 229 stores in 16 states when ShopKo purchased the P.M. Place chain of 49 small town Midwestern stores in May 2000 and merged it into Pamida.
Despite its strategy, Pamida had too many out-of-stock items. To make matters worse, many key products were in warehouses even though they were not on store shelves. In addition, the company's gross margin was too low and falling. ShopKo wanted to expand the number of Pamida stores in small towns. Pamida's solution was to consolidate its five warehouses into three and modernize its inventory management systems to increase stores' ability to keep their shelves stocked. The plan execution began early in 2000 with the Lebanon (Indiana) Distribution Center Project to convert the Lebanon distribution center servicing 107 of Pamida's 229 stores, to a full-service warehouse. The concept was to transform the warehouse from a flow-through facility (where goods arrive at the warehouse and are immediately shipped to the stores) to a full service distribution center (where inventory is stored so that it can be shipped to the stores immediately when needed). The warehouse was expanded from 200,000 square feet to 418,000 square feet, but the warehousing software was neither updated nor replaced.
Initially, the new inventory management system created serious bottlenecks in Pamida warehouses, causing Pamida's earnings to decline in the first nine months of 2001 and its corporate parent ShopKo to lose $6.7 million in overall revenue. Pamida's old warehouse management information system came from Catalyst International, and the company had never updated the software, which was several versions behind. According to Dan Trew, Catalyst's vice president of product strategy, "We have made significant enhancements in the configurability of the product, things we couldn't do when Pamida was [originally installing] its system," and so the system was out-of-date and inadequate. The software made it difficult to lay out and run a full-service center in the most logical and efficient manner. "It's not real flexible so the processes at the distribution center had to conform to the system," said Pamida's CIO Dan Nicklen. Newer versions of warehouse management software can handle full-service distribution centers much more easily.
Nicklen said Pamida's warehouse management software was not updated when the rest of the warehouse was modernized because the software had been working fine under the old distribution system. Pamida had the support of ShopKo's management in making technology investments to become more effective, but chose to continue using the old warehouse software. Instead, Pamida focused on a three-year program to replace all of its major large computer systems and software, including new merchandising software from Retek Information Systems.
The product supply shortage became even more serious as the 2000 holiday season approached. The estimated loss in sales for the 107 stores served by the Lebanon distribution center was $5 million, lagging 5 percent behind sales for the remaining 122 stores in the chain. Shareholders filed several class-action lawsuits, charging that management had not revealed the seriousness of the distribution center problems, partly to keep its stock prices up until November 2000, when it could no longer hide the problem. The quarterly report released that month showed gross margins of 20.8 cents in that quarter versus 26.3 cents previously. Pamida partly blamed the problem on the previous owners, "Our resources were stretched thin," said Nicklen. "Under ourprevious owners we were always underfunded." But there were also other problems. Certainly Pamida management turnover contributed, with the CEO, Steve Fishman, leaving in July 1999, and a new CEO arriving early in 2000.
ShopKo also had a major management turnover when CEO William Podany resigned as chairman in May 2001. Moreover, the task of merging P.M. Place with Pamida in the spring of 2000 placed a heavy burden on the company. Pamida eventually turned around its distribution center and it became fully functional by the end of 2001. ShopKo now feels confident enough in Pamida's new distribution system that it is closing a smaller warehouse in Missouri to consolidate distribution at its Indiana and Nebraska centers. Sources: Carolyn Abate, "Going Once, Going Twice… Sold!" Smart Business, May 1, 2002; Edward Cone, "Pamida's Distribution Debacle," Baseline, January 1, 2002; Meridith Levinson, "Everything Must Go," CIO, May 1, 2002; Meridith Levinson, "They Know What You'll Buy Next Summer (They Hope)" CIO, May 1, 2002; and Bob Tedeschi, "The Price is Right," Smart Business, May 1, 2002.
DIRECTIONS:
1]Follow the given Case Analysis Format below. Discuss the case with your group mates. Select the best answer and print a summary of your solutions (maximum of 2 pages). Include also the hardcopy of your references as your supporting documents. Then, each group will prepare a PowerPoint presentation of their answers which will be presented on November 19, Tuesday. 2]Answer the Additional Questions below individually. Submit a hardcopy of your answer. This will be one of your Prelim Quiz – Take Home Quiz. CASE ANALYSIS FORMAT
Title of the Case
Abstract (Summary of the Case)
Statement of the Problem (Find the Root Problem)
Alternative Solutions (Give 3 to 5 Alternatives)
Areas for Consideration/SWOT Analysis (Identify the strengths, weaknesses, opportunities and threats of the area being considered; The advantages and disadvantages for each considerations ) Recommendation (Best Alternative)
Action Plans (Implementation)
References (Specify the Websites, Proquest 5000 Journals or Researches, Ebrary Books or other ebooks, and Videos used; Preferably use the most current references available) ADDITIONAL CASE STUDY QUESTIONS:
1. Evaluate the role of information systems in the way ShopKo and Pamida run their business. How important are they? 2. Evaluate the importance of Pamida's distribution center consolidation project for both Pamida and ShopKo. What management, organization and technology factors prevented Pamida's new distribution center from working successfully? 3. Are ShopKo and Pamida using information systems effectively? Why or why not? How much value do their systems provide to the business? 4. If you were the CEO of ShopKo, how would you have addressed the problem? If you were the CEO of Pamida when it was purchased by ShopKo, would you have recognized the problem? Explain. How would you have solved the problem? 5. What management challenges does this case study illustrate? Explain your answer.
Related Topics