"Shiloh" Symbolism and Figurative Language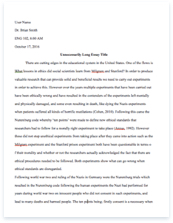 The whole doc is available only for registered users
A limited time offer! Get a custom sample essay written according to your requirements urgent 3h delivery guaranteed
Order Now
There are many examples of symbolism and figurative language in Bobbie Ann Mason's short story "Shiloh." The importance of names: the main character is Leroy Moffitt, his wife is Norma Jean, her mother is Mabel, and their deceased son, who died of sudden infant death syndrome at the age of 4 months, is Randy. In the story, Norma Jean says to Leroy, while doing her studies for school, "Your name means the king." Leroy questions his place in their relationship, "Am I still the king around here?" She assures him she is not cheating on him, but his questioning is coming from a deeper place. Leroy is worried that he is not the powerful husband that he should be to his wife, and he can tell. Going back to the beginning of the story, Norma Jean "reminds Leroy of Wonder Woman," foreshadowing the reverse of roles the couples face after Leroy's accident. Leroy injured his leg in a highway accident and he will most likely never be able to drive his big rig again. Leroy's big rig is another major symbol in the story. The big rig is mentioned at the start of the story, "It sits in the backyard, like a gigantic bird that has come home to roost," symbolizing Leroy's homecoming, and that he is not leaving any time soon, like he always did.
The big rig is also referred to as a "widow-maker" as Leroy tells of how this is something Norma Jean didn't ever say; she supported his travels and his job. Another statement of the big rig is made, "Leroy looks out the window at his rig. It is like a huge piece of furniture gathering dust in the backyard. Pretty soon it will be an antique." Leroy has retired the thought in his mind that he will ever drive his truck again. Leroy replaces his driving days with staying home and doing crafts and needlepoint. Mabel tells Leroy, "That's what a woman would do." These stereotypical hobbies are that of women. On the other hand, Norma Jean begins taking on more masculine roles, such as working out and body building, being the main income provider for the household, and furthering her education. The couples relationship is unstable. The loss of their child is a burden that bothers both of them, but neither of them are willing to talk about. Leroy's absence while he was truck driving helped keep their marriage stable, because he was not ever home to be able to discuss the matter.
At the beginning of the story, when the reader is told of Randy, the couple is described as feeling awkward around each other, especially with Leroy being home all the time, and "Leroy wonders if one of them should mention the child." Irony is foreshadowed in the statement, "They are lucky they are still married. Leroy has read for most people losing a child destroys a marriage," which ends up to be his future result. This brings me to the symbolism of the dust ruffle. Norma Jean's mother, Mabel gives them a dust ruffle for their bed, and Leroy jokes, "Now we can hide things under the bed," eluding to them hiding their problems. The dust ruffle is mentioned twice in the story, once when Mabel gives it to the couple, and once at the end of the story, "The sky is unusually pale-the color of the dust ruffle Mabel made for the bed." This is a direct comparison of a dust ruffle, a piece of cloth made to make things under your bed non visible, with the sky, which surrounds the entire world. The sky is a vast, open space, and it seems that this comparison is saying that in Leroy's world, he and his wife kept too many things hidden. The two did not communicate about the changes they were going through in their lives, their depleting connection as husband and wife, and the death of their son.
This brings on the idea of the theme that communication in a relationship can make or break it. Significant problems were not something that Leroy liked to discuss, but the log cabin that he planned on building for himself and his wife is something in which he brought up many times. The log cabin is another important symbol in the story. The log cabin seems to symbolize to Leroy a happy marriage for him and Norma Jean. He brings up the log cabin multiple times throughout the story, first mentioned when the reader is told that Leroy "is thinking about building a full-scale log house from a kit. It would be considerably cheaper than building a regular house, and besides, Leroy has grown to appreciate how things are put together." He sets his mind on "putting together" this log cabin, while his actual marriage is falling apart. He tells everyone of his plans to build the log house, and neither Norma Jean or Mabel support his goal, which is also foreshadowing that his marriage is going to end. He tells Norma Jean, "I am going to build you this house…I want to make you a real home," and Norma Jean replies with "I don't want to live in any log cabin."
The thought of a log cabin is what Leroy holds on to as hope for his marriage, and to contrast this the author describes the opposite of a log cabin, the subdivisions that are developing quickly in his community. Leroy dislikes the subdivisions and the author uses figurative language to describe this; "He cruises the new subdivisions, feeling like a criminal rehearsing for robbery." These "grand and complicated" houses depress him. The author directly tells of the hope the log cabin fills Leroy with, "Leroy has hopeful thought that they are sharing something, but he knows he is a fool to think this. Norma Jean is miles away. He knows he is going to lose her." He doesn't want to give up on his marriage, but unfortunately, deep down inside he knows that Norma Jean already has. After his wife informs her husband that she wants to leave him, "it occurs to him that building a house out of logs is similarly empty-too simple. And the real inner workings of a marriage, like most of history, have escaped him." Music in the story, specifically the songs Norma Jean plays on her organ, is also a symbol. The music sort of puts a story line on Leroy and Norma Jean's relationship. At first, the two spend time together while Norma Jean plays the organ and Leroy smokes a joint. They laugh and enjoy one another's company.
The types of the songs she plays are of importance. At first, Norma Jean plays Christmas songs, Christmas being associated with family, friends, spending time with loved ones and happiness. She also plays songs with the titles, "I'll Be Back" and "Can't Take My Eyes Off You," which makes Leroy reflect on the fact that after being gone for 15 years he is finally home, spending time with the woman he loves. The songs then change, and Norma Jean plays a tune with the title "Who'll Be Next In Line" directly after Leroy asks her what she thinks about his idea of the log cabin, which makes you wonder if she's playing that specific song to hint that she is going to replace her husband. Eventually, as Norma Jean becomes more involved with her studies, work, and improving her health and fitness, the music stops all together, just as their marriage stops.
Lastly, even though this story is filled with symbolism and figurative language, there is the main symbolism of Shiloh, which is also the title of the story. Shiloh is where, in April 1862, more than twenty three thousand troops of the North and South died. This event was the indication of how bitter and bloody the war was going to be. Mabel kept insisting that the couple go somewhere new, that they needed a change. Norma Jean finally agrees to go with her husband to Shiloh and it is here, where the lives of many men were lost, that Leroy lost his life too, his wife. Norma Jean tells him "I want to leave you." His marriage was over.
Related Topics