Sexuality In Bram Stoker's Dracula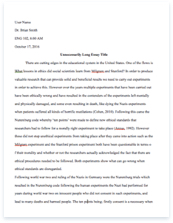 The whole doc is available only for registered users
A limited time offer! Get a custom sample essay written according to your requirements urgent 3h delivery guaranteed
Order Now
Sexuality in Bram Stoker's DraculaBram Stoker's Dracula, favorably received by critics upon publication in 1897, entertained its Victorian audience with unspeakable horrors such as vampires invading bedrooms to prey on beautiful maidens under the guise of night. The novel's eroticism proved even more unspeakable. Received in the era of repression, it remains questionable whether Dracula's readership perceived the sexuality flowing from the page. An advocate for the censorship of sexual material, Stoker himself may have been unconscious of his own novel's sexual qualities. Perhaps if he knew of the Dracula criticism written in the last thirty years, he would turn in his grave from personal horror.
Since the 1970s, with its conglomerate of feminist critics reveling in the sexual revolution, Freudian psychoanalysts, and marginal sex groups, Dracula's sexuality continues as an issue of great debate, attracting more attention from its centennial anniversary in 1997. More titillating than the novel itself, numerous sexual interpretations exist from key scenes in Dracula: the trio of female vampires attacking Jonathan, Lucy's vampiric transformation and subsequent staking, and Mina's forced drinking of Dracula's blood. Critics debate whether these crucial scenes reveal men's fear of female sexuality, the dualism of Victorian sexuality, the threat of foreign sexuality, Oedipal fantasies, sexual repression, Bram Stoker's sexuality, and homosexuality. The list of sexual topics is endless.
The popularity of Freud's theories of sexuality makes Freudian analyses of Dracula's sexuality almost impossible to avoid. Even feminist critics who resent Freud's misogyny, find his sexual observations difficult to ignore, especially in regard to Dracula's sexual content. The fact that Stoker and Freud are contemporaries writing at the same time legitimizes the critical use of Freud's psychoanalysis to explore Stoker's novel. More importantly, critics can easily apply with little work Freud's theories to Dracula's medley of sexually repressed characters, aggressively sexual women, and sexual symbolism.
Upon the publication of two largely influential criticisms, 1972 exists as a pivotal year for psychosexual interpretations of Stoker's novel. Charles Bierman, a psychiatrist, sets the critical trend for the psychoanalysis of Dracula's sexuality by focusing on "an analysis of the novel's oral sexuality" (57). In spite of his detailed account of biographical influences, especially Stoker's childhood, Bierman fails to fully utilize the text for support, supplying only plot summary; his essay relates more to biography than literary criticism. Roy Bentley's "The Monster in the Bedroom: Sexual Symbolism in Bram Stoker's Dracula" introduces a more textualized and explicit psychoanalysis than Bierman's essay. Bentley becomes the first critic to mention "the novel's perversion of sexuality, representation of blood as semen or menstruation, and phallic symbolism" (543). Its brevity has not deterred later critics to write lengthy criticisms using Bentley's points as a foundation.
Ruth Roth focuses on Bierman's oral assertions and Bentley's study of sexual perversion, but she more specifically studies how Dracula labels female sexuality as "abnormal through its depiction of asexual women transforming into voluptuous vampires" (106). Her argument gains momentum when she goes beyond previous criticisms and exposes the male fear of sexually aggressive women in an Oedipal context. Roth's essay contains a noticeable error; she states that when Jonathan cut his finger, Dracula lunges at him (119). Actually, the Count attacks Jonathan when Jonathan cuts his throat shaving.
Both Calvin Williams and Loraine Twitchell delve into Dracula's Oedipal aspects. Whereas Twitchell gives only a brief "examination of Dracula as a father figure who sexualizes the male characters' mother figure" (14) in The Vampire in Prose, Williams provides a more comprehensive study on how "the Oedipal complex controls the novel's sexuality" (37) in "The Rise and Fall and Rise Again of Dracula." She also offers insights concerning the Oedipal complex's effect on the mother figure as opposed to the father figure""the lack of maternal feelings because of excessive desire, the vampiric parody of motherhood, and blood as a representation of mother's milk. A comparison between the two clearly shows the superiority of Williams' essay in regard to support, insights, and authoritative voice.
Comparable to Williams, Sian Macfie argues that female sexuality negates maternity. She adds, "Sexually transmitted diseases and menstruation causes moral madness that destroys maternal instincts" (239). Using Williams' essay as a model, Macfie needs to incorporate more textual support, although her strength lies in her relation of other vampire texts to Dracula's sexuality.
Andrea Griffin agrees with Bentley's claim that blood symbolizes menstruation, and she develops his assertion more fully with the addition of Freudian texts on menstrual taboos to her support from Dracula. Despite her well supported position on Stoker's development of women characters as sexual, animalistic creatures in heat, Griffin makes an incorrect reference to a particular scene: "Lucy's eyes became hard when she attacked Jonathan on her deathbed (465)," yet in the novel, Jonathan and Lucy never meet. Although a glaring error, many critics fail to comment on it, choosing instead to focus on Griffin's insights into Dracula's mythic female sexuality.
"Magi and Maidens: The Romance of the Victorian Freud," by Anne Auerbach also focuses on sexual woman as myth, but in a different manner than Griffin's. According to Auerbach, "Dracula's sexualizing of women empowers them through an awareness of their hidden powers" (143). The article's authoritative voice and the use of Freud's Studies in Hysteria reveal Auerbach's knowledge of her subject, yet additional examination of passages from Dracula would fortify her premise, which differs from the majority of psychoanalytical criticism.
Walter Stade concentrates on men's psychological emotions toward sexual women in his two companion pieces, "Dracula's Women" and "Dracula's Women, and Why Men Love to Hate Them." Overly dependent on plot summary, his greater weakness consists of his irreverent examination of women that does more to expose his own misogyny than offer insights into male reactions toward aggressive women. More formalized language and a more scholarly stance would do much to remove the hostilities he feels toward feminist critics examining Dracula's sexual attributes.
A hot topic over three decades, little remains to be said concerning Dracula's sexuality. Yet, surprisingly enough, other possible avenues of study do exist. The assimilation of Dracula into popular culture with its numerous film adaptations offers critics the opportunity to examine the transfer of the novel's sexuality to the silver screen; critics such as Twitchell already realize the growing shift from literary studies to film studies of Dracula's sexuality. Careful examination of film adaptations of Dracula ranging from F. W. Murnau's 1923 Nosferatu to Francis Ford Coppola's 1992 epic, Bram Stoker's Dracula, may shed new light on modern and contemporary perceptions of the role of sexuality in Bram Stoker's masterpiece.
Related Topics