Servant Evangelism Report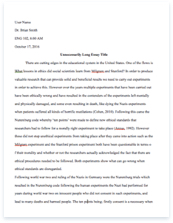 The whole doc is available only for registered users
OPEN DOC
A limited time offer! Get a custom sample essay written according to your requirements urgent 3h delivery guaranteed
Order Now
Encounter 1
Part One: What were the circumstances surrounding your servant evangelism encounter? I met Meghan on a double date with my boyfriend and his best friend Corey. We all went to dinner and then were going to go see a movie afterwards. The conversation started because Matt and I asked her and Corey if they would be ok with us giving thanks for our meal. She was not surprised we wanted to pray, but was surprised that it was not just the generic "God is good, God is great, thank you for the food we ate."
Part Two: What was the reaction (questions/comments/statements) of the unbeliever? The first thing Meghan asked was, "Are you one of those Christian people who really believes in God or just one that goes to church on Sunday?" I was surprised at her forwardness but told her that while I go to church on Sunday's with Matt and my family, I do my best to not just be a "Sunday Christian" and do everything for God's glory. She was very receptive of my answer but when I inquired to her beliefs, she did not want to discuss them any further. During this, Matthew was very interested in the conversation, but Corey seemed very uncomfortable.
He was squirming the entire time and didn't have much to say after our conversation ended. Corey is not a believer and does not like to discuss his beliefs. Later on, when we were saying goodbye after the movie, I spoke with Meghan again on the topic of beliefs and she gave me her number for us to get together and discuss my faith in more detail. She said that the reason she did not wish to discuss the topic further during our meal was because of Corey. She knew that it made him uncomfortable to talk about it and didn't want to upset him. However, she was very interested in learning more about becoming a Christian, and allowed me to pray for her before we left.
Part Three: Conclude with an evaluation of servant evangelism. While I would have liked to have talked more with her about my faith at dinner, I am very pleased that she was so receptive and wanted to meet with me to learn more. I do not believe that I necessarily evangelized to her, I was pleased that she was willing to meet again. When we do meet again, I will then be able to actually tell her of Christ's love and sacrifice. Through this encounter, I learned that people are always watching and how important it is to be a Christ-like example wherever I am. Even something as "normal" as praying for the meal can be an amazing tool to open the door to sharing the gospel with someone.
Encounter 2
Part One: What were the circumstances surrounding your servant evangelism encounter? During one of the servant evangelism trips, I met an older man named Steve. He was a very sweet homeless black man that was standing waiting for the bus. I started the conversation out with just, "Hi, how are you today, what is your name, etc." He was very sweet and seemed happy to talk to someone.
Part Two: What was the reaction (questions/comments/statements) of the unbeliever? One this particular day, I happened to be wearing a cross necklace that I received from my grandfather before he passed away 3 years ago. He noticed the necklace and kind of grimaced. He asked, "Are you trying to tell me about Jesus? If so, I think you should leave." I asked him why and he said that all believing in Jesus will do is cause problems. He said that he used to believe in Jesus but then his wife got brain cancer. He teared up and said, "I begged Jesus to save her life, but all I got from Him was silence while I watched my wife die." He was very bitter and broken about losing his wife. I told him that Jesus cared and saw that he was hurting. I then proceeded to share the gospel with him.
He was quiet for a while and then, without saying anything more, just walked away. He hadn't said anything while I was sharing and didn't seem to be upset that I shared. Part Three: Conclude with an evaluation of servant evangelism. This encounter with Steve was frustrating. I didn't know how to react when he walked away and didn't chase him down. I often find myself wondering what would have happened if I had. However, this situation helped me realize my duty was just to share and let God do the work. Even though I did not bring him to Christ, I was hopefully able to plant the seed to where someone else will hopefully help him later on. To other believers, I would say, don't become discouraged. Just because you share does not mean that the person you share with will always be receptive of the message and immediately receive Christ. You will get people who yell, walk away, and be rude. However, we have done our part by sharing and we have to trust that God will use our diligence and honor our obedience.
Related Topics