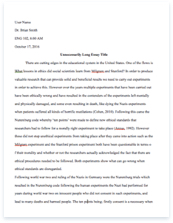 The whole doc is available only for registered users
A limited time offer! Get a custom sample essay written according to your requirements urgent 3h delivery guaranteed
Order Now
Introduction
Not all personal information can be disclosed to others because of the perceived negative consequences of our careless, indiscriminate self-disclosure. Every individual has his own secret, and people keep secrets to protect themselves against public ridicule or scrutiny, embarrassment and alienation which could cause people to lose self-esteem. There are secrets or personal information that can be self-disclosed, although we should be very careful when giving or disclosing them to others.
The degree of seriousness of our secrets varies according to their perceived negative effects when disclosed. It is human nature that man seeks his self-preservation. It is important for us to know the consequences of our acts. Self-disclosing secrets is like engaging in a difficult undertaking. Before we attempt to disclose personal information, we have to conduct a thorough cost-benefit analysis (Fieldman & Christensen, 2007, p. 124). What happens if we self-disclose some of our secrets? To whom do we have to self-disclose them? Is it worth it?
We often hear that warning, "do not trust anybody." But sometimes there are secrets that cost us sleepless nights, heavy burden and hypertension. These unwanted experiences usually drive us to self-disclose. Some secrets have heavy toll not only on our physical health, but also on our mentality. Keeping secrets is not absolute. There are situations that warrant us to self-disclose. But there are also crucial steps and evaluation to consider before spilling our own beans.
Some situations compel us to reveal some of our long-kept secrets or personal information. Old age would usually force people to tell their age-old personal information. Likewise, some people see it fit to tell personal information to people close to them like family members, other relatives and friends on their death beds or whenever they feel that they would not last a few days.
The compelling force here is time. Personal information may be related to one's sexuality, dark past, crimes, personality, health condition, nature of work, sexual affairs, among many others. For example, a person would usually reckon the strength to reveal his true sexuality if he/she finally came to a realization that it is now time to "come out." In this case, the driving force is that final realization.
But beware because not all personal information can be disclosed to others even if the right time or situation comes. If the seriousness of our personal information vary in degree, we should also be mindful of the degree of relationship we have with the person to whom we choose to tell our secrets. Most of the time, people choose to self-disclose to family members, other close relatives and best friends. Using the example given above, some people choose to tell their sexual identity to their closest friends rather than their parents. But sometimes we have to ask ourselves the following questions: Will my friends still accept me? Will my parents understand me? What if my friend tells it to other people?
Sometimes we self-disclose to ease our feelings or guilt. We have to be conscious of the type of relationship whenever we decide to self-disclose. There are secrets we choose to tell our friends rather than our parents. The manner of disclosure depends upon the nature of the secret. For example, we usually choose to disclose our 'past crimes' to our parents rather than our friends. Perhaps the main reason here is the belief that our parents, especially if they are sympathetic, do not have the courage to report us to the police. Indeed, people self-disclose to get sympathy and understanding and to obtain compassionate responses (Smith & Mackie, 2000, p.429).
Conclusion
If we are not careful enough to whom we disclose personal information, the tendency is the same may be used against us. That is why we have to be very careful whenever we decide to tell our secrets. Self-disclosure can be used against someone when the personal information revealed affects a person's status, reputation, safety, and even liberty.
Personal information which may refer to past crimes, sexuality and other dark secrets may be used against the individual concerned (Masters, 2003, p.42). Therefore, it is highly important to know the nature of our personal information or secrets, to assess the personality of the persons to whom we choose to disclose them, to wait for the right or proper time, and to be aware of the positive and negative consequences of our disclosure.
References:
Fieldman, M.D & Christensen, J.F. (2007). Behavioral Science: A Guide for Clinical Practice.
New York: McGraw-Hill
Masters, R. (2003). Counseling Criminal Justice Offenders. London: Sage
Smith, E.R. & Mackie, D.M. (2000). Social Psychology. Sussex, UK: Psychology Press
Related Topics