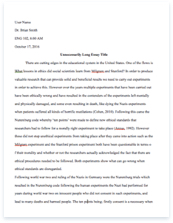 The whole doc is available only for registered users
Pages: 4
Word count: 920
Category: Court
A limited time offer! Get a custom sample essay written according to your requirements urgent 3h delivery guaranteed
Order Now
Sef Gonzales, aged 20, was convicted and sentenced in the Supreme Court of New South Wales to life imprisonment for the murder of his father Teddy Gonzales, 46, mother Mary Loiva Josephine, 43, and sister Clodine, 18. On July 10th 2001, at about 4.30pm Gonzales entered his sister Clodine's bedroom, where she was studying. He was armed with a baseball bat and two large knives he had retrieved from the kitchen. It was found that he compressed Clodine's neck trying to strangle her, struck her at least six separate blows to the head with the bat and stabbed her many times, inflicting five major stab wounds to her neck and two major stab wounds to her abdomen. Mary Loiva arrived home at about 5.30pm. Immediately upon her arrival, Sef attacked her in the living room with one of the kitchen knives. Gonzales inflicted multiple stab wounds and cuts to her face, neck, chest and abdomen. Her windpipe was completely transected in the attack. Teddy returned home just before 7pm and shortly upon entering the house, Sef attacked him inflicting multiple stab wounds to his neck, chest, back and abdomen. One of the stab wounds penetrated his right lung, another pierced his heart and another partially severed his spinal cord. All three, were attacked with much more force than was necessary to kill them.
"This was not a professional killing" the court heard. "This was a slaughter by an angry amateur who wanted to make absolutely sure they were dead but had no idea how many times he would need to stab them in order to cause death." After killing his family, Gonzales disposed of the weapons as well as the shoes and blood stained clothing he had been wearing at the time of committing the murders. These have never been discovered by police. At some time in the evening, he also spray painted the words "F–k off Asians KKK" on a wall in the house in an attempt to fool investigating police into believing that his family had been the victims of a hate crime. Soon after, Gonzales drove to his friend Sam Dacillo's house and went into the city for dinner and then to a video games centre. Dacillo knew nothing of the events that took place prior to his arrival. Later in the evening, after dropping his friend off, Gonzales returned home and shortly before midnight and called police claiming he had discovered the bodies on his arrival at the house, and that he had chased off intruders. Gonzales attracted sympathy after singing at the funeral and appearing on television pleading for the killers to come forward, saying he wanted justice and offering a reward of $100,000 for information.
Police investigating the murders began to believe that he was the perpetrator. Gonzales' first alibi was disapproved in December, when they were told of sightings of his car in the driveway at the time of the murders. Gonzales then constructed a second alibi, claiming he had visited a brothel at the time of the murders, but this was proven to be false by the prostitute who he claimed to be with at the time. Other false trails were the fabrication of an e-mail that implicated a business rival of Teddy in the murders, the fabrication of threatening e-mails, and the staging of an attempted burglary and an abduction. Sef also put a deposit on a $173,000 Lexus, telling the dealership he would be using his inheritance to pay for the vehicle, traded in his parents' car and pawned his mother's jewellery On 13 June 2002, detectives from Strike Force Tawas of the NSW Police arrested Sef Gonzales and charged him with three counts of murder and one count of threatening product contamination. He was refused bail and held in remand in Silverwater Correctional Centre. He was also denied access to the family's estate to fund his defense.
The murder trial took place during April and May 2004. The trial revealed that Gonzales had planned the murders for several months before they took place. Initially Gonzales researched the idea of poisoning his family, which led to an elaborate contamination hoax. The court heard of numerous lies told to his friends, family and police regarding his whereabouts at the time of the murders. It was found that he had committed the murders because he was fearful that, because of his poor performance in his university studies, his parents might take his car away from him and might withdraw other privileges which had been granted to him and that he wished to be the sole beneficiary of his parents' property, estimated to be worth $1.5 million.
On 20 May 2004, the jury found Gonzales guilty of all four charges. He was sentenced on 17 September 2004 (the day after his 24th birthday) to three concurrent life sentences without parole for the murders, Justice Bruce James remarking "I consider that the murders show features of very great heinousness and that there are no facts mitigating the objective seriousness of the murders and hence the murders fall within the worst category of cases of murder at common law In June 2007 Gonzales was granted approval to appeal his conviction and his sentence. The Supreme Court determined that statements taken from Gonzales by police on the night of the murders may be inadmissible, as he was not cautioned. On 27 November 2007, Sef Gonzales' appeal was dismissed as there had been no miscarriage of justice, and his convictions remained.
Related Topics