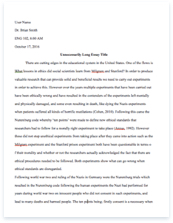 The whole doc is available only for registered users
A limited time offer! Get a custom sample essay written according to your requirements urgent 3h delivery guaranteed
Order Now
Sealed Air corporation's (SAC) Freelance R&D practise was in line with the strategy of the company. Their primary goal was in innovation and diversification of their offerings.
Hickey, CEO of SAC realised in his earlier days that SAC had promising opportunities outside the packaging market. And on top of it he realised that with the booming food industry there was a greater oppurtunity for SAC to come up with a product which will help the food processing industry in identifying and tracking the origin of meat. This would inturn increase the operational efficiency in the event there is a food recall. SAC innovated this product called Video tracking and Identification (VTID). Though the product was a success SAC had a difficulty in marketing it as a Tracking and identification product in the food processing industry. SAC also failed to penetrate into the market which monitored safety of workers. Hence SAC decided to move into food service industry especially in the QSR(Quick Serve restaurant) space.
1. Should Sealed Air still try to market VTID in the QSR space? Which fast food chain should it go after? What value proposition would be most compelling to highlight?
In the QSR Segment, SAC can position itself around food safety, theft detection and waste reduction. Johnson's strategy to position itself around food safety was to enter the market which was quite a serious concern amongst government organizations . As per Exhibit 7, the cause of Shigella outbreak was due to a person to person transfer of fecal matter. This target market has a greater potential to obtain government support as this kind of outbreaks could lead to pandemics.
In terms of value proposition, the highest will be food safety. As indicated in the case, VTID is capable of detecting the hygenic standards followed by servers of QSR's. This ability to detect and report non compliance of food standards served by restaurants should be used to position its product as a Food Safety detection and tracking product. SAC can also capitalize this as a CSR(corporate social responsiblity) marketing tactic as food safety is a concern for the masses and ensuring the safety standards of masses would put SAC in limelight.
The second value proposition VTID can offer in in terms of realtime and automated reporting of theft to restaurant/food chain owners thereby saving time and cost of going through the entire CCTV video recordings.
The third value proposition VTID can offer would be in terms of customer relationship. As indicated in Exhibit 9, close to 50%(first and second priority) of the survey respondents have indicated that customer relationship is one of the biggest concern. The customer relationship can be seen in terms of the greetings and gratitude the the employee shows towards the customer. And by looking at exhibits 5, there is a high probability that VTID can also detect the smile on a person's face. This could be one of the measures restaurant owners can use to guage employee performance.
SAC can also bundle the food packaging(product) and VTID(service) together and offer them as a package. Another value proposition that VTID can offer is in terms of cost savings. As described in the case, some of the restaurant owners were interested to know the amount of toppings the servers usually offer in every portion of food served. If this excess quantity of toppings can be detected and reduced, it could bring savings in the magnitude of a few cents in every serving.
Though there were 2,521 store closings in the year 2009, most of them were run by independent owners and they were not a part of the chain. There were still 2,66,534 QSR's operating in the US. So this provides a huge market for SAC.
Based on the exhibit 8, the following chart showcases the restaurants based on the number of violations.
VTID's potential to penetrate into food chains is higher for those with a higher number of violations.
Hence, looking at the potential VTID can offer in the QSR space, SAC should continue totarget this segment of Business customers.
2. What is your assessment of the potential revenue Sealed Air can generate if it succeeds in the QSR space? (Assume that the company primarily intends to make money from recurring revenue streams and no fixed components.)
As per Exhibit 8 and 9, there are a potential of 1000 resturants with violations in the food safety.
Services| Average amount business customers are willing to spend per service/month| | |
The ability to monitor employee glove use| $75.87 |
The ability to monitor employee hair restraint use| $66.96 | The ability to monitor and receive automatic alarms for refrigeration device temperature issues| $63.70 | The ability to view streaming video of your restaurant remotely| $68.26 | The ability to monitor employee cash handling procedures to minimize loss| $96.74 | | |
| $371.53 |
Based on the average amount the business customers are ready to pay per service, every resturant would be willing to pay $371. So if we consider 1000 resturants, the revenue generated from VTID installations would be $4.4 million per annum.
3. Alternatively, should Sealed Air go after any of the previous applications it pursued in the past– namely, tracking and tracing in meat processing plants or worker safety?
4. Are there other applications that make more sense than the ones the company has already considered? Or would you recommend that Sealed Air cease efforts to commercialize VTID?
In the current case SAC positioned its product (VTID) around:
Food tracking and tracing in Food processing industry
Employee safety across industries primarily those who bought packaging materials from SAC
Food Safety in QSR's
In addition to the specific segments SAC has targeted, VTID can find its adoption in wide range of segments: * Government: Increasing security in public areas, facilities, Border crossings and prisons. * Education: Used in schools and other educational establishments for security and remote monitoring of playground areas, corridors, halls and classrooms.
Theft detection in libraries.
* Transportation: Remotely monitoring of railway stations, highways and airports. * Offices: Used for surveillance to increase safety of technical equipment, property and people. Often integrated into access control systems. * Retails Stores: For security and remote monitoring purposes, makes store management easier and more efficient. * Process and Manufacturing Industry: For monitoring manufacturing lines, industrial and pharmaceutical processes, parcels and mail handling, warehouse and stock control systems. * Financial and Banking Institutions: Within traditional security applications, used in bank offices and where ATMs * Restaurants: Ensure food safety standards are followed by employees and those who serve the food to customers
So, considering the potential for VTID in a wide array of segments, our suggestion will be to promote VTID in different segments by targeting the customers from various segments by customizing the VTID as per the specific industry requirements.
5. What is your assessment of the ability of large corporations to engage in and commercialize blue-sky innovation? How would you rate Sealed Air on this front?
Related Topics