Role a Film The Bad Seed directed by Mervyn LeRoy in American Culture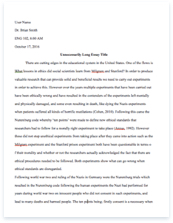 The whole doc is available only for registered users
A limited time offer! Get a custom sample essay written according to your requirements urgent 3h delivery guaranteed
Order Now
When horror isn't outside in the streets, but instead inside a family home it creates a new type of terror. That many people were not familiar with around the time period that this movie was released. The Bad Seed is a film that was directed by Mervyn LeRoy and released in 1956. In this essay, I will argue that this cinematic case study from the twentieth centry uses horror to demonstrate aspects of American culture like the innocence of a child, the human mind and family.
When it comes to films most of the time the "bad person" or "villain" is always shown as an adult or older person. In The Bad Seed, it is completely different since it is a little girl that plays an evil character. Rhoda, the main character in the film, is at first displayed as being perfect, cute, innocent, pure, wholesome, organized and an avaricious human being which is normal for kids that are her age to a certain extent. In the beginning of The Bad Seed, the first scene that shows what she is capable of accomplishing is when Rhoda attends a picnic for school where there is a contest for a penmanship medal and she loses. It would have been normal for her to be upset and cried out of sadness of losing. Instead, out of being ferocious that she lost to her classmate Claude Daigle, she murders him by using her tap-dancing shoes as the weapon.
When Rhoda comes home, she shows no remorse or any type of feeling towards her classmates' death, which at the time only she knew she was the reason for his death. The human mind might not seem as if it has anything to do with American culture, but it does since when anyone has the characteristics of anything that society does not classify as being "normal", they are viewed differently. If a person is out killing people when thing don't go their way, they don't have their mind in the right place. Clearly making Rhoda a Psychopath because she appears normal and charming from the outside, but underneath she lacks the ability to have empathy and conscience. For whatever the motivation might be, there is not a good reason for a person to kill another.
Rhoda has both her parents but since her father is in the military, he is always leaving home to go to work she spends most of her time under her mother's supervision. That is why Rhoda's mother, Christine, is the one that starts to get suspicious. As she puts all the pieces together, she comes to the realization that her daughter is an adroit liar and has been the cause of all the recent murders that have been occurring around her and even one that was a while ago. Since it was not just one person that Rhoda kills, but more. Even after Christine finds out about the crimes her daughter had committed, she does not punish her or turns her in to authority. In another scene that is towards the ending where the truth has come out and Rhoda has confessed that she is the one that killed all those innocent people. Her mom is so in shocked, but she just tells her "What are we going to do about it?" insinuating that all the murdering that was made by Rhonda is now her problem just because she is her mother. This contributes to the American culture because it goes to show how at times people priories their family which in this case is her own daughter. Regardless of what crime is committed, instead of doing the right thing and making justice.
It shows how American culture makes children be categorized as being the most innocent since they are a blank slate and represent the future. When anything is possible and even kids can be malicious and kill or murder. The human mind is a topic since the movie uses psychopathology to make the film different and be considered scary. It is important to see this film because it raises awareness over a topic that can only be met with terror and fear when there is only a little that is known about it. Compared to twenty-first century horror that is mainly graphic with blood, monsters, explicit scenes etc. Completely different to this film that does not include any gruesome scenes of the killing, leaving the audience with plenty to the imagination. The Bad Seed is ironic since most of the time the danger is outside a person's home not inside, but in this case, fear comes from within the family.
Related Topics