Risky Baby Business: Causes and Effects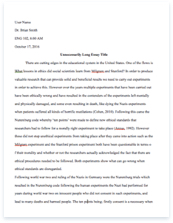 The whole doc is available only for registered users
A limited time offer! Get a custom sample essay written according to your requirements urgent 3h delivery guaranteed
Order Now
In this paper, I am going to focus on a couple high risk topics that can cause birth defects in an unborn child. I will discuss the effects of smoking, alcohol consumption, illicit drugs and prescription drug use. Letting people know more of the causes and outcomes of these examples is important because children are always our future and if birth defects and death can be prevented, should we not present hardship to them even before their first breath. It is important to keep letting women and men both know how substances can affect and unborn child. The more people that know the more likely that baby has a chance.
To at least get a little knowledge to someone who doesn't know is all I could ask. First off, smoking causes great risks to women and children both. The nicotine, carbon monoxide and numerous other poisons inhaled from a cigarette are carried through the blood stream and directly to the baby. Smoking while pregnant lowers the amount of oxygen available to the mother and child, increases the baby's heart rate and heightens the chances of miscarriage and stillbirth. Not to mention it can cause the baby to be born premature, to have a low birth weight and/or develop lung problems. Secondhand smoke, the smoke that burns of the end of a cigarette or cigar, actually contains more harmful substances that the smoke inhaled by the smoker.
The second risk is alcohol consumption. Although an adult body can manage alcohol in their blood stream, a baby's little body isn't able to handle it. Your liver works hard to break down the alcohol in your blood but a baby's liver is significantly smaller and cannot manage it. Alcohol can lead the baby to have serious health conditions called Fatal Alcohol Spectrum Disorder or FASD. The most serious of these is known as Fetal Alcohol Syndrome (FAS). FAS can seriously harm the baby's development both physically and mentally. Alcohol can cause an evolving baby to have birth defects of the heart, brain, liver, and other organs.
Other possibilities would consist of a baby being born with vision or hearing problems, learning disabilities, sleeping problems, speech/language delays and may cause behavioral changes. Alcohol may affect a developing fetus in a dose dependent manner also. This is when the baby actually needs the alcohol in doses after being subjected to it over a course of time. With very high repetitive doses, there is a very slight percent chance of the fetus developing FAS, brain and facial deformation and mental retardation.
My third point is the use of illicit drugs. Illicit drugs are illegal drugs that take multiple effects on one's body in many different ways. These drugs can take a great toll on your inner organs, your sinus cavity and especially your appearance. These drugs such as marijuana, cocaine, heroin and other amphetamines may pose various risks for pregnant women and their babies.
Because pregnant women who use illicit drugs also use tobacco and alcohol, it is difficult to determine which health problems are caused by which specific drug. Additionally, illicit drugs may be prepared with some impurities and chemicals that could be hazardous to a pregnancy. Pregnant women who use these drugs also may engage in other unhealthy behaviors that place their pregnancy at a higher risk. Such as having a poor nutrition or engaging in unprotected sex and contracting sexually transmitted diseases. All of these factors make it difficult to know exactly what the effects are on a pregnancy.
A major factor to play the last role in birth defects is the use of prescription drugs. Some prescription drugs can cause birth defects and should never be taken if there is even the slightest chance that a woman could become or is in fact already pregnant. Drugs that are used to treat a serious or life threatening illness should be avoided if possible. But, if certain consequences require it, a doctor will happily provide his or her advice to keep both the woman and her baby safe and healthy. Prescription drugs known to cause birth defects include Thalomoid, Accutane and Soriatane which are dermatological drugs. Also the antidepressants Paxil and Prozac are along with the others are extremely harmful to a developing fetus. In 2005, the FDA warned that Paxil can double the risk of heart birth defects when used during the first trimester of pregnancy.
In 2006, a major study found that Prozac could also double the risk of delivering a child with the birth defect PPHN. PPHN stands for Primary Pulmonary Hypertension. It is very important to use reliable forms of birth control while on these medications. Although, some drugs are needed to keep the mother healthy; Not taking certain drugs while pregnant may put both the mother's and baby's health in danger.
Much prescription drugs or over the counter are safe to use while expecting. On the other hand, many types pose a threat and should not be used. Examples of some that shouldn't be used would be some antibiotics, sleeping pills, and anti-anxiety drugs can cause problems such as in an infant's breathing, temperature regulation and muscle problems. Aspirin and other drugs of the same family type can cause birth complications and birth defects when used in late pregnancy.
In conclusion, children should have the opportunity to make choices of their own one day and live their lives to fulfill their dreams. Why take risks that may deprive a child from accomplishing so many things that life has to offer? Once a woman becomes pregnant, she has decisions to make for two people. Only the creators of that child can make their lives worth living as a family. Sometimes plans don't play out how we imagine and events have different outcomes but that's life. Mothers and fathers do not only raise their children for 18 years but over the course of their entire lifetime. It is a life -long commitment but worth it in the long run.
Related Topics