Rewatching Hitchcock's The 39 Steps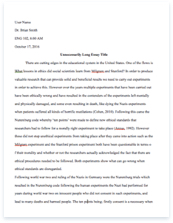 The whole doc is available only for registered users
A limited time offer! Get a custom sample essay written according to your requirements urgent 3h delivery guaranteed
Order Now
I chose the film The 39 Steps by Alfred Hitchcock that released in 1935 because when I saw the cover of the DVD case and watched the trailer, I noticed that I looked like Richard Hannay who was the main character except I do not have a mustache and I look younger than him. My overall reaction to the film was that I felt like Hitchcock did an outstanding job in balancing an action based film with comedy without over doing it and the stunts, camera movements, and editing made the film feel real to the point that it drew me into it. The 39 Steps is a revolutionary film because Hitchcock innovated new ways of filmmaking that has shaped the way films are created today.
Hannay is at the theatre watching Mr. Memory give a demonstration of his ability to answer any question. After a riot breaks out a gun is fired and everybody panics where Annabella Smith runs into Hannay and convinces him to take her to his apartment. At Hannay's apartment she admits that she is a spy and that she fired the gun to create a diversion because there are assassins trying to kill her. She said that if these people are not stopped then the secret from the British military known as the thirty-nine steps will be stolen. She also warned him about the leader of the organization who has a missing finger because he is very clever. Hannay does not believe her until he looks out of the window and sees two guys standing outside.
Later in the day, Hannay is laying on his bad then Smith comes into his room with a map and dies because she has been stabbed. Hannay picks up the map and notices that it leads to a town in Scotland so he decides to go to this town to figure out what's going on. Hannay gets on a train where he reads the newspaper that says that the police are searching for him because they believe he murdered Smith. Eventually, he meets Pamela on the train who he apologizes for making out with her and explains to her what is going on but she does not believe him. When the police come into their room Hannay escapes through the back door and runs away.
Later in the film, Hannay meets up with Professor Jordan who is missing a finger who Smith warned him about, Jordan shoots Hannay but he survives and escapes. Eventually, Hannay meets up with Pamela who turns him into the police but he escapes again. At the end of the film, Hannay discovers that nobody stole any secret from the British military. He then begins to understand why Jordan came to the theatre which was to steal Mr. Memory out of the country because he knows the secret. When Hannay asks about the thirty-nine steps Mr. Memory gets shot and then Jordan gets caught by the police. However, before Mr. Memory dies Hannay asks him the same question again and he tells Hannay about the thirty-nine steps.
One scene that is memorable and important to the meaning of the film is when the audience gets a first-person view of the map when Hannay picks it up and looks at it, while everything goes silent. Then a transparent face of Smith appears where it can only be vaguely seen. She said that she needs to go to Scotland to meet a man and that the people who want to steal the secret act quickly which the word 'quickly' was repeated three times until everything went silent again, and then the audiance saw Hannay face with a blank stare until there was a transition in scene. This scene allows the audience to get inside of his mind and feel like they are Hannay who is dwelling on what Smith told him.
Another scene that is memorable and important to the meaning of the film is when Hannay escapes and the police loses him. At first, the audience gets a glimpse of him hiding behind a pillar when the camera moved towards him then when it moved away and then moved back to the spot he was hiding behind he was gone. The audience then gets a scene where they are only staring at a bridge while a boat drives towards the bridge. There are also sound effects and people talking about finding Hannay who has gone missing but we cannot see these people.
Related Topics