Response to "Changing the Face of Poverty"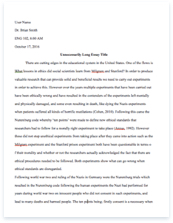 The whole doc is available only for registered users
Pages: 3
Word count: 583
Category: Poverty
A limited time offer! Get a custom sample essay written according to your requirements urgent 3h delivery guaranteed
Order Now
In this article Diana George discusses how poverty is misrepresented by Habitats for Humanity and how this adversely affects the organization's goal, which is to "eliminate poverty housing from the globe" (pg.4). In an effort to attract supporters the organization paints a very obvious picture of what poverty is in their publicity videos. They show people in rags, living in shacks with despair all around them, and suggests that the issue can simply be solved with good-willing volunteers. The problem with this is that it only shows one dimension of poverty which narrows the population's ideas about what it is. In order to undermine this, Diana George suggests that we "change the face of poverty" because it doesn't just mean lack of material possessions. The poverty in one country may be different from that of another country.
I think that this article addresses a very important issue. In a time when the rich are getting richer and the poor are getting poorer it is necessary to give the best possible aid to those who need it most. As Diana George said, a consequence of Habitats for Humanity's publicity videos is that potential applicants may not think that they qualify for help because they don't see themselves as being as poor as the people in the video. Another consequence is that the videos suggest that poverty can be dealt with on an individual level. This is not completely false since everyone's situation is different, however poverty is very much an institutional problem. In the United States the poor face several obstacles when trying to escape poverty. These days jobs are difficult to come by and the high paying jobs usually require that one has a college education. The staggering cost of a quality education is what blocks the road for many who are trying to move up the social class ladder.
I found the part when the Bush administration was mentioned to be very humorous. It said, "The Bush administration confidently announced, that after looking everywhere, they had discovered no real hunger in the United States" (pg.6). This sentence has two interesting things about it. One is that I'm sure it was not feasible to "look everywhere" in the country for signs of hunger being that that population is so massive. The second is the use of the word "real" in the sentence. I'm curious as to what they meant "real hunger". Since there are many people who struggle to pay for food, would "real hunger" only be classified as someone whose ribs are protruding from their skin and is bone thin? And just because a person is not bone thin does not mean that they aren't suffering. It seems that the administration was comparing the poverty of the United States to the poverty of least developed nations which is why it is difficult to identify people who need help and address the problems of someone who doesn't fit the standard image of poor.
Poverty is not as easy to recognize as Habitats for Humanity makes it seem. It's true that poverty is usually depicted as people wearing rags and begging for change on the street but there is another form a poverty, where a person has all the necessary modern appliances (television, microwave, refrigerator, etc.) but is still struggling to pay rent and put food on the table. It is necessary to change the narrow ideas of what poverty is so that the issue can be addressed more efficiently.
Related Topics