Response to Anthropological Editions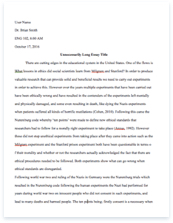 The whole doc is available only for registered users
A limited time offer! Get a custom sample essay written according to your requirements urgent 3h delivery guaranteed
Order Now
Significant Concept: Simmon's article illustrates a standard of physical beauty that is different than one might find common in United States or other Western societies. In the particular Nigerian tribe that the author details, a young girl named Margaret spends her days in a so-called "fattening room" where she eats to excess and purposefully avoids all but the slightest amount of exercise so as to gain weight – weight that will hopefully make her more attractive and desirable in the eyes of future suitors. While she is in this room, she follows a strict regimen of eating, sleeping and learning about the tasks required for motherhood, childbirth, and being a woman in the village.
The fact that the form, or shape of the utilitarian function of the female body, is physically altered in these rooms for the purpose of enhancing the aesthetic qualities over any other reason would seem to qualify fattening oneself in this manner as art by the exact definition that the text book provides. Specifically, the cited purpose for fattening the women in the village was to make them more beautiful, pleasing to look at, and to allow them to have the body type that the village culture believes to be ideal for motherhood and later, for nursing a child. This form of body art, though dwindling in popularity, is still seen as a custom that is part of an initiation rite that ties the young women to their foremothers' generations before them.
Additionally, while in the fattening room Margaret and others will learn to dance ekombi, a form of ceremonial performance art designed to both communicate the knowledge that was gained through seclusion as well as delight and entice her groom-to-be. Simmons underscores the belief that this dance has remained popular, despite the decline in the number of women going into the "fattening rooms." Ekombi is a dance that is to be performed in front of an audience, and is further considered a part of the same rites of initiation that the fattening and seclusion are stages of. The article finally mentions that this performance of ekombi coincides with the woman's wedding night, as the woman often emerges from seclusion ready to marry.
Discussion Item: We live in a society where botox injections, liposuction and "boob jobs" are not only part of our everyday vocabulary – they are considered to be minor procedures, despite the associated surgical risks that each carries. As people – men and women – continue to pursue a concept of beauty that seems inexorably linked to youthfulness, the number and types of plastic surgery will likely increase. Is a woman like Margaret fattening herself up by eating for months on end to appear more attractive any less dramatic than a woman "having a little lipo" before bikini-season arrives?
Conversely, having a formal rite of passage or some form of initiation such as the ekombi ritual allows the women in this village to clearly demarcate adolescence from adulthood. If a woman (or man, even) ages from childhood in a society lacking a clear sign to the community as well as the participant that she (or he) has crossed the threshold to adulthood, when and how exactly is that person to know when they are "grown up" – and at point do they stop acting as children, and start doing the things that are expected of the adults in their community?
Related Topics