Religion Does More Harm Than Good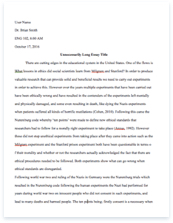 The whole doc is available only for registered users
A limited time offer! Get a custom sample essay written according to your requirements urgent 3h delivery guaranteed
Order Now
Religion organizations are by far the largest providers of charity in the world. Lots of different churches and religions everywhere such as Christians, Mormons, Buddhist, and those are just a few who are doing ministry work for people who are less fortunate than them or for people who just need the love. According to ideabate.org, Religious groups are more willing to go to higher risk areas in the world to get across their message to unsaved people or to convert them to their own religion. Religious groups often have people they call missionaries who go out and share their gospel with people depending on the religion. Christianity for example, has people in the church or in the school who go out and share the gospel with unsaved people. At my church we have missionaries in different parts of the world in places like Uganda who are willing to go out and share their faith with people.
We have youth groups and bible studies where you can bring unsaved friends to help them with any struggles in their life. At Linfield here we have opportunities like feeding the homeless, building houses in Mexico, operation Christmas child, and chapels. According to idebate.org religious organizations have historically been the first to provide education and healthcare with nation states following their example. These are all examples of things that help people in need. Religion celebrates great changes in life such as birth, marriage, and death. Some religions such as Catholics, Lutherans, and Oriental Orthodox believers believe in baptizing infants. This is a celebration of a new baby being born and bringing them into the world. Other religions such as Christianity call it dedication. This is a celebration of when you are being dedicated as a new baby into the church. People often get married in churches which is a celebration of a couple's new life that they are starting together.
Often a priest or a pastor will perform the ceremony for the couple and churches everywhere provide this opportunity to celebrate this for them. Death is also another factor that religion helps celebrate. Again, a pastor or priest may perform this celebration of a person's life helping the family and friends to become at ease with the tragedy. Religion gives people something to believe in. There are so many helpless people in this world who are looking for something to give them an answer. Religion can put a person's mind at peace in many ways. Religion offers churches where you can go to pray, meet people, talk about life issues, to get help, or to just simply take a break from life. People who believe in some kind of religion put their faith into their religion and use it to remain positive about life. Religion has the power to uplift, to inspire, and to bring joy to many people. According to religious.pewforum.org, in America 78.4% of people are Christians, 4.7% are another type of religion, and 16.1% don't care or are unaffiliated. This just comes to show how more people in the world are looking for something to help them in life rather than just hoping for the best in the end.
Rebuttal:
The afterlife doesn't mean death and nothing but violence. It states in the bible what will happen after. People with religion do not persecute people without it. All religious people try to do is share their religion with you and yes they try to convert you to believe what they believe but they don't force anything upon you because at the end of the day it is your decision what you believe in and one person can't change your heart. There are many harmful religions which bring strife and violence. But without Christianity, the fate of mankind would be utterly hopeless. Despite the noble efforts of good humanitarians everywhere, death is the only reality for every person.
Eventually, humanity itself will go extinct, and all life will soon follow. Life is truly meaningless and absurd without God and eternal life. Spiritual enlightenment is one thing; trying to impose your sense of spiritual enlightenment onto unwilling people is a form of fascism. That's the part that does harm. The major problem with religion is not the religion itself, it is the people who follow the religion and misinterpret it. Religion becomes dangerous when people politicize it or try to use it to push their agenda or what they believe is right. Religion and the facets of religion do not hurt anyone, its people who do not follow their religions guidelines, that hurts. Prime example, the golden rule.
Conclusion:
In conclusion, religion does not do more harm than good because religion is an opportunity and chance for people to decide if they want to partake in or not. Religion is not forced upon people, it is a choice that they have to make for themselves and for their lives. Religions reminds societies that there are more important things in life than just all the things of this world, they help regulate the behavior of people and cause better attitudes in others, they help people to live longer and healthier lives, they help promote cultural exchanges, provide charity work and community service opportunities for anyone who's willing to help, celebrate some of the important things in life such as birth, marriage, and death, and lastly religion gives people hope and gives them something to believe in. Religion is what you make of it and if you choose to live by it and let it bless you than you will be blessed.
Works Cited:
Idebate.org
Debate.org
Religiou.spewforum.org
Related Topics