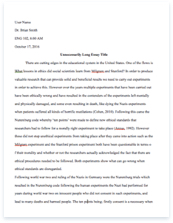 The whole doc is available only for registered users
A limited time offer! Get a custom sample essay written according to your requirements urgent 3h delivery guaranteed
Order Now
Poverty is a common problem in our society today. One cause of poverty is selfishness and because of selfishness there are a lot of innocent people suffering. Poverty is evidence that inequality really happens in our society. Poor people are often neglected and most of the people do not give opportunity to them. Have you ever question yourself what is your purpose in this world? Have you ever helped other people? When you see innocent people suffering in the streets what are your feelings? God made us in a unique and special way. He gave us free intellect and free will which we are free to decide and choose what is right. As a people of God we are called to help those people who are less fortunate in life. The act of charity tells us that we need to do good in other people. As what God said to us "love your neighbors as you love yourself". One of the topics in our Christian Humanism subject is about preferential option for the poor. Preferential option for the poor is about taking care of all people. We need to give the same rights to others that we have for ourselves. It is mostly based on justice, which is giving everyone what they deserve and need. The churches taught us that poor are part of our responsibilities and what we do for the poor is the way Jesus recognizes us as his friends and good followers. Mother Teresa of Calcutta possesses the true meaning of preferential option for the poor.
Mother Teresa has helped a lot of people without counting the cost. Helping others brings us happiness when seeing those people we helped smiling and saying thank you. When we helped we also learned something from them. When we helped we start to build up a good relationship among other people. This topic taught me that as a Christian we need to do good in other people and valuing them is really important. Preferential option for the poor is also about a motivated choice. Helping is not about option but it is our obligation to choose what is right, to love all especially the poor. This topic has taught me a lot of lesson in life. I learned that helping is really important. I learned that the true meaning of helping is not just about giving material things to other people but it is about touching the lives of a lot of people. Giving things to other people whether small or big doesn't matter as long as what you have given to them comes in your heart. I learned that like Mother Teresa we need to help without counting the cost. I learned that preferential option for the poor is being men and women for others.
We can be men and women for others by helping and reaching out to the poor. In helping we love. Preferential option for the poor is about love showing love to others by helping them and reaching out to the poor like what Mother Teresa said "Love is not patronizing and charity isn't about pity, it is about love. Charity and love are the same -with charity you give love, so don't just give money but reach out your hand instead." We need to give more generously and serve the poor. Christian must make a choice to lift up the poor and inspire them. Helping does not only count in material things but it is also about spending time sharing love to the less fortunate people and inspiring them. I learned that it's better to give than to receive. I learned that I should be thinking about other people that don't have as much when I take time to help others and to take time and stop worrying about others. Service can really be a great thing and change somebody's life. The specific issue in this topic that struck me is the issue about poverty.
The issue of issue really struck me because there are a lot of people suffering because a lot of people do not give them opportunity and some people are being selfish. Seeing people living in the streets and begging for food makes me feel sadder about it. Most of the time poor people experience injustice. I feel very sad about those less fortunate people because no matter how hard work they put in what they do they always remain to be poor. They remain poor because people do not give them good opportunities. Encountering this topic made me realize that I am very fortunate that I have a nice family and I was lucky because my parents can send me to the best school unlike those unfortunate people. So as a thanksgiving to God I need to help those less fortunate people. I also realize that I should be thankful of what I have instead of complaining. Practicing preferential option for the poor helps us more to understand the true meaning of helping other people. When we help we feel good and great. To reach out to the poor we need to work for the poor, we need to work with them and we need to see things in the eyes of the poor".
As a student we can also help the poor through our simple and little ways like outreach program and immersions. We can be like mother Theresa in our simple and own ways. In working with the poor we need to talk to them and we need to touch their lives and when we talk to them we will begin to realize that they are full of hope. The best way to know what to give to the poor is to know them in person. Poor people do not just need a material thing; they also need a support and love from us. We need to give them importance and attention. Instead of judging the poor we need to understand their situation. In can apply this lesson in my everyday life and in our society for example when there is a person who is being bullied and cannot defend himself/ herself I can be there protector and there voice. We need to speak for the victims of injustices. When we see less fortunate people in the streets begging for food we should help them in the best way that we can. I think I can apply the lesson that I learned in becoming good role model to other people and I can use it by inspiring and motivate other people to help and to encourage the poor people to have faith in God and to hope for the better. In serving other people we can find the true meaning of happiness and inner peace of mind.
Helping others could make another person feel better either inside, or about them self. It could be from helping a senior citizen cross the street, to saving someone's life. God asks us to look over those who are in poverty and are in need for what they do not have. God is calling me to do what is the right thing to do. I think God wants me to look at the perspective of those in need, to do a thing so that poor will be heard, to be their defender against injustice, and I think I need to help poor people to have more opportunities that will help them. As children of God we are also responsible to help those who need us most, and we need to be the voices of people who cannot stand and who cannot speak for their right like what is said in In proverbs 31:8-9 " Speak out in defense of the poor". In helping the poor we are responding to Gods call. "Go out into the world today and love the people you meet. Let your presence light new light in the hearts of people" -Mother Teresa
Related Topics