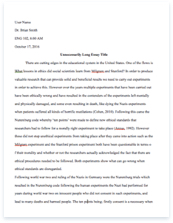 The whole doc is available only for registered users
A limited time offer! Get a custom sample essay written according to your requirements urgent 3h delivery guaranteed
Order Now
Executive Summary Quality Improvement (QI) in healthcare is essential. There is always a need to improve healthcare organizations patient satisfaction as well as improving health outcomes. These improvements are the focus of management and it is the goal of management to assemble various employees within the organization to accomplish these goals. This paper seeks to identify two areas that need to be improved within the agency. The two areas are identified as client and staff satisfaction with staffing issues and providing a definition of quality for the organization. The methodologies that can be used for the integration of QI strategies into performance measurements are also explored. The success of the QI implementation process depends on collaborative efforts adopted by different organizational stakeholders. Therefore, the paper also presents an analysis of various aspects of implementing quality improvement interventions within a healthcare organization as well as the final evaluation to determine the achievement of the QI objectives. Introduction/Purpose
"Loving Care Agency (LCA) is a leading provider of home healthcare services. Their service enables medically fragile children to be cared for in their home environment. LCA is committed to providing exceptional care to their patients" (Loving Care Agency, 2012). They provide their clinicians with the education, support, and tools they need to help the agency provide high-tech, compassionate care. The home care patients have different levels of medical need, and the agency provides highly skilled clinicians to deliver the varying needs of care. Private duty includes assisting the client with a wide range of diagnoses that can include: respiratory syndromes and dysfunctions, cardiovascular anomalies, hematologic and immunologic disorders, congenital anomalies, premature birth, tracheotomies and mechanical ventilation, and feeding disorders to name a few (Loving Care Agency, 2012).
Goals/Objectives The mission of LCA is to "create a memorable experience by delivering high quality, compassionate, home and community-based care (in a culture of compliance and fiscal integrity) all while partnering with and serving the needs of our patients, employees and their families" (Loving Care Agency, 2012). Scope/Description/QI Activities Quality improvement encompasses continuous and systematic actions that result in measurable improvement in services of healthcare and healthcare status of patients. In healthcare, quality is defined as a direct relationship between the level of enhanced healthcare services and desired outcomes of patients (Lighter, 2011). The Quality Improvement Plan of the Illinois office will encompass the following major principles: focus on patients, focus on utilization of data, focus on teamwork, and work of quality improvement as processes and systems (Luxford, 2011).
Teamwork Quality improvement can be described as a team effort. In the proper setting, the team should be able to harness the experience, knowledge, perspectives, and skills of different people within the team to make sustainable improvements. Team approach can be more effective when: solutions need creativity, the process is complex, employee commitment is required, the process involves two or more work areas or disciplines, and when there is not one individual in the organization who understands all dimensions of a certain issue (Shiloach, 2010). In that regard, the quality improvement plan will be a team process. Team effort will be required to achieve sustainable improvements in the area of patient and clinical staff satisfaction with staffing issues. The organization should make each participant be active and responsible towards the achievement of the whole team. Additionally, another significant component will be to ensure the agency has an adequate infrastructure (Lighter, 2011).
This includes things such as procedures, leadership, and policies to organize as well as facilitate work and performance of the team. The agency will establish an efficient infrastructure that will provide the team with clear expectations, resources, as well as a forum for effective and clear communication. The team will be on a clear path, and mindful of the goals and resources available with an efficient infrastructure. Processes and Systems The agency needs to understand it fundamental processes and delivery systems, prior to making the required improvements. Both activities being performed and resources of the agency need to be addressed together to improve the quality of administration of patient care. The methodology used will be Institute for Healthcare Improvement (IHI) model which is focused on making improvement with an organization by using the Plan-Do-Study-Act (PDSA) cycle to test proposed changes (U. S. Department of Health and Human Services, Agency for Healthcare and Quality, 2011).
The PDSA is used in many healthcare facilities and agencies and is used for documenting change. The PDSA cycle is "shorthand for testing a change by developing a plan to test the change (Plan), carrying out the test (do), observing and learning from the consequences (Study), and determining what modifications should be made to the test (Act) (U. S. Department of Health and Human Services, Agency for Healthcare and Quality, 2011). This model along with the Rapid Cycle Improvement (RCI) model, is an accelerated PDSA cycle which incorporates "several small process changes and careful measurement of those changes to achieve an improvement goal" (Spath, 2013). Client and Staff Outcomes One important evaluation of quality is the level at which expectations and needs of patients and staff are met. LCA is having problems with staffing the hours that clients request and providing the hours that the clinical staff request. New mechanisms to assist the scheduling department can be put into place.
Is a new scheduling system needed, on that will generate a report telling the scheduler what shifts are open and what nurses are available to work or who want to work? A computerized scheduling system that allows for notes regarding what the client wants and what the nurse who works the case wants would be helpful as it would be easily accessible while doing the monthly schedule. Data Collection Tools Data is a crucial component of quality improvement. Data is usually used to explain how well the existing systems of the organization are working as well as to document any successful performance. Data is useful for many reasons: -It helps to separate what is believed to be happening in the organization from what is going on -It contributes to establishing a starting point; helps to reduce placement of various ineffective solutions -It helps to show whether changes result in improvements
-It allows monitoring of procedural changes so as to ensure sustainable improvements In quality improvements efforts, both qualitative and quantitative methods of collecting data are helpful. Quantitative methods of collecting data involve the use of frequencies and numbers that lead to measurable data. An example of how quantitative methods can be utilized in the agency include: comparison of the nursing hours given to the clients to the hours staff by clinical personnel. Another example would be the hours that the nurses are requesting and the number of hours they are getting. Qualitative data is observable rather than measurable, but it helps to give context to areas that need improvement. Examples of how these methods can be used include discussions among focus groups, independent observations, and staff and patient satisfaction surveys (Shiloach, 2010). The agency may utilize data from a number of sources that may include its clinical records, satisfaction surveys, professional management systems, as well as from external evaluations.
Concentrating on the available data in a methodological and disciplined manner can allow the organization to analyze its current system, to identify any opportunities for quality improvement and to monitor improvement over time. To narrow the focus of the agency on certain data in its quality improvement plan, one strategy may be to adopt and apply a standardized performance measure. Because performance measures commonly involve specific requirements, which define the data required for each measure, the agency may target data to be monitored and collected data, which is readily available to the agency (Luxford, 2011). The meaning and implication of data are best understood using various benchmarks and measures.
Furthermore, repeated measurements are an important component of monitoring progress of the quality improvement, especially if there is clear metric for evaluating the level of success (Lighter, 2011). Use of various measures should be used as a strag=tegy to engage more staff in the project and to deepen the interest of the clinical staff. The agency has existing data that can be used to track improvement. It has to monitor data, which precisely reflects how an individual system is performing, and this will require the agency to focus mainly on well-defined and distinct data sets in order to monitor the quality improvement (Luxford, 2011). This data will provide management with a meter to evaluate and weigh the quality of their care. QI Processes and Methodology There are three main methods that can be used to integrate QI strategies into performance measurements. They are: -Patient Stimulated Quality: the quality improvement strategy of every health care organization should focus on it clients.
These clients depend on healthcare facilities for the provision of services pertaining to their health. The main weakness of this model lies in the fact that it may be difficult to meet the individual needs of every client (Nicolay, 2012). -Process Oriented: a health care organization's quality improvement strategy should promote safe and accurate health care processes. All procedures performed, whether medical procedures or staffing should promote positive patient outcomes (Nicolay, 2012). -Data Driven: Health care organizations should ensure that they make use of well-researched data. Collecting and using data helps the health care management team to understand the changes it is trying to incorporate, will bring about the improvement in patient outcome. Using the data helps the team to make meaningful predictions about health care quality improvement. This data should be analyzed by trained personnel. From the three methodologies, the data-driven model will be used by the agency. This model emphasizes the importance of using well-researched data.
This will assist the staff in understanding what changes need to be made to accommodate the requests of both the clients and staff. Comparative Databases, Benchmarks, and Professional Practice Standards The performance of a healthcare organization can be evaluated with the help of quality indicators. The evaluation will take place on a continuous basis and when a given project ends will be reevaluated. Benchmarking is the process of comparing performance with an external standard and is a tool that is used to motivate an improvement process and helps to understand where current performance falls in comparison to others. It can stimulate a healthy competition. Milestones help health care managers and workers to see where they have been and where they are going in terms of quality improvement. One potential benchmark and milestone for the company could be increasing the client satisfaction with fulfilling their nursing hours while another could be giving the nurses the hours they request without going into overtime.
Authority/Structure/Organization Implementation of the quality improvement approaches within the health care organization will rely on collaborative efforts adopted by the agency stakeholders. Blaesser & Cody stated that incorporating efforts from different organizational stakeholders results in the creation of the desired structure of authority, thereby, effective implementation of the project (Blaesser, 2008). The quality improvement plan will take place in the Illinois office as they are the office that is currently having staffing problems. The authority and structure needs to include the the following to be successful: the Regional VP, the Operations Director fo the Illinois office as well as the Clinical Director, the Nursing Supervisors, the staffer and the nursing staff. For the improvement process to be effective, it requires support and buy-in from the organization leadership. They play a key role in improving quality by setting priorities, providing structure to support the improvement effort, modeling core values, promoting a learning atmosphere, acting on recommendations, advocating for supportive policies, and allocating resources for improvement (U. S. Department of Health and Human Services, Agency for Healthcare and Quality, 2011).
Communication According to Cleland and Ireland, the success of project implementation depends on the communication system adopted by the agency stakeholders. Effective communication ensures organizational stakeholders share their ideas and opinions, the idea identified by Chang, to facilitate the viability of the quality improvement project. While the aforementioned proves the case, Kerzner asserts that the stakeholders should take into consideration information that is needed by each of the stakeholders and the means of availing such information. The quality improvement committee will communicate the performance outcomes to all the organizational stakeholders. The quality improvement committee will be the most appropriate as it is the group of stakeholders that is involved in all aspects of the implementation process. Similarly, the quality improvement committee will be responsible for overseeing the process of data collection from the organizational stakeholders concerning the effectiveness of the project and preparing data reports.
The process of communication is information exchanged between individuals, groups, and organizations. Communication should be complete, clear, concise and timely. Verbal communication has many forms, which should be used for different situations. Face to face are information rich, since they allow for emotions to be transmitted and immediate feedback to take place. Communication via the written work is more appropriate for describing details, especially of a technical nature as in the example of monitoring a patient's complex medical condition (Borkowski, 2005). The quality improvement committee will provide the supervision and serve as the central clearing house for quality data and information collected. Education As an important part of a quality improvement plan, education involves both the office and clinical staff and the client families.
The staff education will be based on their specific needs, and staff will do continuous training to remain compliant with requirements and standards. Non-clinical staff will repeat customer service training to make sure they are following the protocol set for the by the organization. Annual Evaluation Review of the quality improvement plan will be completed annually and more frequently as changes are made. This annual review will allow for effectiveness in achieving the goal of assuring that the most appropriate quality of care was provided. The Chair of the committee will receive a compiled report of the summary of activities, improvements made, care delivery processes modified, projects in progress and recommendation for changes to the plan. The annual evaluation will review the statistical data which will help to reveal ways to increase a more desirable patient outcome, the effectiveness of the roles of the committee members to direct the quality management and the improvement of the staffing system.
References:
Blaesser, B. C. (2008). Redevelopment: Planning, Law, and Project Implementation: A Guide for Practitioners. New York: American Bar Association.
Borkowski, N. (2005). Organizational Behavior in Health Care. Sudbury, Ma: Jones and Bartlett.
Chang, J. (2005). Business Process Management Systems: Strategy and Implementation. New York: CRC Press.
Cleland, D. I. (2006). Project Management: Strategic Design and Implementation. Boston, Mass: McGraw-Hill Professional.
Kerzner, H. (2004). Advanced Project Management: Best Practices on Implementation. San Francisco, Ca: John Wiley & Sons.
Lighter, D. (2011). Advanced performance improvement in healthcare: Principles and methods. Sudbury, Mass: Jones and Bartlett.
Loving Care Agency. (2012). Loving Care: Services Pediatric Care. Retrieved May 29, 2015, from Loving Care Agency: http://lovingcareagency.com/about
Loving Care Agency. (2012). Mission. Retrieved May 29, 2015, from Loving Care Agency: http://lovingcareagency.com/about/mission
Luxford, K. S. (2011). Promoting patient-centered care: A qualitative study of facilitators and barriers in health organization with a reputation for improving the patient experience. International Journal for Quality, 510-515.
Nicolay, C. P. (2012). Systematic review of the application of quality improvement methodologies from the manufacturing industry to surgical healthcare. British Journal of Surgery, 324-335.
Shiloach, M. F. (2010). Toward robust information: data quality and inter-rater reliability in the American College of Surgeons National Surgical Quality Improvement Program. Journal of the American College of Surgeons, 6-16.
Spath, P. (2013). Introduction to Healthcare Quality Management.
U. S. Department of Health and Human Services, Agency for Healthcare and Quality. (2011). Developing and Implementing a QI Plan. Retrieved May 24,
2015, from U.S. Department of Health and Human Services: http://www.hrsa.gov/quality/toolbox/methodology/developingandimpplementingaqiplan/partw.html
Related Topics