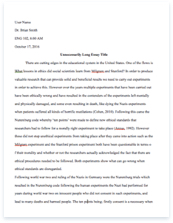 The whole doc is available only for registered users
A limited time offer! Get a custom sample essay written according to your requirements urgent 3h delivery guaranteed
Order Now
Within a health system, quality care involves providing patients with appropriate services and accurate evaluation through competence and compassion. Additionally, effective communication is essential for shared decision-making within a timely manner (Campbell, 2000). The purpose of this paper is to address the concept of adverse events and determine the relationship between patient satisfactions along with the quality of care. In most instances, patients and families acknowledge quality care when it has been received within hospitals or other health care organizations. Quality in a patient aspect could mean a great deal of things such as, the wait time from to see a provider from the time they signed into the clinic or how they were approached and greeted when entering the clinic. This plays a part in hoe quality can be perceived. When facilities explore the concept of quality, there is usually reference to particular clinical data that has been collected and eventually analyzed over a certain period of time.
This involves a type of quality measurement and it has been found that different groups and agencies may have their own way to determine and report clinical outcomes. This can then play a role on quality measures when compared on a state or nationwide basis. In todays health care system, there are often a variety of limitations to the conditions and procedures that have been reported and monitored, but with the improvement of data systems, there is still hope for desired outcomes in health (Campbell, 2000). Although these data system give analyzed answers, does it really project quality, as it is perceived or statistical quality data With regard to reporting and monitoring certain protocols that have taken place, adverse events play a significant role within a health system. This concept is referred to as harmful and undesired effects that have resulted from intervention such as surgery or a type of medication (Brady, 2009). Many times, if there has been an incorrect dosage or procedure, this is then looked at as a medical error as opposed to a complication in health.
According to the Journal of Nursing Management, an adverse event can also be described as a process that has caused injury to a patient due to a particular medical procedure instead of a medical condition that has already existed (Brady, 2009). For the most part, there is a representation of unintentional harm that has arisen from any particular aspect of health management. Regarding the quality of care, there is proof that adverse events are a direct result of a lack of evidence based practices or failure to recognize guidelines on a system level. Within every health care organization, there is a specific standard of care that must be upheld. Once providers and the system lack the ability to show continuous monitoring, enforcement and proper implementation, there is a high chance that adverse events will take place, which may result in detrimental effects. It has been found that many events are have occurred simply due to an overlap that has been found within the system or because of human errors.
With regard to system failures, poor technology implementation and operation, heavy reliance on the accuracy of technology, questionable management decisions, resources that are inadequate, little, poor, or no documentation, inadequate staffing of the facility and or a non-existence patient safety program. When human errors are applied to adverse events, it could possibly traced back to training, rules or standards not followed or understood, personal issues that may be affecting judgment, or a crisis they may not be ready for. Another significant aspect of quality care includes patient satisfaction. The concept is extremely critical in identifying a solid link between outcomes as a whole and care in general. Bhanu states, The relationship that is implied is the fact that patient satisfaction is an important determinant of quality health care. So, in stating quality and patient satisfaction are tied together. As a healthcare member, I can see the suggested correlation, but cant state that this is an absolute. Quality care can be given, but the satisfaction piece still is inherently the patient decision. Patient satisfaction can be defined as the attitudes and expectations that contribute to an individuals well being during care (Bhanu, 2010).
In many instances, the concept takes a multifaceted approach due to the fact that there are numerous of factors to take into consideration. Examples include psychosocial elements such as depression and pain as well as the ability to communicate and type of medical condition that is present. When managing patient expectations, there can be challenging situations to overcome, however it is essential for organizations to be prepared with individualized counseling sessions with an offer of patience and compassion (Bhanu, 2010). When developing an effective program to properly measure quality within a health care facility, there should be specific factors to take into consideration. It is recommended to provide safety where there is an avoidance of injury towards patients as well as care where services are based on medical knowledge and the best practices possible. Additionally, care should be patient centered where there is respect, and responsiveness to preferences and values. Furthermore, other elements include equitability, efficiency and proper timeliness (Bhanu, 2010).
Overall, health care organizations and providers must make a conscientious effort to participate in actively identifying, defining and preventing adverse events. With precise documentation and vigilance towards implementing the best practices, there is hope for health care to thrive and allow for a decrease in overall medical errors as a whole.
References
Barton, L. (2010). Understanding the U.S. Health Services Systems. Chicago, Ill Health Administration Press. Bhanu, P. (2010). Patient satisfaction. Journal of Cutaneous and Aesthetic Surgery, 3(3), 151-155. Brady, A. (2009). Adverse events in health care A literature review. Journal of Nursing Management, 17(2), 155-159. Campbell, S. (2000). Defining quality of care. Social Science Medicine, 51(11),
Related Topics