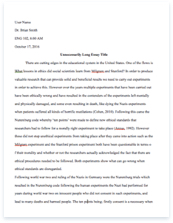 The whole doc is available only for registered users
A limited time offer! Get a custom sample essay written according to your requirements urgent 3h delivery guaranteed
Order Now
The role of ethics in accounting profession can hardly be overestimated. Ethical values serve as a background for existence and functioning of a civilized society. Without the necessary ethical background society and economy would collapse. Accounting profession is not excluded from the general rule, but should be even more emphasized due to the nature of profession, as it is closely related to direct economic benefits. The importance of audit alongside with ethical behavior becomes evident if one chooses to consider the bankruptcy of Enron alongside with the impact of it on economy and stakeholders' trust.
Out of the broad array scholars tend to emphasize two major values that an accountant should have: integrity and professional skepticism (Smith, 2003). While there are a lot of situations that might mislead an accountant such as the term of revenue or expense recognition, he or she must always be guided by skepticism and strike for integrity, whereas an auditor, in this case, plays the role of a guardian of ethical behavior.
The situation a division manager of the public company is facing is raising several ethical concerns. By recognizing expense only the following year, the manager would serve both own and corporate interests since higher income reported in the financial statements would probably increase the price per share, improve credit ratings of the company and at the same time would help to receive the bonus. However, following the GAAP principles, the manager should recognize the expenses when incurred. Consequently, supply purchases should be reported on the balance sheet by debiting supplies and crediting accounts payable:
| | | | |
| --- | --- | --- | --- |
| Debit | Supplies | 150,000 |   |
| Credit | Cash |   | 150,000 |
Adjusting entries throughout the following year are needed depending on whether the company is issuing financial information semiannually, quarterly, or monthly and the amount of supplies used in the production. Assuming that the company is reporting information semiannually and is using supplies equally throughout the year, the following entries should be made in July of the following year:
| | | | |
| --- | --- | --- | --- |
| Debit | Supplies Expense | 75,000 |   |
| Credit | Supplies |   | 75,000 |
In such way, the financial information would be reported accurately and the users of financial data would receive the most appropriate picture about the situation the company is facing. Accurate financial information is of vital importance for stakeholders as they are making investment decisions based on it. If the picture is distorted, investors are running risks when making decisions, as incorrect financial information may be a way of manipulation (Penman, 2003).
References
Penman, S. H. (2003). The Quality of Financial Statements: Perspectives from the Recent Stock Market Bubble. 77.
Smith, D. L. (2003). A Fresh Look at Accounting Ethics. Accounting Horizons, 17(1), 47.
Related Topics