Project on Working with Fathers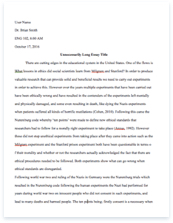 The whole doc is available only for registered users
A limited time offer! Get a custom sample essay written according to your requirements urgent 3h delivery guaranteed
Order Now
Please research and Explain to me one study proving the importance of fathers involvement with their children and their learning Children with involved, caring fathers have better educational outcomes. A number of studies suggest that fathers who are involved, nurturing, and playful with their infants have children with higher IQs, as well as better linguistic and cognitive capacities. Toddlers with involved fathers go on to start school with higher levels of academic readiness. They are more patient and can handle the stresses and frustrations associated with schooling more readily than children with less involved fathers. Please summarise the role of a father in family life, structure and being involved in diverse communities?
A growing body of research has concluded that fathers are important to their child's development, and yet the vast majority of programs that serve families with young children, especially low-income families, tend to focus almost exclusively on mothers. A father's involvement does not operate to the exclusion of a mother's relationship with the child. Fathering is uniquely different from mothering and equally beneficial to the child's development. The first five years are a critical time to develop healthy patterns and family interactions, as early father involvement leads to sustained involvement over the course of the child's life, but, historically, family resource centres and programs have had a blind spot when it comes to involving fathers.
Please tell me what a positive home learning environment is and tell me ways in how the nursery promotes it to parents and fathers. How do you support them? There are three main ways parents can get involved in supporting their children's learning: 1 Learning at home: Parents are the first and on-going educators of their own children and, as such, should receive information and support to help develop their child's learning at home, in the community and at school. 2 Home/School partnerships: Schools must be open to the involvement of parents in the work they do and they should consider ways of providing information that helps parents engage with school and their children's education.
Parental representations: The Act provides a framework for ensuring that parents have the opportunity to express their views and have these taken into account on policy matters affecting the education of their children. It makes provision for parents to be a member of the Parents Forum at a school and to have their views represented to the school, education authority and others through a representative Parent Council for the school. The benefits for the children are: • It is easier for children to learn when they get encouragement at home • They will do better and achieve more when their parents are involved • Children get access to more activities in and out of school when there are more adults to help • Their concerns can be sorted out quicker when their parents have a positive Relationship with school staff • They are happy when their parents are enjoying events in the school. The benefits for parents are: • Their children do better when they are involved
• They are better able to help and encourage their children • They have more information about their children's education • Parents can build their own confidence and skills • Where there is a positive relationship between parents and their child's school there are benefits all round • Parents get reassurance that their children are receiving a good education.
Why is it important to work in partnership with fathers?
Partnership involves parents, families and practitioners working together to benefit children. Each recognises respects and values what the other does and says. Partnership involves responsibility on both sides. Staff awareness is crucial to involving fathers; many practitioners automatically focus on the mother when contacting a new family. Embed 'father friendliness' into practitioner training and supervision and encourage staff to take a pro-active approach to working with both parents, including non-resident fathers, through discussion at staff meetings etc. Develop provision and offer activities that appeal to fathers' interests, such as physical activities, and offer services at flexible times. Explicitly include fathers in information about children's early learning, using positive language and images.
Employ male staff in parent contact roles. At ST Jude GAP CLUB We make sure both parents are involved in our activities such as when we have wii or Xbox out. When parents pick their child .We get them to get involved in the game and in summer time we have a mini sports race when both parents get in involved and it's a great way to build parent ship with fathers and mothers . We have many other activities thought out the year like Camp night in summer club BBQ in summer At Englefield club on father day we get the children to bring the dad. To spend time with them and play groups games , cooking face painting , mini spa day were dads get treating from the child hair gel massaged .
Why is it important to have clear principles and policies to support the engagement of fathers in their child's learning? Principle 1. Father Awareness Services develop an understanding of the role and impact of fathers including separated fathers, father figures and stepfathers. A clear vision of fathers as a social group and an understanding of different cohorts of fathers will underpin policies and practice. Organisations and services recognize the current nature of fatherhood is shaped by role socialisation, biology and gender construction. This recognition includes the understanding that all children incorporate as part of their identity, to varying degrees, the knowledge that they have a mother and a father. Principle 2. Respect for Fathers Services engage with Fathers as partners in change with respect for their experience, gifts and capacities as fathers.
A systematic and integrated approach is required to include fathers and father figures in research, policy development, implementation and evaluation of services. Organisational policies, service information and advertising include specific references to and engage fathers as important participants in their families and in the lives of their children. Principle 3. Equity and Access All fathers have equal and fair access to the support provided by high quality family services regardless of income, employment status, special educational needs or ethnic/language background.
As part of service provision fathers are invited to seek equity with the other parent in their joint parenting responsibilities. Some services are for fathers alone while other targeted or universal family services include fathers as clients. Principle 4. Partnership with fathers Services aim to work in partnership with fathers and their families to build on their knowledge, skills and abilities and to help fathers enhance their positive roles with their children and as part of families. This principle also recognises and honours the role of mothers and others who care for children. Principle 9. Research and Evaluation Research and evaluation of services should specifically measure father engagement and outcomes relating to this engagement. Where services involve children, women and families, gender-based analysis should be used to monitor and evaluate father involvement.
Explain a range of strategies that you could use with fathers in Building their self esteem Encourage fathers to volunteer and attend at school events to help the build their self-esteem. Survey potential volunteers: Throughout the year, survey parents about their interests and availability to volunteer. Hire or appoint a volunteer coordinator: A volunteer coordinator can make phone calls to remind volunteers of their commitments, to provide training on equipment such as the copy machine, laminator, and playground equipment, and to organize volunteer activities and recognition events. Offer a variety of times to volunteer: People have varied and hectic schedules, so successful school volunteer programs will need to offer flexible volunteer schedules. Offer training to volunteers: Offer volunteers training in interpreting academic performance assessments so that they can better understand what is expected of student and can provide help accordingly in the classroom.
It is vital for the school to help volunteers feel competent about their ability to assist. Invite parents to ride the school bus and eat lunch with their children: This offers another way for the school to be accessible and welcoming. Train parents to become parent mentors: Parent mentors can work with new volunteers and answer questions at their school. Encourage opportunities for volunteers to be seen as positive adult role models: Offer regular career exploration opportunities. Have volunteers answer basic questions about their careers, such as job title, subjects to take in school that will help them to do the job, training needed to do the job, great things about the job, and tough things about the job. Publicize volunteer opportunities throughout the year: By publicizing volunteer opportunities year-round, families and community members who come to the school midyear can be made aware of the volunteer opportunities and can become connected with the school community.
Include students in meetings with parents:
Have students participate in some way in the meeting with parents. This provides additional incentives for families to attend together. Working with fathers whose first language is not English Fathers with English Language Learner (ELL) or English as a Second Language (ESL) students have significant communication challenges impacting their lives. Imagine how different your life would be if you spoke no English, and your child was in charge. Can't you see the smile on his face as he blissfully controls everything your family does? At gap club We have different culture staffs that are able to help fathers with English second language. I can speak three languages Urdu, Punjabi, and English we also have staff who able to speak French, The company owner who is able to speak two to three languages culture . At Gap Club we help parents with speaking slowly and we make sure that they understand and ask the child to explain in the home language. We also have daily routine word up in different languages to make the parents more welcome to Gap Club 3 Helping them to gain confidence in knowing how to work with their children?
Help your child to build confidence in his abilities by encouraging him to take an art class, act in a play, join a soccer or baseball team, participate in science fairs or computer clubs or play a musical instrument–whatever he likes to do that brings out the best in him. Don't push a particular activity on your child. Most children, whether they are 3 or 13 years old, resist efforts to get them to do things that they don't enjoy. Pushing children to participate in activities they haven't chosen for themselves can lead to frustration. Try to balance your child's experiences between activities that he is already good at doing with new activities or with activities that he is not so good at doing. You can also help your child to build confidence by assigning him family responsibilities at which he can succeed–unloading the dishwasher, cleaning his room or mowing the lawn.
Explain how attitudes can be barriers to engaging fathers in their children's early learning. what the barriers might be i.e. the parent working long hours, the parent being just shy, a parent with a language barrier, a family new to the area etc. by encouraging parents to become involved in the likes of free exercise classes run in the area, to try and become familiar with other parents, by having non formal coffee afternoons where parents are free to call in for a chat with ourselves or even just each other, barriers can also be overcome by things like arranging parent interviews etc at a time that suits around the parents working hours, or by again producing newsletters in different languages etc. also by ensuring parents are informed all the time about any relevant events etc and encouraging them at all time to come to events. Some parents are just naturally not up to being involved in their child's learning and see that as the role of the setting so anything that can be done to encourage involvement is a positive step.
Related Topics