Program Planning and Evaluation Paper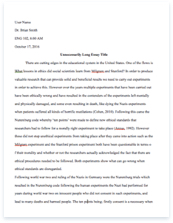 The whole doc is available only for registered users
A limited time offer! Get a custom sample essay written according to your requirements urgent 3h delivery guaranteed
Order Now
In comparison, each of the two components; program planning and program evaluation are related in the way that each is a theory based and goal-oriented activity. A program is a permanent and inseparable element of the planning process intended to achieve specific future goals. The methodical, yet necessary process of planning is important in designing programs to become an effective and efficient tool for human service organizations in conjunction with a systematic approach to descriptive research for meeting each presented goal. Descriptive research is designed to service clients, describe program characteristics, and other elements. It describes the use of facilities, community resources and other resources as well. It is also designed to study the relationship of association among various factors or variables and take into account the solicited views of a social issue or problem in program or policy design/planning process. Descriptive research provides a description of an observable fact or event or the relationships between two or more observable facts or events. Assessments vary categorically, but they can assess nearly everything and to the nth degree. Social programs are no different as assessments are utilized to produce data that is crucial for programs turning negative outcomes into positive outcomes.
An assessment of needs plays an intricate part in program evaluations with efforts to coordinate and facilitate the steps which can produce change in the identified social problem and the evaluation provides a clear statement of the problem and is more precise in its data collection. A program evaluation is related to a human service organization by assessing and enhancing all elements and phases of the planning process relative to social programming. Program planning is an organized process developed and meant to address and facilitate change for identified social problems and social issues through a set of coordinated activities or interventions. Mayer, (1985) defines program as an "intervention that constitutes a service or activity that can be provided to facilitate volitional change." According to Yuen & Terao, "Once the program interventions are implemented, the performance and the attainment of intended objectives are then evaluated. Assessments represent the front end or the basic appraisals, and evaluations reflect the continuous reviews and judgments," (Yuen & Terao, 2003).
Each individual assessment provides the rationale and future direction for program planning and becomes an instrument for program development. Goal-oriented activities are what program planning and program evaluation are mostly comprised of; which subsumes critical, logical, and linear-sequential thinking procedures. Evaluations also help define the past performance of the organization and the future programs of the organization. The importance of evaluating the organization's performance relates specifically to the future of the organization and the programs and services is can provide its client and community population. PEACE Domestic Violence Agency is no different than any other organization or agency trying to change a specific societal norm or beliefs which is condoned by many. Allowing a violent act to be committed by another then turning a blind eye, not interjecting with an attempt to protect the victim, or never even calling the police as an attempt to send help for the victim in question is wrong, it is injustice. PEACE Domestic Violence Agency's mission is to reduce victim trauma, empower survivors, and promote recovery through direct services. PEACE is wholeheartedly committed to the reduction of instances for sexual and domestic assault violence through education and challenge societal beliefs that preserve and keep violence alive in the community.
The specific problems that are needing addressed may range from children getting abused by a parent or relative/guardian or a spouse/significant other being physically abusive to the other is the purpose for such things as interventions and where program planning and evaluations is a means to the end. Using experimental and descriptive research methods assist in identifying organizational needs and the use of technology in human service organizations is equally important by turning the organization's inputs into viable outputs. These components together equal organizational success by proof of positive client outcomes. Without these components as part of the organization's program and evaluation plan they elude necessary means to continue serving and meeting the overall needs of its client population and the community. Program planning and program evaluation are continuously evolving and moving in a spiral fashion as the products of social, economic, and political realities. According to Yuen & Terao, "Program planning and evaluation should be the integral parts of any programs. It emphasizes that planning and evaluation are products of rational thinking as well as political and economic considerations.
The technology of planning and evaluation explains how it incorporates different types of knowledge and is carried out in a range of basic designs with various working hypotheses and assumptions," (Yuen & Terao, 2003). Programs are about means and ends and its objectives are most often products of negotiations relating politically to an organization that intends to address a specific population problem, needs that emerged from a government group, or respond to some form of social, economic, or political issues. Some of the technical or political issues that may occur for PEACE Domestic Violence Agency may reside with the interests of the stakeholders because their interest affects all program evaluations. There are several options for evaluations, such as who should these results be reported to, the exact method of data collection and the necessary interpretation of the data in question, but even these selections all generally take the interests of the stakeholders into account.
References
Yuen, F., & Terao, K., (2003). Practical Grant Writing and Program Evaluation. Pacific Grove, CA: Brooks/Cole-Thomson Learning
Related Topics