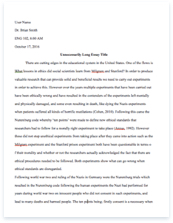 The whole doc is available only for registered users
A limited time offer! Get a custom sample essay written according to your requirements urgent 3h delivery guaranteed
Order Now
The Human Resources Sergeant plays a vital role in the Army Profession of Arms. An Army professional must have various attributes of good character and leadership skills and the "Be, Know, Do" qualities to be called a profession at all. All leaders must embrace the challenge of balancing multiple responsibilities at once within their profession in order to accomplish any mission. As a United States Army Human Resources Sergeants, we must always consider the culture of the Army and its Profession as an important factor to mission accomplishment. Human Resources Sergeants are those who provide the services needed for admin functions which in turn fuel's the Army Profession of Arms. Role of the Human Resources Sergeant in the Profession of Arms The Army Profession of Arms purpose and intent is to enhance and reinforce the overall strength of the Army by building it and making it strong, full of professional Soldiers and leaders. This profession is rich in tradition and maintains the highest level of standards and discipline. What it means to be a profession
In ordered to be considered a profession, a field must possess certain attribute and standards. These attributes include a moral code, a set of values and dedication to a craft. Anyone in any profession can possess a job, show up daily and perform their duties in order to complete the task. However, that does not constitute a profession. A profession must have a distinct set of standards. These standards are a set of tools that each member must possess and abide by within their profession. A profession is more a way of life than it is as an everyday job you attend from nine to five every day. The way of life is simply put, without no time and boundaries. Someone who is a part of a profession means they are dedicated and loyal to its cause and everything it stands for to be a part of a profession.
It is not something that can be changed simply by what you are wearing, what time of day it is, or where you are currently. The individuals who make up the profession of arms are the men and woman who work as and function as an organized team. Despite where each individual is from, they must all have one thing in common which is to be highly qualified and trained in their respective crafts. For one to be a part of a profession, he or she must first be made a part of that profession through an organized and systematic training process. The Army Profession of Arms is no exception. The Balancing Role of the Profession's Leaders
A leader's role in the profession of arms is an important one which does not always come easy and lay out. There are various areas to be considered when weighing the responsibilities of an Army leader. A leader must have balance in setting the example for the rest of his or her team and ensure mission accomplishment at the same time. This requires a high degree of control, time management and prioritizing skills. Leaders must trust and have confidence within their Soldiers ability and skills to complete numerous tasks while managing tasks of their own. Multitasking is an absolute necessity and is very vital in today's Army. Things are always changing and leaders need to know how to adapt to and handle high pressured situations. Senior leaders will have even more to balance due to their level of responsibility and what is already entrusted in them from their peers and subordinates. You will often see Senior Leaders accomplish multiple tasks and responsibilities at once in order to cover their subordinate leaders as well as manage their office. The Army Professional Culture
The Army Professional Culture is cultivated by an environment rich in values and morals. Every member of a professional culture should help instill its values in each other and foster a collective environment. A professional culture is a way of life, it is not something that can be adopted overnight. It takes time and effort to adapt to a way of life that is not of the norm. It is a leaders' responsibility to help incorporate their subordinates into this professional culture by emulating what it stands for. The HR Sergeant's Role in the Army Profession
The HR Sergeant has a vital part in the Army Profession of Arms. The main function of the HR Sergeant is to raise the overall strength of the organization by improving productivity in all areas and ensuring mission accomplishment. Leaders at all levels are able to manage their personnel with pinpoint accuracy as a direct result of the HR Sergeant. Ensuring the quality of any administrative action is a fundamental task for the HR Sergeant. This alleviates any hindrances in the flow of daily operations and improves the overall function of the unit. These responsibilities, and so many others, are paramount when considering the Army Profession. Without a doubt, the Army Profession would suffer if not for the many contributions of the HR Sergeant.
References
Army Regulation 25-50, Preparing and Managing Corespondence. 2002 Field Manual 1-0, Human Resources Support. 2010
Adjutant General School Effective Writing Handbook. 2002
Student Handout, "An Army White Paper, The Profession of Arms". 2010
Related Topics