Production Of Pen Ink From Pulverized Charcoal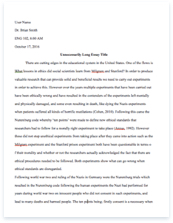 The whole doc is available only for registered users
Pages: 5
Word count: 1061
Category: Carbon
A limited time offer! Get a custom sample essay written according to your requirements urgent 3h delivery guaranteed
Order Now
Abstract
This study served as an evaluation of the potency of pulverized charcoal and used cooking oil as alternative raw materials for the production of pen ink. The powdered charcoal is the source of the ink's main pigment while the used cooking oil serves as the ink's carrier. The cornstarch and vinegar only serve as additives to increase the ink's stability and consistency.
The methods used in this study involve the powdering, or in scientific term, pulverization of charcoal; cleansing and filtration of used cooking oil; and lastly, the addition of vinegar and starch.
All of the ingredients – powdered charcoal, used cooking oil, starch and vinegar – were mixed with different amounts to determine which proportion is the best as writing ink. The qualities of the ink mixtures were tested on paper using empty pen ink cartridges and compared to commercially available pens. The qualities tested were: intensity of color, odor, consistency, resistance to fading, texture and over-all acceptability as a writing ink.
The test showed that one of the sample proportions yields the best results when all of the identified criteria were tested. Although generally, all of the sample ink formulations are inferior to commercial pen ink.
PRODUCTION OF PEN INK FROM PULVERIZED CHARCOAL AND USED COOKING OIL WITH VINEGAR AND STARCH AS ADDITIVES
INTRODUCTION
Ink, as defined by Wikipedia, is a liquid or paste that contains pigments or dyes and is used to color a surface to produce an image, text, or design. It can be used for drawing or writing with a pen, brush, or quill. Ink can be a complex medium, composed of solvents, pigments, dyes, resins, lubricants, solubilizers, surfactants, particulate matter, fluoresces, and other materials. The ink components serve many purposes, namely: the ink's carrier, colorants, and other additives which affect the flow and thickness of the ink and its appearance when dry. Ink formulas vary, but commonly involve three basic components: colorants, vehicles, and additives. Ancient cultures around the world have discovered ink formulations for the purposes of writing and drawing. The first inks produced were said to be Chinese inks, utilized from natural plant dyes, animal and mineral inks based on such materials as graphite that were ground with water and applied ink brushes.
Meanwhile, charcoal, a soft, brittle, lightweight, black, porous material, mainly consisting of carbon, has been used since earliest times for a large range of purposes including art and medicine, but by far its most important use has been as a metallurgical fuel. It is used in art for drawing and making rough sketches in painting. On the other hand, every kitchen offers a place for cooking oil, an essential part of cooking. Discoveries have known that engine oil can function as an ink's vehicle. Almost similar and both oils, there is a high possibility that cooking oil can function not only in frying, but also in ink production. Instead of considering these two (charcoal and cooking oil) waste or trash after having served their main purposes, the potency of these ingredients, as alternative raw materials in ink production shall be determined.
This investigatory project will benefit man, especially students and pen users, for producing alternative for commercial inks. Nowadays, these manufactured inks come in quite expensive cost, but since the materials to be used in this project are almost domestically available, it can be a promising strategy to spend less money for pens. Also, instead of throwing away those plastic pens, refilling the ink cartridges is an eco-friendly way of living. Another thing, no hazardous chemicals will be used in the formulation of this ink, making it non-toxic, compared to commercially available inks which have high tendencies of harming one's well-being and the environment.
PRODUCTION OF PEN INK FROM PULVERIZED CHARCOAL AND USED COOKING OIL WITH VINEGAR AND STARCH AS ADDITIVES
This research study was conducted from November 2014 to March 2015 to: 1) examine the potential of charcoal and cooking oil in the production of inks; 2) determine the effect of the additives (vinegar and cornstarch) in achieveing the consistency and stability of the desired ink; and 3) identify the best recipe or formulation for the ink.
However, this research is only limited to producing a simple ink as a pen ink. It does not include inks used in machines such as printers and inks used in big publishing companies.
Review of Related Literature
Different ink formulations were determined and experimented by mixing all the ingredients such as charcoal, used engine oil and the oil-miscible solvent. (Dela Cruz, et al. 2008) Source: Feasibility of Charcoal and Used Engine Oil as Alternative Materials for the production of Whiteboard Marker Ink, 2008
In inks made from teabags, the addition of vinegar and cornstarch effectively contributed to achieving the desired qualities of the ink in terms of consistency and color. Source: Ink made from Teabags, 2012 (www.slideshare.net)
PRODUCTION OF PEN INK FROM PULVERIZED CHARCOAL AND USED COOKING OIL WITH VINEGAR AND STARCH AS ADDITIVES
Conceptual Framework
Hypotheses
Pulverized charcoal and used cooking oil can be feasible alternative materials in pen ink production. The addition of vinegar and cornstarch would result to a more desired ink in terms of color intensity, consistency, etc.
PRODUCTION OF PEN INK FROM PULVERIZED CHARCOAL AND USED COOKING OIL WITH VINEGAR AND STARCH AS ADDITIVES
METHODOLOGY
Materials
charcoal briquettes
used cooking oil
vinegar (colorless, if possible)
cornstarch
grill, or metal fire pit
glass jar
glass bowl
wire brush
weighing scale/kitchen scale
measuring cups and spoond
Procedure
Collection and Preparation
A handful of charcoal briquettes were burnt in a barbecue grill or metal fire pit until it is turned into ash or pulverized charcoal. Once the ash has cooled completely, ashes were collected and weighed. A measured amount of pulverized charcoal was placed into a glass bowl and was mixed with a measured volume of distilled water. The charcoal-water mixture was stirred until clumps of charcoal disappeared. A specific and measured quantity of vinegar and cornstarch were added, also. The mixture with all the ingredients completed was stirred and kept in a tight-fitting lid.
PRODUCTION OF PEN INK FROM PULVERIZED CHARCOAL AND USED COOKING OIL WITH VINEGAR AND STARCH AS ADDITIVES
The composition of the various mixtures of ink formulations are as follows: Table 1. Composition of the Various Mixtures of Ink Formulations with Emphasis on the Amount of Cooking Oil
Related Topics