Transnational Corporations – the Good, Bad and the Ugly Formatted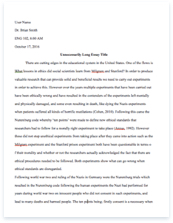 The whole doc is available only for registered users
A limited time offer! Get a custom sample essay written according to your requirements urgent 3h delivery guaranteed
Order Now
TNCs (Trans-National Corporations) 'are corporations that operate in more than one country or nation at a time.' In fact, large TNCs like McDonalds, Nike and General Motors Company have become some of the most powerful economic and political entities in the world today. The rise of the brand name, globalisation, mergers and acquisitions have helped to expand the footprint of major TNCs to developing countries and increase the budget of such large TNCs to larger than some of the world's developing countries.
For this reason, it is almost impossible to impose national law on these large TNCs, and they are effectively a law unto themselves. In fact, out of the top hundred economies in the world, 51 are TNCs and only 49 are countries. This leads to all sorts of ethical, social, environmental and labour problems, which cannot be fixed easily and so are usually left alone. This is one of the main reasons why TNCs are sometimes considered evil. TNCs are usually based in the larger countries like America, Japan etc.
The Structure of a TNC
The corporate structures of TNCs can be divided into two main sections, but there are infinite variations of a TNC's structure. The two main sections are horizontal corporate structures and vertical corporate structures,
* TNCs have offices and outlets all around the world that produce similar products. This is called a horizontal corporate structure.
* TNCs like Adidas have their headquarters in a certain country (or countries in certain cases) that "manage production establishment to produce products that serve as input to its production establishments in other countries." This is called a vertical corporate structure.
* Some TNCs have neither vertical nor horizontal structure, such as Microsoft, and have establishments in different countries that are neither horizontally nor vertically aligned, most often computer TNCs or Engineering TNCs.
* It is worth noting that TNCs owe much to the individual back offices in each country they operate that are devoted to information transfer and the IT component of the company. Without Information Technology, many TNCs would lose 30% or more of their profit and virtual companies like Microsoft would lose an astronomical amount of business.
* Many major TNCs such as Nike use cheap overseas and sometimes child labour to produce common items like soccer balls and pay less than the minimum wage in that country, which is often sometimes less than a dollar a day.
Their impact on the rest of the world including physical environment, social relations, employment, labour and the economy.
Globalisation and Industrialisation.
It is well known that TNCs are a driving force behind Globalisation and Industrialisation, which contribute to Climate Change, pollution and other environmental damage.
Market Failure
"The major cause of environmental damage is market failure. Market failure is when those who are producing or consuming goods or services do not have to bear the full costs of their actions, such as the cost of pollution." (Globalisation Guide)
A large percentage of major TNCs are guilty of this type of market failure because it is often impossible to impose national law on them, and they just move to another country to escape the mess they left behind. The cost of cleaning up the pollution and waste that they leave behind is only a miniscule fraction of their budget, but would pay back impressive dividends in reputation and would help heal the environment. Nevertheless, very few large TNCs do this and so it is the responsibility of the nation and the international community to punish these TNCs.
But there's hope!
Many global businesses, while not the largest TNCs, are making a genuine effort to decrease their footprint on the environment. They are creating their own environmental reports, cleaning up waste and pollution and following international and national law as regards pollution. Nevertheless, this number is not high enough and TNCs as a whole are having a major impact on the environment.
Economic implications
Many major TNCs like Nike subcontract smaller companies in developing, third world or second world countries like Pakistan, where they use cheap and sometimes child labour to create their product. The governments, even though child labour is illegal, this problem is ignored because it is just another facet of the result of poverty. TNCs like Nike that are sometimes called evil are helping third world countries out of the dumps and slums, but ignore the social problems that are created and heightened along the way. More often than not, those children who make the soccer balls and leather shoes that we use in Australia are the main source of income for the family, and they have little choice but to earn that two dollars a day to feed their family.
Changing Countries
Many major TNCs have moved their manufacturing facilities offshore to cheap, low wage countries. This has resulted in unemployment and social upheaval, for example recent riots in France and in the United Kingdom, not to mention the rust belt in the US which has gone offshore and left workers stranded with little or no income and dependant on the state. This is very good for the balance sheets of corporations, but this shifts power away from the governments and makes the global economy far less stable. Individual country economies are also affected negatively.
Social Relations
In Western countries, unskilled or low skilled members of the population (and many country's immigrants) have lost their jobs in manufacturing as mentioned above, but the places these TNCs have moved their manufacturing facilities have their own social problems, which are often made worse by TNCs. Having said this, there are some advantages.
Advantages
Disadvantages
Know How – TNCs have the technical ability to exploit natural resources. For example, an oil company goes to an undeveloped place, they have the resources and the capacity to develop the economy of the host country in such a way that is not possible by the host country alone.
Exploitation of low environmental standards – In underdeveloped countries, the governments are often weak and the environment is not their priority, and often the governments are willing to ignore the environmental woes of the TNCs because of their superior economic benefits
Capital – They have capital available for investments which an undeveloped country may not be able to tap.
Increase in corruption – By introducing a new economic sector into a minor developing country, major work needs to be done and there are bound to be problems; in these types of countries most if not all problems with planning permission and environmental problems can be either ignored or sold with a large enough bribe.
Reducing costs of products produced in the host country – When multinationals move their manufacturing facilities offshore for a certain product, the price of that product in the host country will go down because it is being produced locally.
Competition for the indigenous industries – Introducing a new, major economic factor into a developing country (in this case a TNC's manufacturing facilities) will have many offices and factories attached. These jobs may be paid slightly higher than the Indigenous industries and so a large percentage of both skilled and unskilled personnel will flock to that TNC. The indigenous industries will be dealt a major blow, and in time the TNC's manufacturing industries will grow in size, drowning the remainder of the indigenous industries in the immediate area.
Increases exports – These former impoverished importing countries now export to other countries.
Economic power taken away from the government – When a TNC comes into a developing country, it may overshadow the existing economy, as shown above.
Reduces their dependency on agriculture – Many small, island countries and developing countries have a
90% – 95% dependence on agriculture. TNCs introduce developing countries to new markets and the spin off from even the smallest new industry makes the host country's economy stronger.
Domination of the local markets eg. Genetically Modified Crops.
Even one TNC can exercise a large amount on its industry, and eventually can hold monopoly over that industry. Genetically Modified crops that are bought from many TNCs cannot reproduce, and so every spring the local farmers need to buy new seeds from the TNCs.
Increases job opportunities for the masses – lack of unskilled labour is a problem in many developing countries, as there are simply far too many to get jobs for, and very few people are skilled. TNCs and their factories give the masses sustainable jobs and opportunities to obtain new skills.
Reduces the need for foreign aid – TNC's in general bring to a host country a better economy, which makes the host country more prosperous and more able to provide for itself.
Integration into the world economy
TNCs gradually integrate developing and large economies into the world economy, increasing information transfer, effective uses of resources, environmental improvements, better international relations and increasing incomes. However, integration into the world economy makes developing countries far more vulnerable to international crises, such as the Egyptian food crisis. Rising global food prices have plunged Egyptians into a desperate daily struggle for survival. Many are unable to feed their families, and the hungry have taken to the streets. (speigel on line). Even though the government can subsidise bread, integration into the world economy has meant that Egypt has been exposed to the problem of population increase in China and India, which increased the price of all foodstuffs by over 40% and initiated a global food crisis.
Related Topics