Stress Management Within the Nursing Profession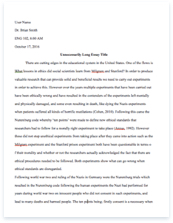 The whole doc is available only for registered users
A limited time offer! Get a custom sample essay written according to your requirements urgent 3h delivery guaranteed
Order Now
Being part of the healthcare workforce is probably one of the most stressful jobs one can have. It requires a lot of effort and patience to be able to cope with the different personalities of the people one may encounter with the job – including patients and co-workers. At most times, patients may be the most difficult to cope with, their health conditions cause majority of the patients to become moody and extremely irksome most of the times. On the other hand, the same pressure that co-nurses or doctors undergo also causes them to become irritable within their work environment.
In addition to this, the deliberatly shifting schedules of healthcare personnels mounts up to the increasing pressure and stress at work. Being a nurse is really not an easy job. They do more than just assisting doctors and patients. Acording to Ellis Christensen, their job requires the most delicate part of taking care of the patients. Aside from taking orders from doctors or administering medications to patients, they have to be apt in providing emotional support with the patients. In addition to that, they also serve to bridge the communication between the doctor and the patient's relatives (Christensen n. p)
Stress is inevitable to all kinds of profession. Everyone comes to a point when one feels drained of all their physical strength. Even small things can cause stress like an argument with a co-worker or an unexpected penalty or difficulty in environment or even at home. Based on an article entitled "Burnout: The Effects Of Unavoidable Job," the level of stress would just build up until it would reach a certain point that it is overwhelming, thus the term "burnout" is coined. Nurses live in a world of total chaos and entropy, subjected to the dynamic changes of human society and technological advances in the medical field.
Relieving stress is so essential for them to carry out their tasks the way they should, in order to attend to our needs as patients. According to Rebecca Maxon, in her article for the Farleigh Dickinson University she wrote that three out of four Americans claimed that their jobs are stressful. In her article, she quoted Robert Ostermann's, a professor of psychology at the same university, findings that occupational stress rooted in three dimensions- "life situations, work and self. " We must put into consideration the behavior of an employee towards his work upon how he address stress.
For example a nurse that is ill-tempered could easily get stressed by patients complaining on him. Behavior plays a major part in our stress management, the practical workplace behavior is to get things done as they should be and to put them in order (Maxon n. p). Conflict in life situations is also a major factor how one gets stressed. A married woman with children is most likely to get stressed because she juggles work and home activities. The work environment also affects the onset of stress of an employee.
Favorable working conditions motivates employees to be more productive. According to the "Stress in the Workplace" written by Bonita Long, stress could also be attibuted to work stressors such as depression and anxiety. Stressor is something that an individual regarded to be disruptive. Emotional state of an individual also affects his attitude and therefore affects his performance in work (Long n. p). In order to adapt to these unavoidable, radical changes there are ways wherein one could overcome or if not manage stress.
Lazarus introduced three-main strategies in reducing work related stress: (1) change the working conditions to be less stressful like renovating or putting up facilities and equipments that will make working more convenient; (2) help employees adapt by teaching strategies on how to cope up with stress. Giving out incentives and perks on employees will motivate them get more job done; and (3) find out what part of the work make the workers stressed and try interventions to compensate with it.
Like if it is the workload, change the amount of work an employee should get done (qtd in Long n. p). Elizabeth Scott, M. S. in her article "How to Deal With Stress at Work," provided six simple tips on how to manage stress at the workplace. According to the article, one must start the day with a positive atitude. At the beginning of the day, know the things that are expected of you and try to meet all of them. Then, stay away from unhealthy arguments and conflict among co-workers and always try to be organized.
In addition, try to make yourself comfortable at all times because physial discomfort is a great factor of getting stressed in the workplace. Also, avoid multitasking; do one thing at a time, as maximizing your tasks just increases the level of stress. And lastly, set possible goals for you to achieve and to welcome improvement in your work (Scott n. p). Nurses comprise the large part of the workforce in today's society. Their job requires a number of tasks to be accomplished in such a little time.
Thus, making their work extremly stressful. In this lilght, nurses must acquire character and traits that are efficiently responsive to stress in order to maintain a healthy and productive work. Everyday, we all have to go through stress. In everything that we do we are subjected to different kinds of stressors. Especially in our profession where we may encounter occupational stress and burnout. Different factors are attributed to stress like our work environment, conflict with our personal affairs, and our own attitude towards our tasks.
Stress may also come from our personal feelings and emotions like depression and anxiety. When a person undergoes depression or anxiety, he becomes more susceptible to stress. There are certain possible ways which we can do to aviode or reduce stress at work. Getting a time off from work by going to vacations helps out a lot in relieving stress. Motivation and active support from our direct supervisors can also lessen work related stress. We can avoid the detrimental effects of stress by living a balanced lifestyle.
Works Cited
http://www.wisegeek.com/what-does-a-nurse-do.htm
https://www.ericdigests.org/1998-2/stress.htm
http://www.fdu.edu/newspubs/magazine/99su/stress.html
http://stress.about.com/od/workplacestress/a/stress_work.htm
Related Topics