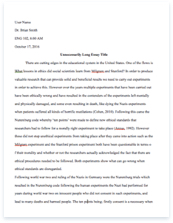 The whole doc is available only for registered users
A limited time offer! Get a custom sample essay written according to your requirements urgent 3h delivery guaranteed
Order Now
1. Compare and contrast the strategic service vision of El Banco and United Commercial Bank.
The similarity in the strategic service visions of El Banco and United Commercial Bank is only that they both want to provide their services in ethnic groups like Chinese and Latinos around the US. There are a few contrasts in their services. United commercial bank mainly deals with offering loans with are backed up by assets. These loans can be acquired for real estate or any business that is commercial or industrial. UCB offers its clients a high share of services in saving accounts. It ensures a high rate of return on the saving and certificate of deposit (CD) accounts. It also provides a trade finance department for better services. UCB does a lot less as compared to other banks. It wins customers by trying not to charge fees on any of their services. (United Commercial Bank, 2010)
El Banco provides its services to majority of Hispanic clients. El Banco earns its income by imposing fees on services like cashing a check, for a bounced check, having a low account balance, putting mortgages on immigrants having incomplete documentations. This bank is trying to win customers who are wealthy. They are starting new fee based services like savings accounts and credit cards to gain only affluent customers. Unlike UCB, they intend to follow in the footsteps of Western Union. (El Banco, 2009)
2. Identify the service winners, qualifiers, and service losers for El Banco and UCB.
Each of the two organizations has their plus points and drawbacks. The service winning policies of El Banco are that they provide services of cashing a check. They have professional employees who speak Spanish and they provide a vey Latino-friendly environment. This includes Spanish music, Spanish newspapers, and dark and bright color schemes. This ensures a very friendly relationship with the clients and communication is easier and better. (Jordan, 2003)
It provides money orders for Western Union and mortgages for undocumented immigrants. The people who qualify to attain the services of El Banco are mainly Hispanic clients. They are of Latino heritage and those having average or high income. The service losers are that they do not extend their services to people of low income and those who have a different cultural background. People who are in need of low service fees cannot benefit from their services. (James A. Fitzsimmons, 2008)
The service winners of United Commercial Bank are that they have invested in Chinese speaking employees. They have very reasonable fees for their services and provide high rates of return on saving accounts. They provide loans for real estate and business. The qualifiers for UCB are people having a good credit and low or average income (Business Week). The people who cannot avail the services of UCB are those who have a bad credit summary. UCB only entertains customers having acceptable credit status. (James A. Fitzsimmons, 2008)
3. What are the differentiating features of banks that target ethnic communities?
The banks that target ethnic groups are quite different from general banks that have all types of clients. These banks focus on short term goals, and believe in rapid growth. They cater individual and unique needs of customers and are distinguished by the cultural identity they represent. (James A. Fitzsimmons, 2008)
The banks that target Asian clients are concerned with wealthy people and those that have a credible financial background. They offer loans that are backed up by assets. This ensures a low level of risk as the assets are easily liquefied in any case of crisis. They are least interested in taking unnecessary fees. And these banks guarantee high rates of returns ion saving accounts and CD accounts. (United Commercial Bank, 2010)
On the other hand, there are banks that have Latino customers in mind. These banks have the vision to gain mainly from cashing checks and providing basic account services the customers to deposit their money safely. They also offer services of making money orders of different organizations. Although not as important as dealing with cash, these banks also focus on services like providing its customers credit cards and mortgages. (El Banco, 2009) They also provide an environment which appeals to people from Latino background. (Jordan, 2003)
References
http://investing.businessweek.com/research/stocks/private/snapshot.asp?privcapId=8748269
Related Topics